The Binding of Isaac released three years ago and it looked - and played - like a free Flash game. After playing through a few rounds though, you realised that this was actually a ridiculously deep and incredibly enjoyable game, as long as you weren't offended by the constant denigration of religious imagery or the cheerful gore-filled scatological aesthetics.
Functionally, Isaac works like a twin-stick shooter. You control the character's movements with one hand and his weapons with the other, so Isaac can move and shoot in different directions at the same time. Each level is divided into rooms - you enter a room, and can't leave again until you've cleared all the enemies in the room, or used a bomb to blow a hole through the door.
It has some elements of a rogue-like game as well - you keep exploring randomised dungeons, gaining new items and upgrades that make you stronger, faster and harder to kill, and the dungeons keep getting more dangerous as you go further down. If you die, you reset the game and lose all your items and upgrades, but any new items and enemies you've unlocked in your run can now be found in the dungeons. Since the dungeons are randomised, some runs will be easier than others, and getting lucky and finding the right pickups and weapons can leave you feeling God-like in your power.
The game was re-released recently as The Binding of Isaac: Rebirth, and is available now on the PC, PS4 and PS Vita, for $14.99 (approximately Rs. 900). The game is free for PlayStation Plus members. Rebirth is more than just a remake for a new platform though - it's a comprehensive update that brings a huge number of new items, new enemies and some major changes to the game's design, that make it worth buying even if you've played the original game and its DLC "Wrath of the Lamb" thousands of times.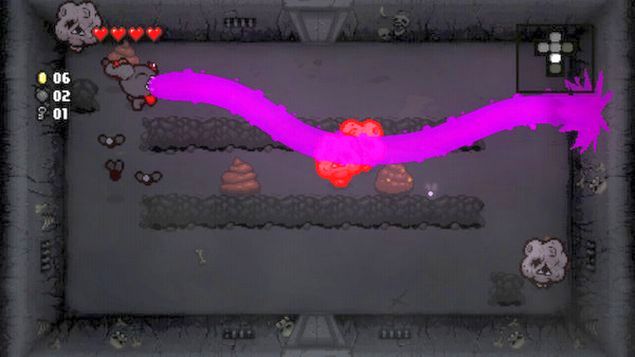 We played Rebirth on a PS Vita - we were used to the far more comfortable keyboard layout for this game and switching to the cramped controls on the handheld was a little challenging at first, but aside from that one quibble, we have to say that the Vita is actually a really great platform for this game.
The simple design is engaging and not overwhelming, and the pick up and play nature of the game makes it ideal for playing on the go, getting in short sessions between other work.
The first thing about Isaac that grabs your eye - both in the 2011 version and now - is the religious imagery, and the visuals of abuse. The name itself is a reference to the Biblical legend of Abraham, who was told by God to kill his beloved son Isaac.
Enemies in the game also often include references to the Bible - the Book of Revelations is an item in the game, as is the Bible itself. You can play as Judas or Eve, and Satan is one of the enemies you'll face. Pick up the spoon and Isaac's head is covered in red welts - this makes him faster.
Spoiled milk is picked up as breakfast, and dog food is dessert. And Isaac's final fight is with his mother. Once you've completed the game, you realise that the journey is only just beginning, and in your next play-through, you can choose to keep going after defeating Mom. First you can go into the Womb, and fight embryonic enemies until you destroy Mom's Heart, and then the game lets you go even further. There are small clues throughout the game; in the items you pick up and the enemies you fight, not to mention the endings you unlock, which tell you that there is more to the story than is initially made obvious and part of the fun is simply in watching these details unfold.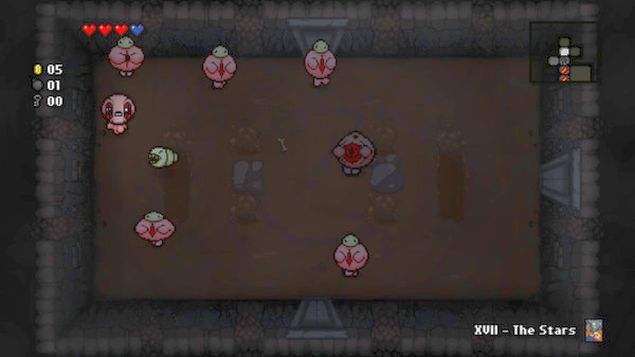 The art is cheerfully gory and scatological. Edmund McMillen, who came up with the original game, is also behind games like Super Meat Boy, and older works like Gish and Clubby the Seal. His cheerful art style looks like it would be suitable for Saturday morning cartoons, unless you look at it carefully. Pulsing organs and bodies with their skin peeled off, aborted foetus companions and giant cancerous lumps fill the screen, and will honestly put off some people.
In all this, Rebirth hews close to the original game, but there is a lot of new content as well. For one thing, the visuals have been updated and the cutscenes between the gameplay segments in particular look shiny and new. The music has also gotten an overhaul, and added a lot of flourishes that weren't there originally.
There are also hundreds of new items and weapons that you can use now, and learning to use these effectively is the key to surviving in this game. Different items also interact with each other in different ways, and sometimes things that are great on their own can end up being quite disastrous when combined. We ended up playing Rebirth with a tab open to the Items page on the game's Wiki on our laptop, just to check whether we should swap items out.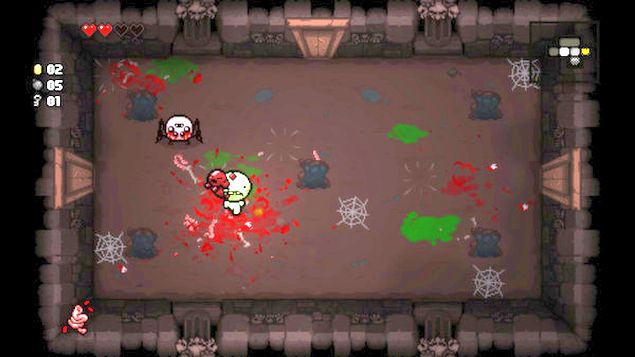 But the big change is in the new level design. In the original Binding of Isaac, all the rooms were equally-sized rectangles that filled the screen. The developers still came up with a lot of variation in the rooms despite this constraint but it was clearly straining things to the limit.
Rebirth throws that out the window - some rooms are now long rectangles, and others are huge, square arenas. It still keeps the basic single room that fits your screen and uses these for the most part, but every now and then you'll find yourself entering one of the bigger rooms, where elements of the space are off screen. The most exciting room was one of the big squares, which had eight of the toughest boss monsters lying in wait in that huge arena like space. From charging in all-guns-blazing to turning tail and running while desperately trying to stay alive, the game immediately changed tempo and managed to be surprising and engaging.
Adding a new type of room doesn't sound like a very big change for a game, but it adds so much variety that Rebirth honestly feels like a new game, and not just The Binding of Isaac: Now With More Items. For that reason, we strongly recommend this game even if you already have the original version, though as we noted already, the tone and content of this game isn't for everyone.
The Binding of Isaac: Rebirth is available now on Steam and as a downloadable game for the PlayStation 4 and PlayStation Vita. All versions cost $14.99 (approximately Rs. 900), but the game is currently free for PlayStation Plus users.
Affiliate links may be automatically generated - see our ethics statement for details.