The word Ultrabook is now familiar to many people. Ultrabooks are supposed to be thin and light, without compromising on performance or battery life. When Intel first decided to come up with a catchy name for the devices their chips would inhabit, the industry as a whole hoped that Ultrabooks would become mainstream products. This was supposed to be what a computer for a new generation should look, feel, and act like.
The Acer Aspire S7 comes pretty close to fulfilling that ideal. It's light, powerful, and beautifully constructed. Unfortunately, it also lives up to another Ultrabook hallmark: it's extremely expensive.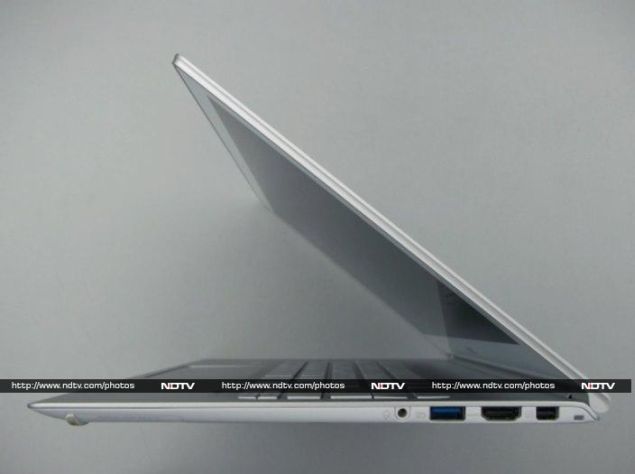 As far as notebooks go, the Acer Aspire S7 occupies a very niche space. It's a high-end lifestyle product, so you're paying for style as well as performance. Read on to find out whether those elements are in balance, or whether one comes at the cost of the other.
Look and feel
Our review unit arrived in a rather unassuming cardboard box, but it only took one glance to recognize that the Aspire S7 itself is a high-end notebook. Glass and aluminium are the current materials of choice for high-end products, and the S7 has quite a bit of both. Whereas other notebooks in this segment are made entirely of metal, the S7's bottom panel, which curves up the sides, is made of plastic. The frame is aluminium, with panels of stark, whitened glass set into both sides of the lid. On the outside, there's nothing but an Acer logo centered on the left, and on the inside the screen is set right in the middle of the glass.
The screen itself is a 13-inch full-HD panel, which is crisp and bright. The white glass bezel is a bit thick, and is extremely reflective. The S7's lid can fold back a full 180 degrees till it lies flat, but it doesn't go all the way around, so you can't use it like a tablet. It isn't really very comfortable using the touchscreen while it lies flat on a table, but at least you don't have to worry about damaging the S7 if the screen gets knocked backwards while in use.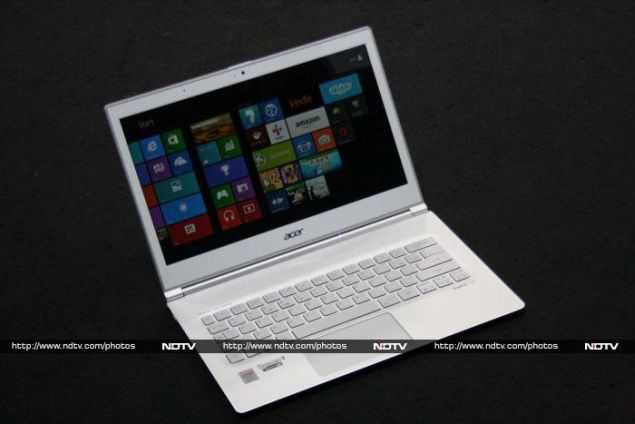 The keyboard deck is a sea of silver metal, with a gentle dip in the middle rather than a sunken tray for the actual keys. This is also where Acer has made its most controversial design decisions with the Aspire S7. First and foremost, Acer has ditched the entire row of function keys, merging them into the number row. While not everyone uses function keys every day, they are important when it comes to professional software and keyboard shortcuts. You have to use the Fn key plus a number row key to activate the corresponding F key.
Laptops have been using the F1-12 keys pull double duty as shortcuts for various system-wide controls for years, but in the absence of those keys altogether, their secondary functions have been farmed out to various other spots on the keyboard. The QWERTY row has controls for Wi-Fi, sleep, multiple display control, mute, screen rotation, the keyboard backlight, and disabling the trackpad. Del has its own key in the bottom row, which displaces the Windows menu key to a secondary action for the right Alt key. Print Scr, Pause/Break and Insert are mapped to the [, ] and \ keys respectively. Brightness and volume are mapped to the squished block of arrow keys, but as described earlier, mute is halfway across the keyboard. There are no shortcuts for audio and video playback or launching frequently used applications.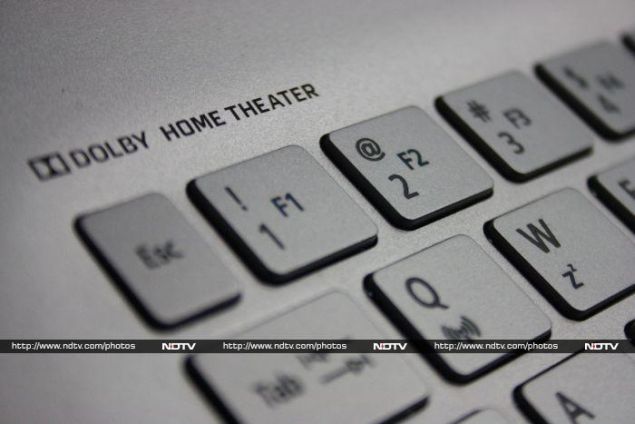 Finally, since the Esc key now sits in the number row, the tilde has been squashed into the Caps Lock key's space. The two sit rather uncomfortably next to each other, and you'll be sure to hit the tilde by accident if you use Caps Lock frequently.
If the odd layout wasn't enough, the keyboard is also very, very shallow. You don't feel satisfied when typing on it, and that's the cost of having such a thin body.
In fact, the whole keyboard is a disaster for practiced touch typists and power users of any kind. While it's fine for tapping out short emails or chat via social networks, you simply will not be able to work with text or use creative software without a huge amount of inconvenience. Form has definitely overridden function when it comes to the Aspire S7's keyboard.
The only point in the keyboard's favour is its backlight, which is a pleasant, unusual greenish-blue colour and kicks in automatically depending on ambient light conditions.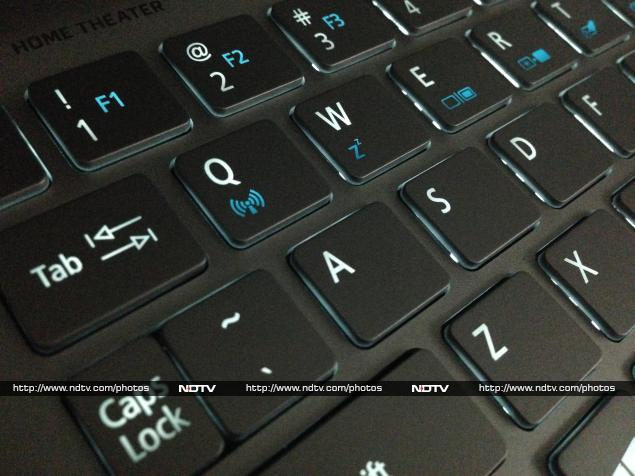 Luckily the trackpad isn't bad at all. It's roomy and smooth, and Windows 8's gestures are fully supported. Apple's reverse-scrolling precedent seems to have caught on, and Acer has joined the growing ranks of Windows notebook makers who have made this behaviour the default.
The S7 is just about thick enough at the back for a small selection of ports. The plastic that curls up from the bottom towards the keyboard deck's lip is definitely not as premium as the rest of the body, but at least it sin't very visible. On the left edge you'll find the power socket and button, a USB 3.0 port, and an SD card reader. On the opposite side, there's a 3.5mm headset jack, another USB 3.0 port, a full-sized HDMI video output and something that looks like a miniDP video output but is actually a proprietary port for a breakout dongle.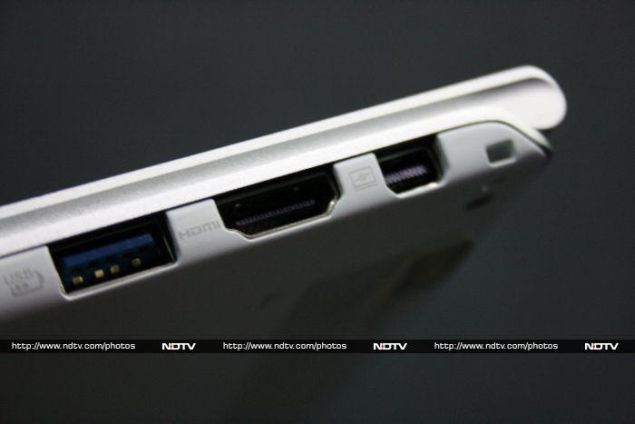 The dongle is interesting because this is how Acer provides for full-sized Ethernet and VGA ports, which would otherwise never fit in such a slim chassis. Just for good measure, there's also an extra USB 2.0 port. Most Ultrabooks simply omit them, so we're glad to see that Acer has offered a compromise, even if it means you have one more thing to remember to pack.
It's worth noting that Acer has not used Intel's Thunderbolt standard to pass Ethernet and VGA through to the dongle. Thunderbolt uses the miniDP socket standard, and Thunderbolt docking stations with a variety of ports are becoming available, so it's easy to get the wrong idea. Thunderbolt peripherals will not work with the S7, and the dongle will not work on any other computer unless Acer continues to use this exact idea on future models.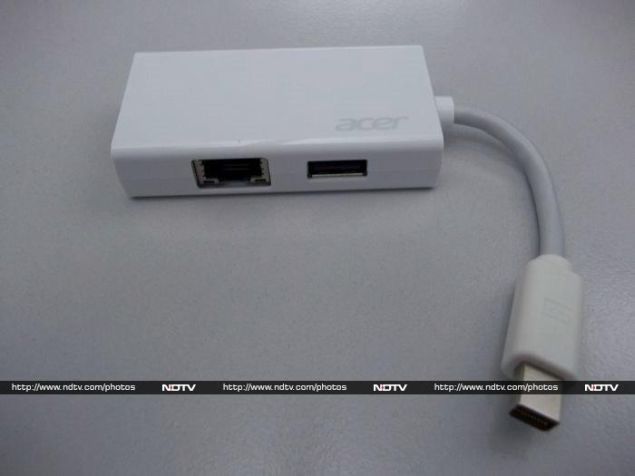 While we're generally happy with the S7's looks and build quality, we have to point out that both the lid and the upper portion of the keyboard deck are extremely flexible, which makes us wonder how durable the chassis is.
Specifications
The Aspire S7 is powered by an Intel Core i5-4200U processor, which is a dual-core Haswell generation low-power model. This CPU has a base speed of 1.6GHz but can ramp up to 2.6GHZ on demand, thanks to Intel's Turbo Boost feature. The integrated graphics processor is Intel's HD 4400, which should be enough for most tasks you'd expect an Ultrabook to handle.
Acer throws in 4GB of RAM and a 256GB solid-state drive. There's no optical drive, but that's not something we miss nowadays. Besides, the SD card slot will let you add far more storage than a DVD could ever hold.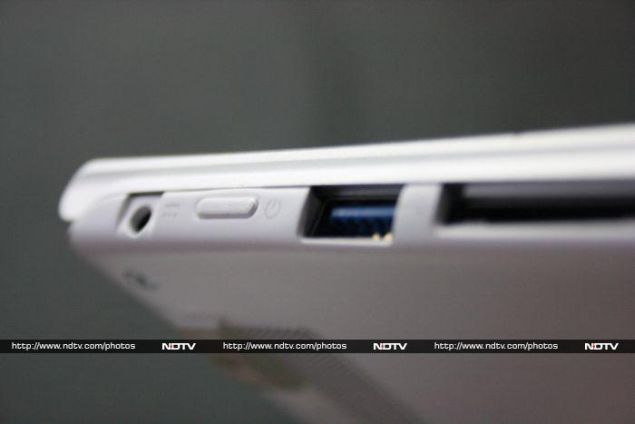 The screen runs at 1920x1080 and supports multi-finger touch control. It's sharp, bright, and a pleasure to work with. Wi-Fi a/b/g/n and Bluetooth 4.0 LE are standard on Ultrabooks and there are no surprises here in that regard.
Acer hasn't gone overboard with the bundled software; at least on the Windows 8 desktop. There are three icons pinned to the taskbar: Clear.fi Photo, Clear.fi Media and Acer Docs. The first two are cloud-based libraries for your photos and media files respectively. If you install the matching Android or iOS app on your smartphone and/or tablet, you'll be able to sync photos and back up the ones taken with those devices' cameras. You'll also be able to stream the contents of your Windows Clear.fi libraries on your phone or tablet and sync them over the Internet. Even if you choose not to use the cloud features, the apps will work well enough as a photo organizer and media jukebox respectively.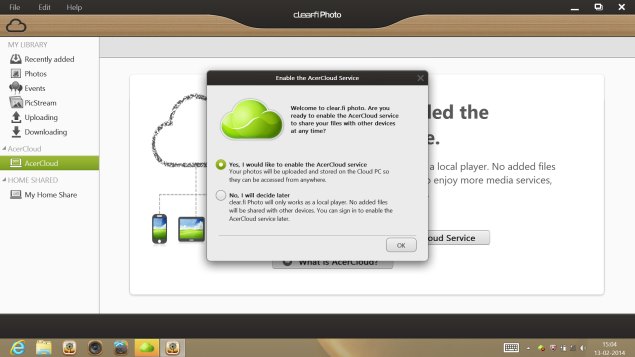 Acer Docs, on the other hand, works only with an Internet connection. It lets you edit Word, Excel and PowerPoint files using your portable devices. Any Office file you edit on your PC will be available on your devices for 30 days. We didn't spend too much time reviewing these apps, but they seem handy and you can easily unpin them if you don't see yourself using them.
There are also a few Intel tools, including one that offers to automatically connect you to free public Wi-Fi hotspots when it detects you're near one, and a Smart Connect wizard that helps you configure the S7 to wake up from sleep periodically to refresh your email inbox, social network feeds and syndicated online content.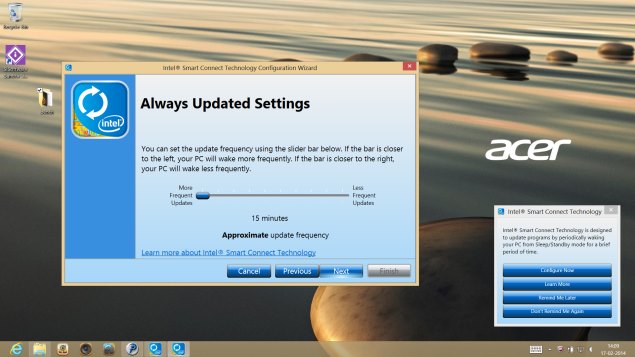 The Windows 8 Modern UI is a different story altogether. Acer has preloaded a bunch of apps including well-known ones. There's Acer Crystal Eye, a webcam app that lets you do fun but silly things like add frames and lens effects to your photos. Social Jogger is a social network aggregator that tries to keep all your feeds in one place. 7digital is a music store that claims to offer over 19 million tracks for sale.
Other apps include NewsXpresso, Tunein Radio, Weatherbug, Amazon, Kindle, Skype, and Music Maker Jam. Then there are a few common games: Cut the Rope, Shark Dash, Pinball FX2 and The Treasures of Montezuma 3, all of which are free versions, and therefore quite pointless.
Performance and battery life
We put the Aspire S7 through its paces with a battery of benchmark tests. It came out quite well, with strong scores in CPU-bound as well as GPU-intensive tests. We got scores of 46 and 22.67 in SiSoft Sandra's CPU Arithmetic floating point and integer tests respectively, which are on the higher side for 13.3-inch Ultrabooks. 3DMark was a pleasant surprise, with 571 points overall, which is not bad at all for integrated graphics.
The browser-based tests SunSpider and Kraken took 212.3 and 1679.6 milliseconds, respectively, while POVRay completed its benchmark run in only 11 minutes and 2 seconds.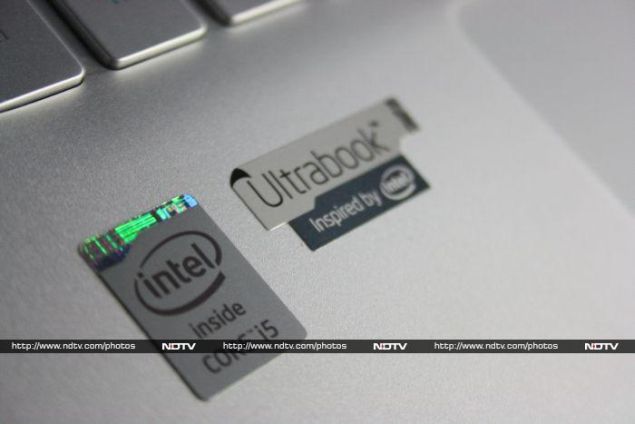 1080p video played without a hitch, including our highest bitrate MKV samples. Audio was loud but not very clear - we were pretty impressed with the S7's maximum volume, but severe distortion made everything from voices to classical music make us regret turning it up.
Battery life was extremely impressive. Our Battery Eater Pro Reader test, which only scrolls through a large text file, kept going for 9 hours and 19 minutes. The more graphically intensive Standard test took 2 hours and 34 minutes to kill the S7's battery. This means you'll easily get a full day's productive work out of the S7, with the screen brightness set to a reasonable level.

Verdict
Many notebooks calling themselves Ultrabooks have been too large, too heavy or too expensive, but this model from Acer stays true to the vision. Unfortunately, it also matches the rest of the Ultrabook stereotype: it's awfully expensive, connectivity is limited, and there's no scope for upgrading any of the internal components.
Acer has overcome some of the Ultrabook specification's constraints, most notably with its use of a breakout dongle for VGA and Ethernet ports. On the other hand, it has compounded some of the platform's problems, for example the liberties taken with the keyboard layout.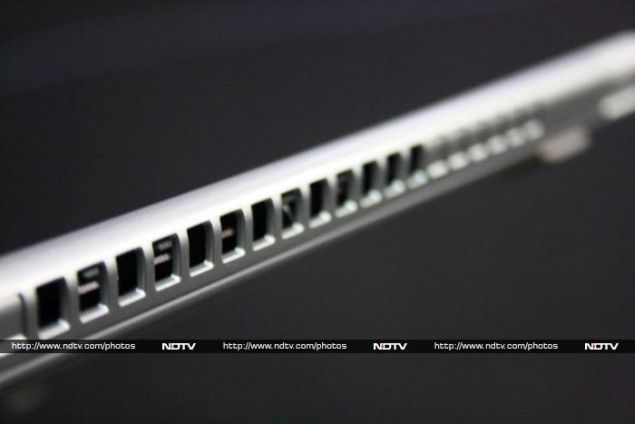 The S7 costs a fair bit more than Apple's iconic Macbook Air, the notebook that arguably kicked off the thin-and-light segment. It's got a higher resolution screen with touch and somewhat better connectivity options, but it doesn't have the Air's strong unibody, comfortable keyboard, or overall finesse. In fact you could get a similarly specced MacBook Pro with Retina Display for around the same price.
In terms of Windows-based competition, Sony's latest Vaio Flip 13 lags slightly in terms of performance but has a cool hinge that lets you flip the touchscreen over and use it as a laptop.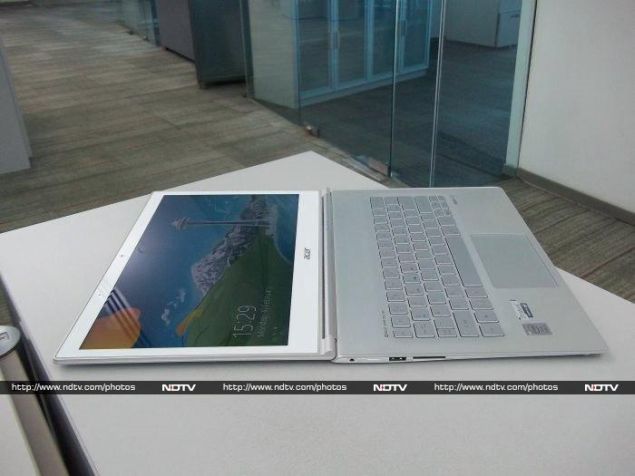 The Aspire S7 was clearly not intended for office workers or anyone for whom productivity is the main consideration. It's a great-looking lifestyle accessory, so if you think you'll benefit from having a light, portable and powerful machine and aren't bothered by price tags, this is a pretty good bet. Otherwise, it's hard to find a reason to recommend it.
Price: Rs. 1,02,990
Pros:

Slim and good looking

Good performance
Excellent battery life
VGA and Ethernet via included dongle

Cons:

Cramped, shallow keyboard

Body bends and flexes

Expensive
Ratings (out of 5):

Design: 4
Display: 4.5
Performance: 4

Software: 3
Battery Life: 4
Value for Money: 2.5
Overall: 3


Acer Aspire S7 in pictures