Far from the chaos of the public at Gamescom 2015 was Nvidia's business booth, cordoned off for members of the press and its partners. The firm's publicly accessible demo zone played host to the European debut of its Shield Android TV console, which offers 4K capabilities, streaming of PC games, and the latest Android games, but the business booth was a little more interesting.
(Also see: Nvidia Unveils Shield Android TV Console With Tegra X1 SoC at GDC 2015)
Behind closed doors, we checked out the new GeForce Experience, Nvidia's companion app for its GPUs, which allows you to keep your drivers up to date, optimise game settings easily, and capture game footage.
Although it's a handy program to have, previous versions were known to have their fair share of quirks. Most notably, there's a perceptible input lag between when the time you invoke GeForce Experience using its keyboard shortcuts, and when it actually starts up. Furthermore, recording gameplay hasn't been as intuitive, easy, or reliable as it should be. However, all this is about to change.
Recording gameplay videos is easy, sharing them, even easier
Our demo had us checking out puzzle-platformer Trine 3. On tapping the hotkey (Alt+Z) we were treated to a functional, easy to understand in-game share overlay that allowed us to record our game session, save the last 20 minutes of footage, or broadcast via Twitch at the click of a button.
Thanks to this new overlay, capturing and sharing of gameplay footage is easier, almost on par with the PS4 and Xbox One, if not better. In an attempt to put together a seamless experience of gaming and recording, Nvidia is adamant to ensure each feature works without you having to leave the game. This has resulted in the ability to upload straight to YouTube at 4K resolution, 60 frames per second without having to leave the game. And there's a new gallery feature that allows you to peruse through and view all your recorded videos while in a game as well.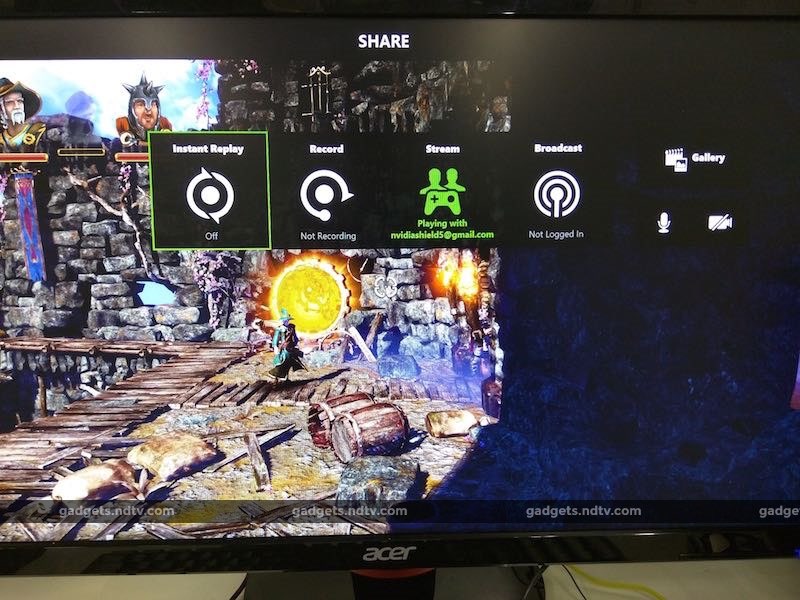 Needless to say, it seems as if the GeForce Experience team at Nvidia has been inspired by the accessibility of gameplay sharing features on the PlayStation 4 and the Xbox One. It's a welcome change because recording game content on the PC isn't usually the easiest thing in the world.
GameStream Co-Op lets you share games with friends instantly
But this was not all; an option in the overlay labelled as "Stream" caught our eye. Clicking it allowed us to invite a friend to join our game via an email invite or by copy-pasting the invite URL into a chat app like Hangouts. When your friend accepts the invite, the game opens up in Chrome on the friend's PC, who joins your game through the browser. This is a new feature that the company refers to as GameStream Co-Op.
(Also see: With SWYO, Stream PC Games to Your Mobile, Tablet, or PC)
In our session, we were surprised by how pain-free it was. Trine 3 opened near instantly on Chrome in the relatively low-spec laptop available in the demo area. Within the laptop's browser we could perform precise jumps and moves that made it hard to believe we were actually streaming this off a PC over an Internet connection and not running it locally on the laptop.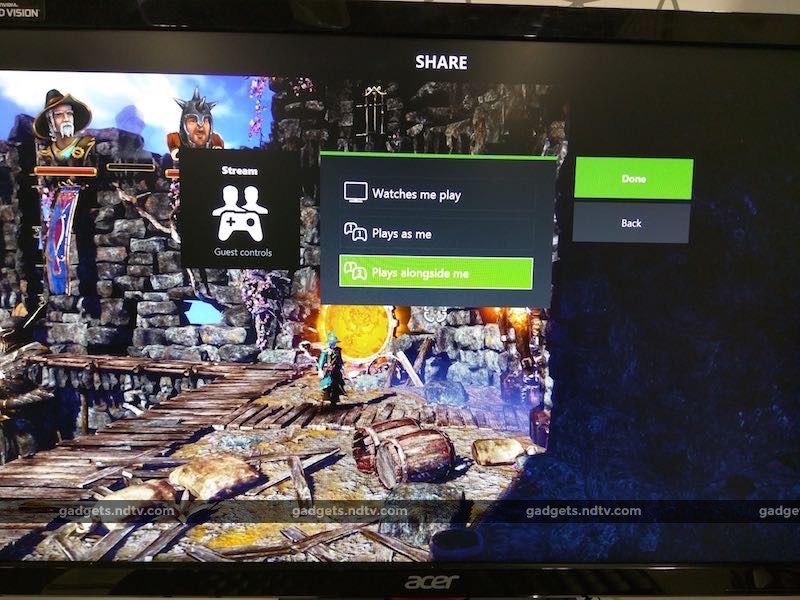 With support for integrated voice chat and mirrored controls that allowed us to share control of our character in Trine 3 (in addition to permitting co-op mode to work over streaming), GameStream Co-Op was a breeze to use. This is especially great when you consider that PS4's Share Play and Steam's Family Sharing rarely work as they should.
While GameStream Co-Op doesn't need Nvidia's GeForce GRID to get working, games do need to support DirectX 9 or higher and have to run in fullscreen mode for it to work. The only real limiting factor is bandwidth, which is why most Indian users will not be able to experience this at least in the near future. You need at least 7Mbps upstream/downstream for both the host and guest PCs.
Barring the requirement for high-speed Internet, everything else needed to get GameStream Co-Op running was surprisingly low. The host PC needs to have GeForce GTX 650 or better GPU, an Intel i3 processor (3.1GHz or higher), 4GB RAM, and Windows 7, 8 or 10 OS. Meanwhile, aside from requiring Chrome (version 44 or higher) the guest PC has the similar requirements except for the GPU, which isn't needed as all the heavy lifting is being done by the host.
But it isn't perfect, yet
Our demo of the new GeForce Experience was in a controlled environment with blistering fast Internet connectivity. And with the new overlay, Nvidia has managed to make recording and streaming of gameplay a whole lot more easier than it was. But it isn't without its caveats.
For starters, GameStream Co-Op displays games on the guest PC at 720p albeit at 60 frames per second. Secondly, for co-op to work via streaming, the game needs to support offline co-op natively. Thirdly, game sharing is limited to a one hour session, after which an invite has to be sent again. This is understandably done to protect developers and publishers, by making it inconvenient for players to play the complete games without buying them.
As for consumers, the benefits are apparent. PC gaming is filled to the brim with a ton of game clients such as Steam, GOG, Origin, Uplay, and Rockstar Social Club among others. In such a backdrop, having a solution like Nvidia's GameStream Co-Op that works across clients is handy. Even more so when you consider that it isn't just for sharing videos anymore, but sharing games as well. Given that PC requirements for games have plateaued over the years, and the general slowdown of the components market as a whole, it's all but obvious that Nvidia has to create a reason for gamers to buy its new GPUs. The new GeForce Experience is a step in this direction.
In a way, the PC finally has a competitive solution that puts it on par with the ease of sharing on consoles. This gives consumers more choice, which is never a bad thing. With the new GeForce Experience slated for early beta next month, we'll be checking it out in real world conditions to see what you can expect when it's ready for a wider release.