If you've watched the first episode of Game of Thrones' sixth season, you are probably still wondering what the deal is with Melisandre after that shocking reveal.
During the final moments of the season premiere, after having checked in with how everyone else is doing, we end up in the Red Woman's private chambers at Castle Black. Looking into a reflective metal object - the closest thing you'll find next to a mirror in Westeros - she proceeds to take off her red dress and drops it to the floor. As she surveys her naked self, she unclasps the necklace with a ruby around her neck and gently puts it down on the table in front of her.
And after lingering for a little while on the unclear reflection, the camera pans to show a wrinkly old lady unlike the young and beautiful self of Carice van Houten, the Dutch actress who portrays the character. Melisandre's real body is clearly much, much older than she appears to the world at large, and this is sure to have been odd for most viewers.
And even though the show has now progressed beyond George R.R. Martin's written word, the books can still be of help for this rather magical conundrum.
(Also see: Game of Thrones S06E01: 'The Red Woman' Recap)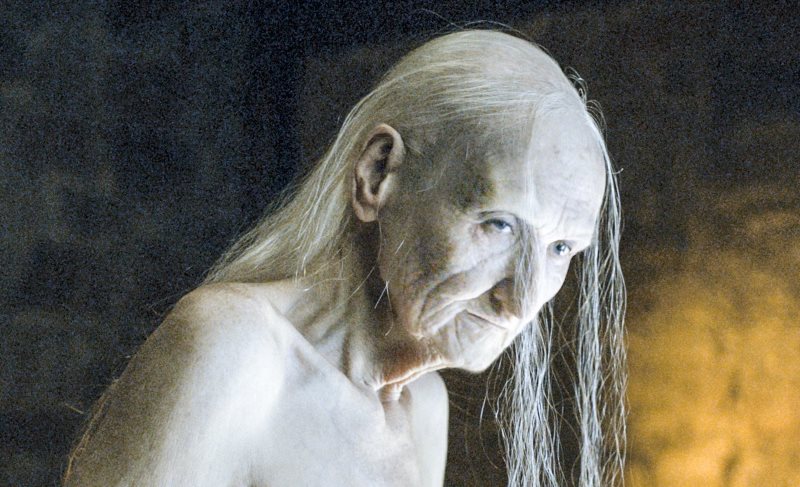 So what is it?
Even though Bran is repeatedly told that magic doesn't exist, there are different types of it practised through the Known World. The particular kind of magic used by Melisandre is called "glamour". The archaic English term is used to mean an 'enchantment' or 'magic'. Through literature, most especially fantasy, the word has been used to refer to all manners of conjurings and illusions, from pulling objects out of thin air, to duplicitous facades and tricking the senses.
In George R.R. Martin's series, the first mention of the word doesn't appear until the fourth book, when Arya is looking for Jaqen H'ghar in Braavos.
"Will you show me how to change my face?"

"If you wish." He cupped her chin in his hand and turned her head. "Puff up your cheeks and stick out your tongue." Arya puffed up her cheeks and stuck out her tongue.

"There. Your face is changed." "That's not how I meant. Jaqen used magic."

"All sorcery comes at a cost, child. Years of prayer and sacrifice and study are required to work a proper glamour."
Here, Martin is using "glamour" as a magical means to altering your image. In the shows, Arya has yet to learn the art of the Faceless Men, and it's not known if "glamour" has anything to do with it.
The next time we hear of it is during Samwell Tarly's journey to Oldtown with Maester Aemon and Gilly. Unlike the show where Aemon passes away at Castle Black, he passes away on the ship after getting sick in the endless rain. But not before having an imaginary conversation with his late brother, Aegon V, as in the fifth season.
"The prophecy, my brother's dream. Lady Melisandre has misread the signs. Stannis has some of the dragon blood in him, yes. His brothers did as well. Rhaelle, Egg's little girl, she was how they came by it, their father's mother... I remembered that, so I allowed myself to hope... we all deceive ourselves, when we want to believe. Melisandre most of all, I think. The sword is wrong, she has to know that. Light without heat, an empty glamour. The sword is wrong, and the false light can only lead us deeper into darkness, Sam. Daenerys is our hope. Tell them that, at the Citadel. Make them listen. They must send her a maester."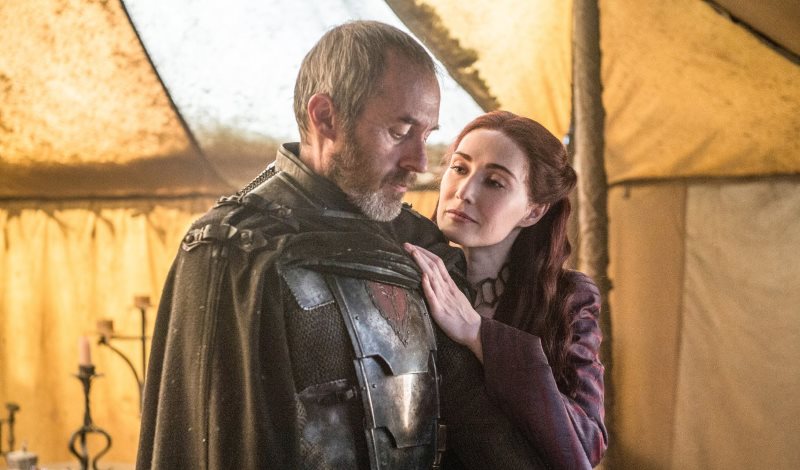 Melisandre really believed, or wanted to as the Maester implies, that Stannis was Azor Ahai reborn and the sword he pulled out of the fire would be Lightbringer. And look how that worked out for Stannis. In the books, Aemon took a look at the sword and understood it was not real. His reference to "an empty glamour" points to the limited efficacy of Melisandre's abilities, who was able to give Stannis' sword a magical light but even her powers could not make it radiate heat.
But the most important mentions to "glamour" don't happen until the latest and fifth book in the series, A Dance with Dragons. Mance Rayder, who was burnt at the stake in season five, is alive and well in the books with the help of Melisandre's powers.
"The glamour, aye." In the black iron fetter about his wrist, the ruby seemed to pulse. He tapped it with the edge of his blade. The steel made a faint click against the stone. "I feel it when I sleep. Warm against my skin, even through the iron. Soft as a woman's kiss. Your kiss. But sometimes in my dreams it starts to burn, and your lips turn into teeth. Every day I think how easy it would be to pry it out, and every day I don't. Must I wear the bloody bones as well?"

"The spell is made of shadow and suggestion. Men see what they expect to see. The bones are part of that." Was I wrong to spare this one? "If the glamour fails, they will kill you."
Just like the ruby she wears around her neck to appear as a younger woman, Melisandre put another around the wrist of Mance, and added the armour of loosely tied bones to make him appear as the dead Lord of Bones aka Rattleshirt.
The conversation continues after Jon enters the room, and is shocked to find Mance well and alive.
Jon Snow turned to Melisandre. "What sorcery is this?"

"Call it what you will. Glamor, seeming, illusion. R'hllor is Lord of Light, Jon Snow, and it is given to his servants to weave with it, as others weave with thread."

"The bones help," said Melisandre. "The bones remember. The strongest glamours are built of such things. A dead man's boots, a hank of hair, a bag of fingerbones. With whispered words and prayer, a man's shadow can be drawn forth from such and draped about another like a cloak. The wearer's essence does not change, only his seeming."

She made it sound a simple thing, and easy. They need never know how difficult it had been, or how much it had cost her.
While the entire Mance Rayder situation is very different in the books, what matters here is how specific Melisandre gets with her thoughts. It's quite clear now that Martin is using the word "glamour" to denote a very well done illusion, and we also learn that it takes a lot out of Melisandre to perform it on someone, let alone continue her own illusion on a daily basis.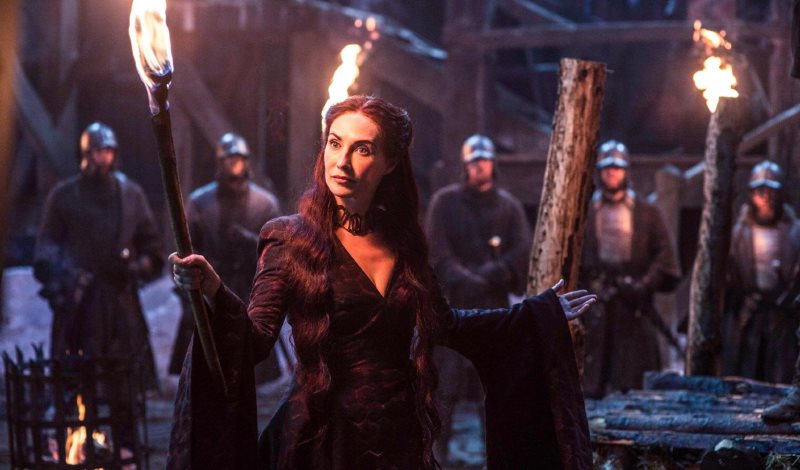 (Also see: How to Legally Watch Game of Thrones S06E01 Right Now)
So just how old is Melisandre?
In the same chapter from A Dance with Dragons, Melisandre mentions she "had practised her art for years beyond count", which goes to show that she is indeed a lot older. Another strong indication comes from van Houten herself, as barely months after being cast as The Red Woman in Game of Thrones, she said this in an interview: "I don't how old she is, but she's way over 100 years." The only way van Houten could have known that is if she was told by the show's writers themselves.
And more proof came via this week's "Inside the Episode" segment, where executive producer David Benioff revealed that according to conversations with George R.R. Martin, Melisandre is "several centuries old".
Well now that you know that about Melisandre, what do you make of the huge reveal? Do you think she still has it in her to help Jon Snow with his whole being dead situation? Sound off in the comments below.