Crowdfunding has been a revolution and it's helped some amazing ideas to get off the ground. From remakes of classic games and tabletop adventures, to books, comics and gadgets, we've seen great projects that brought us products that wouldn't even exist otherwise.
The Pebble Smartwatch and the Oculus Rift VR headset have practically launched product categories and they first made an appearance on Kickstarter, instead of being dreamt up in the bowels of a big company. But not every Kickstarter project is a winner, and even when a project gets funded, there's no guarantee that it will end in a real product that is delivered at all, forget about sticking to estimated dates, and functions as originally planned.
One of the more infamous examples of this is the myIDkey. This gadget was pitched as a USB drive with a built-in display and fingerprint reader. You'd connect it to your PC and put your finger on the scanner, and the myIDkey would enter your passwords and login information automatically.
Funded in March last year, it raised over $470,000 (nearly Rs. 2.9 crore), against a target of $150,000 (just over Rs. 90 lakh). At the time of the pitch, the company had said that the designs were complete, the patents filed, and the manufacturing process defined.
Estimated delivery for the myIDkey was in September 2013. Months later, with no product in sight, the updates changed to private ones that only backers could read. Comments on the Kickstarter page continue to this day, and continue to be overwhelmingly negative, as the device still hasn't reached the people who put money behind the project.
So what went wrong? It's not very clear because most of the updates went private, but reading the comments on the page, you can piece together that the stretch goals - the features that some projects promise to deliver over and above the initial ones if they raise extra money - the project had added a lot of new features, which meant the final product was far removed from the initial pitch. Re-inventing your product after it's been funded - or prototyped and just waiting for funds before it goes into production as is often the case of Kickstarter - is a bad idea, and one that likely resulted in this project never delivering.
When you're backing a project on Kicktarter, you might think of it as a form of pre-ordering, but even with the revised guidelines the site offers, there's a chance that a project might fail. And Kickstarter's terms absolve thhe platform of all responsibility, even if they do hold the project's creator's accountable.
The guidelines say that Kickstarter is not a part of the contract - the contract is an agreement between creators and backers. The creator of a successfully funded project must fulfil each reward; however, the delivery date is the creator's estimate, and Kickstarter does not offer refunds. For its part, Indiegogo is equally clear about not taking responsibility for failed projects. The terms say: "Indiegogo does not represent that Campaign Owners will deliver Perks or that Contributions will be used as described in the Campaign. Users use the Services at their own risk."
Shifting targets
Sometimes though, you can end up making exactly what was planned, and then realise that the plans weren't very good, at all. That's what seems to have happened with the game Clang. The game generated a lot of enthusiasm largely because of the man behind the project - the extremely popular science fiction author Neal Stephenson.
Novels like Snow Crash, Cryptonomicon and the Mongoliad (which was originally planned to be serialised and distributed through apps) were huge successes, and Clang was going to use motion capture technology to create a realistic sword fighting game.
Clang raised over $525,000 (approximately Rs. 3.20 crore) on Kickstarter, and the idea was to make a sword game that "doesn't suck", to quote Stephenson. "I'm dissatisfied with how sword fighting is portrayed in existing video games," he said, describing it as "bogus crap." Here's the pitch video of the project:
Over a year after the project closed its funding, it is dead. The Clang prototype was delivered, as promised, but no game emerged.
In an update, Stephenson wrote: "The prototype was technically innovative, but it wasn't very fun to play. This is for various reasons. Some of these were beyond our control. Others are my responsibility in that I probably focused too much on historical accuracy and not enough on making it sufficiently fun to attract additional investment."
Stephenson himself took a heavy financial loss in the project, he wrote in the update, saying this was his way of taking responsibility for the failure of Clang. This is not too surprising when you look at some of the developments that occurred during the lifecycle of Clang.
After delivering a demo of Clang a couple of months later than the final product was supposed to be delivered, Clang hit more than a few snags. The updates at the time of the demo were filled with details about how to hold a sword, and historical references.
The next update on the other hand talks about Kickstarter "lock-in". This sentence in particular sums things up perfectly: "Kickstarter is amazing, but one of the hidden catches is that once you have taken a bunch of people's money to do a thing, you have to actually do that thing, and not some other thing that you thought up in the meantime."
Not having a real product
Probably the most infamous crowdfunding failure in recent times is the Kreyos Meteor smartwatch, which raised money on Indiegogo. This smartwatch's funding campaign was launched in June 2013, just a few months after the Pebble smartwatch started shipping. Kreyos had set a target of $100,000 (approximately Rs. 61.5 lakh), and raised 1,501 percent more - over $1.5 million (nearly Rs. 9.25 crore). The watches were supposed to ship by November 2013, but the backers started to get their watches only a couple of months ago.
Delays aren't good, of course, but many crowdfunded products do end up getting delayed as first time creators discover problems they hadn't anticipated. If the delivered product is riddled with problems, things get a little more problematic.
Looking at the comments and updates on the Kickstarter page, you can see some really big problems with the smartwatch. For one thing - it's not much of a watch. Users have reported that the watch can't even update the time unless it is connected to the smartphone.
On top of that, it's not very smart either - the storage on the watch allows you to keep only one app installed on it. This means that if you want to switch between apps, you need to uninstall the current app, and install the next app from your phone.
Commenters are offering to sell the watch for the shipping costs to anyone interested - or just giving it away freely if it's someone local.
Steve Tan, the founder of Kreyos made a long post to explain what went wrong, where he mostly shifts the blame to his Chinese solutions company, Viewcooper Corporation. In the post, he even states that the final product did not end up being the product envisioned and detailed on the Indiegogo campaign.
In the course of this explanation though, one thing quickly becomes clear. Kreyos never had a product to start with. The team at Kreyos could do marketing well, but they had entered into an agreement with Viewcooper to buy a complete solution - finished smartwatches.
The post goes on to talk about the various ways in which Viewcooper cheated Kreyos - the story would be a lot more sympathetic if Kreyos had designed or conceptualised the product itself; given that the company was acting as a middle man, watching them gamble with the money from backers is outright depressing.
Backers were not told before handing over there money that Kreyos planned to focus on branding and marketing, while Viewcooper in China would handle the hardware. If this had been made clear from the start, would Kreyos have raised over a million? Would it have even met its $100,000 target?
No history of business
Pictures for Sad Children was a powerful, poignant webcomic created by John Campbell in 2007. The comic was poignant, bizarre, outlandish and brilliant. 'Was', because in 2014, faced with the stress of running a Kickstarter project, Campbell deleted the entire archive of the comic, closing it down for good.
Campbell had created a Kickstarter project to make a print collection of his work, and raised over $51,000 (approximately Rs. 31.5 lakh) against a target of $8,000 (nearly Rs. 5 lakh).
In an update in February, Campbell announced that the Kickstarter was over. He wrote that he had shipped 75 percent of the Kickstarter rewards - but he wouldn't be shipping out any more. Instead, he posted a video where he burned 127 copies of the books - one for each message on social media about the books being late.
He added that he'll burn an additional book for every message he receives about delays.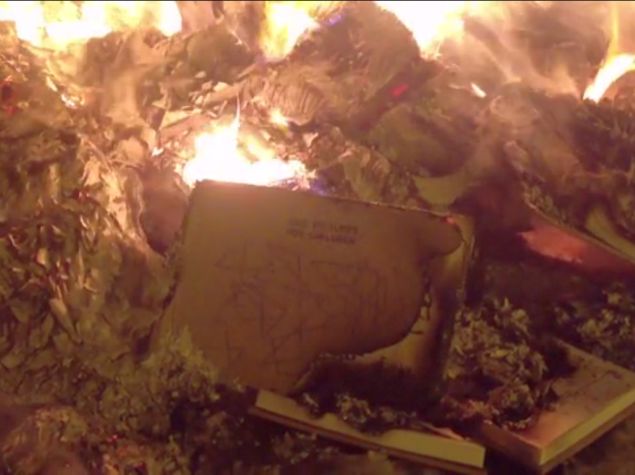 A couple of months later, a fan would step in, contact Campbell, and help get the Kickstarter back on track - and in July, the remaining copies of the books were shipped out to backers.
It's a crazy story, and our sympathy is tied between Campbell and his backers here. Unlike some of the other projects we've talked about, Campbell really did set out to deliver on his promises, and came pretty close. As paying customers though, people can get frighteningly entitled and demanding - and for an artist like Campbell, it was too much to handle.
On the other hand, many of the people who backed the project thought their money would be used to print and mail a book to them - this money was instead used to cover living expenses and other costs. Can you blame them for wanting to at least contact the artist and find out what's going on?
Red flags to watch for
This is not to say that people shouldn't back crowdfunded projects. If people didn't back Kickstarters, there would be no Oculus Rift, and we would be very sad. But there are a few things that you want to keep in mind as well, to avoid disappointment.
Don't spend money you can't afford to lose. If you think of Kickstarter as a pre-order service where you will get a product within the stipulated time, then you're in for a lot of disappointment. If you can't completely write off the money, then don't spend it - if you follow this approach and forget about the projects, then when the product eventually ships, it's a nice surprise for yourself.
Do check the scope of the project. If it's wildly ambitious and similar products don't exist (sorry Clang but we're looking at you) then the odds of it success are pretty low. If there are a ton of stretch goals that can completely change the scope of the project, then the odds of its success are not that great either. Big, ambitious projects can succeed, but you need to look at the plans laid out, the work that's already been done, and the projected deadlines, to see if the product is feasible or not. Don't get carried away with excitement, take a minute to think about whether the project will work or not.
Another great indicator is the people behind the project and if they have any relevant experience. If the company in question has already made several products in the field they're trying to raise funds in, or if the person behind the project has done extensive research and made working prototypes (like the Oculus Rift Kickstarter) then you're perhaps making a relatively safe bet. If the company has no history of making products, and the people in the team have largely worked in marketing, and not manufacturing roles (hello Kreyos) then your product is only being held together by good intentions. And we all know where those lead.
Keep these points in mind, and you'll be able to use crowdfunding websites without wasting too much money. In case you'd like some suggestions about projects to consider - while keeping these points in mind - then check out our weekly pick from crowdfunding websites here.