The ICC Cricket World Cup 2015 is underway and for a lot of people in India and around the world, this is the biggest sporting event of the calendar. Sure, T20 matches might have taken away some of the sheen of the 50-over format but the World Cup remains the most prestigious event on the cricketing circuit.
If you're a gamer who loves cricket, then there are plenty of games you can play to recreate the action and get your fix between World Cup matches. Here are our top picks:
1.
ICC Pro Cricket 2015
(
iOS
,
Android
,
PC
)
The "official" ICC Cricket World Cup video game, ICC Pro Cricket 2015 was released by Indiagames, a local studio with a lot of experience in making cricket games. The game features a unique bowling mechanic that has you tracing the ball's trajectory on the screen, which makes for a more immersive experience. Batting has the default camera from behind the stumps much like
Don Bradman Cricket
and requires you to tap the for a ground or lofted shot as well as choosing the direction.
It can take a little getting used to, but this free mobile game looks amazing and is a lot of fun, as does the PC variant which costs Rs. 609. Motion capture makes an appearance as do realistic graphics along with management and simulation gameplay.
This time around its efforts are coupled with the ICC Cricket World Cup license ensuring that you have over 150 official players from 14 teams. What this means is you won't be playing as "MS Dhobi" but as the real MSD.
Download ICC Pro Cricket 2015 for iOS, Android, PC
2.
Don Bradman Cricket
(PS4, Xbox One)
The Don Bradman series is possibly the best cricket game available, and the fine folk at Australian studio Big Ant have decided that it was a tragedy to restrict the games to the PlayStation 3, Xbox 360, and PC alone. Newer consoles also get to share in the fun now, and our
review
confirms that the addictive gameplay mechanics and modes that made last year's game a triumph have all been retained from the dual stick control scheme for batting and bowling to the exhaustive career mode. If you are a cricket fanatic, it's well worth the Rs. 4,099 asking price.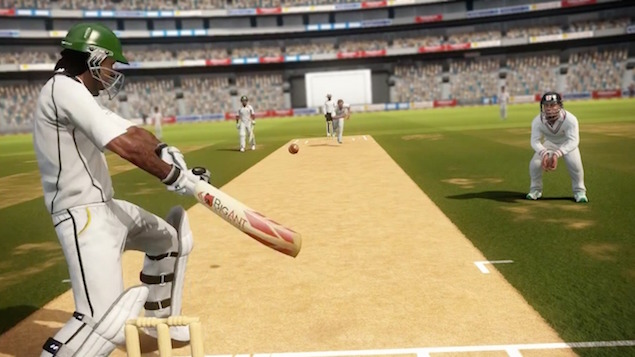 3.
Real Cricket 14
(
iOS
,
Android
)
Another mobile game, Real Cricket 14 is Nautilus Mobile's debut attempt at the genre. Sporting a unique 2D art style and slick animations, this is a compelling game that's tough to put down. And though the title is a year old, the Android version has been updated for the 2015 Cricket World Cup, with the iOS version expected to get the same treatment soon. The controls are what you'd expect with the use of virtual buttons that are surprisingly tactile, and result in batting and bowling being a cinch.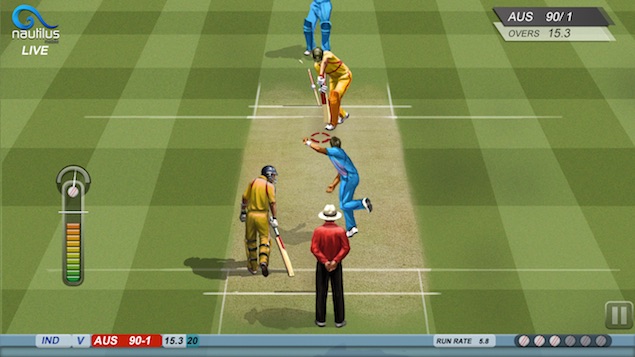 What does the Real Cricket World Cup update bring to the table? Well, there's a free World Cup game mode and all of the game's premium features (except for equipment) such as game modes will be unlocked for India. Furthermore, the Real Cricket Premier League mode which was earlier exclusive to Intel devices will be available for purchase at around Rs. 60.
Download Real Cricket for iOS, Android
(Also see: How to Watch 2015 Cricket World Cup Live on Your PC, Smartphone, or Tablet)
4.
10 Ten Cricket Card Battle
(
iOS
)
Another game from the Indiagames' stable, 10 Ten Cricket Card Battle harks back to the days when trump cards were popular. It's a cricket-based card-collection game that has you managing a team, upgrading your players' stats and of course a roster that has every player taking part in the World Cup. Aside from sporting a unique aesthetic, the economy of 10 Ten links with ICC Pro Cricket 2015, which means purchases in either game sync across both games, making for a rather interesting experience, think about it as the cricket equivalent to FIFA's Ultimate Team, allowing you to buy premium players to create an unbeatable squad.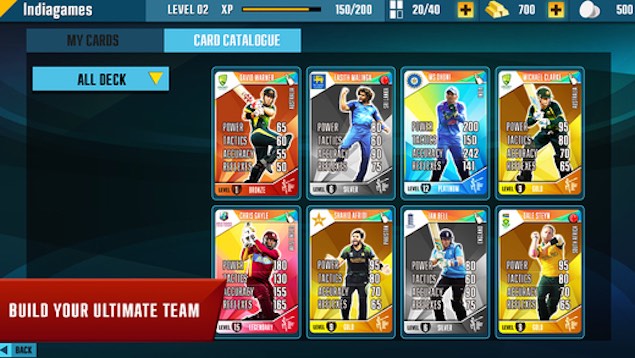 We'll have to see how well this works out, but for now there's enough content to keep you piqued if you like your cricket games to have a more strategic, tactical feel to them.
Download 10 Ten Cricket Card Battle for iOS
(Also see:Have Fun Following Cricket World Cup 2015 With Online Fantasy Leagues )
5.
Stick Cricket World Cup Edition
(
Browser
)
Stick Cricket has long been the escape for many an office going drone looking to kill time between senseless meetings. As usual, this is a browser-based affair that has you batting in a chase of seemingly insurmountable scores or setting a winning total. Running between wickets is automatic. This time around it's World Cup themed wherein you've to play group matches. Win enough of those and you'll find yourself in the knock out phase followed by the semi-final and then the final itself.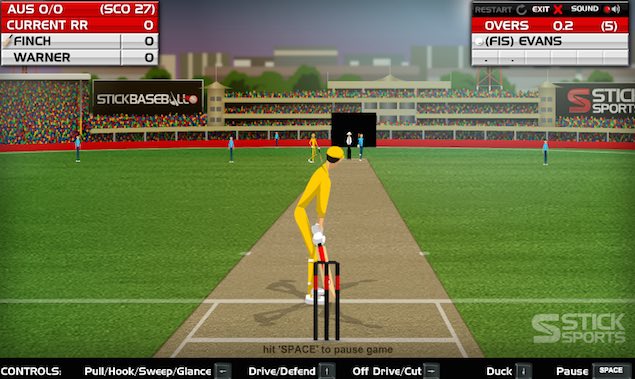 Inspite of its rudimentary gameplay, the bowler descriptions at the start of an over give it some character, making it a humorous affair. The high score chase can get highly addictive, and keep you playing this incredibly basic game for a lot longer than more sophisticated alternatives.
You can fire up Stick Cricket on your desktop browser right now.
Did you try any of your 2015 Cricket World Cup game picks already? What is your favourite cricket game of all time? Tell us via the comments.