Today, just about every major e-commerce player has daily deals, flash sales, and price cuts in a bid to encourage shopping. However, buying anything without comparing the price across various stores is usually a bad idea. Having said that, we know that checking every site manually can be a pain.
Enter price comparison websites like Junglee, which help you find great deals. However, the experience is far from seamless and going back to the site, every time you can come across a deal on an e-commerce store can be a pain.
In such situations, browser extensions do the job without interrupting your browsing flow. We tried different extensions that find the best deals across several Indian e-commerce websites and here are our favourites:
Makkhichoose
Named after a Hindi phrase that roughly translates to "penny pincher", Makkhichoose is a Chrome and Firefox extension that adds a button to product pages of shopping websites. When you go to a product page on leading e-commerce sites, you'll see a blue button in the corner of the page.
Clicking this button will tell you if other websites have a better deal on the product that you are currently browsing. This extension checks prices of the same product on Flipkart, Amazon, SnapDeal, Tradus, Saholic, Yebhi, Shopclues, Myntra, and Jabong.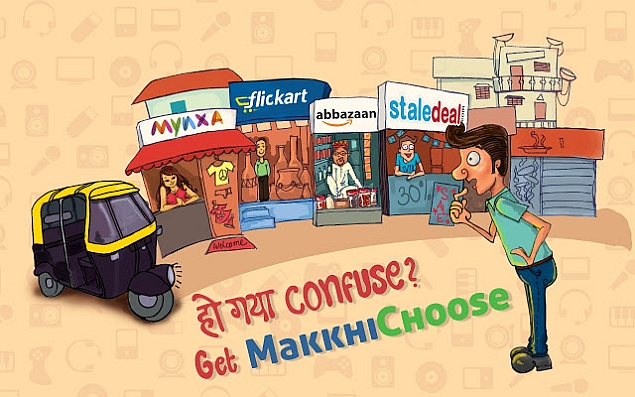 If a better deal is available elsewhere, the extension adds a line of text under the product name, saying: Lower price available on another site! Click on tag at bottom left to see. This tag appears on the left side, not bottom-left, and half of the icon is sometimes outside the screen. Click the tag and Makkhichoose will show you deals on other sites, along with a couple of sponsored links.
We love MakkhiChoose, but it sometimes finds the wrong product. For instance, we searched for the comic book Boxers by Gene Luen Yang and MakkhiChoose said SnapDeal has the book for Rs. 300 while most others had priced the book at around Rs. 1,500. We clicked the link very happily, but then discovered that the product was boxers style underwear.
(Also see: How to Save Big on Windows Phone, BB10, Windows, and Mac Apps)
PriceKart
PriceKart does the same thing as MakkhiChoose, but has a much better interface and some extra features. PriceKart shows you three buttons - Price Alert, Check Price, and Coupons. The Price Alert button adds the product to your watch list and sends a notification when there is a price drop.
The Check Price button is for comparing prices across websites, similar to MakkhiChoose, while the Coupons button shows discount coupons for the product. When you checkout, a big Apply Coupon button appears, which automatically checks various coupons available online, and selects the one that will give you the maximum discount.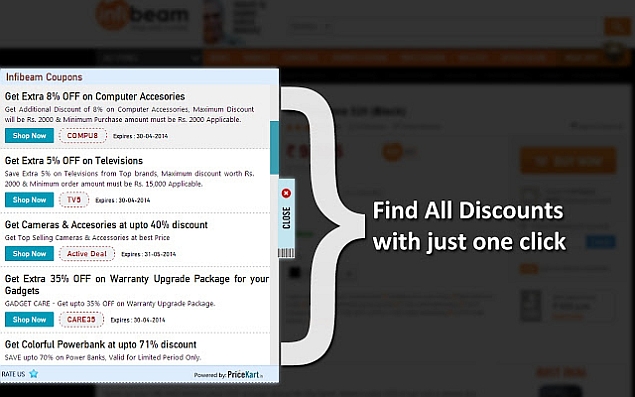 PriceKart checks prices across several websites including Amazon, Flipkart, SnapDeal, Crossword, Landmark, Naaptol, Myntra, Zovi, Jabong, and eBay, among others.
PriceKart is a very useful extension, and we prefer it over Makkhichoose due to the extra features - but if you want something that is fast and no frills, you might disagree.
(Also see: How to Save Money on Google Play Store Apps)
Compare Hatke
If Makkhichoose and PriceKart are too basic for you, we suggest that you try Compare Hatke for Chrome and Firefox. It does everything that the other two extensions do, but has a bigger database of websites and also shows you price vs. time graph for most products, so you can see, for example, if a product frequently goes on sale.
Install this extension by Buyhatke, search for a product across 70 Indian e-commerce sites, open any product page, and wait for a few seconds. A bar will appear at the top where you will be shown prices on other websites. However, the process isn't flawless - there were some pages where the top bar did not appear at all, even though the product was listed as available on various sites.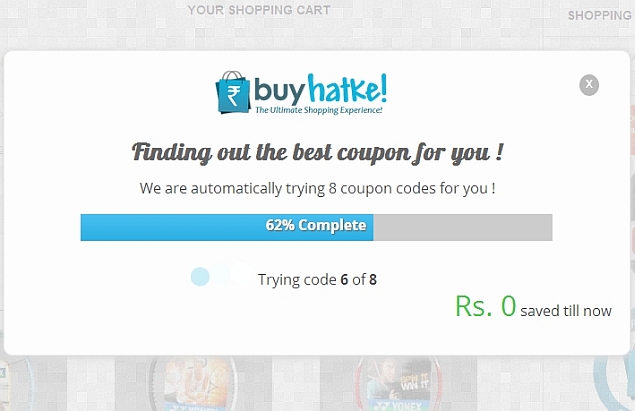 You will also notice two more buttons on the product page - Price too high? Watch Price, and Compare. The first button adds the product to your watch list and will send a notification when there is a price drop. You can find all products in your watch list by clicking the extension's button, which is next to the address bar. The Compare button takes you to the Buyhatke website, which is like any other price comparison website.
The best feature of this extension is a neat price vs. time graph that appears below any product page. This historical graph see the product's price over the past month. In one case, we saw that a product worth Rs. 1,500 was available for Rs. 299 for three days before its price rose again. If you're a compulsive deal-hunter, this is a great feature.
The extension also shows a big Apply Coupon button during checkout. When you click this button it applies several coupons and picks the one that offers the maximum discount, similar to PriceKart.
Compare Hatke is a great extension, but it has a couple of minor issues. As mentioned earlier, sometimes the top bar doesn't appear at all and we found that the buttons it adds to product pages can get distracting.
(Also see: How to Find the Best Deals on iOS Apps)
These three extensions are all very useful, but there are always more. If we missed your favourite addons or if these extensions saved you some dough, let us know via the comments.