The sixth season of HBO's fantasy epic, Game of Thrones, is nearing to its end with just two episodes to go. The showrunners - David Benioff and DB Weiss - and their team of writers have made a habit of delivering a crucial ninth episode every season, which brings one or more storylines to a powerful conclusion.
HBO has been especially coy about giving away plot points this time around, from refusing to screen episodes in advance for reviewers, to not providing even a synopsis for the season's last two episodes. But between the episode title - Battle of the Bastards - and a 50-second teaser preview, we have enough to be excited about.
Before we get talking about our predictions and expectations for said episode, we decided to take a look at all of the ninth episodes from five previous seasons. Let's be like Bran, and peer into the past.
Editor's note: spoilers below for all six seasons of Game of Thrones.
Season 1, Episode 9 'Baelor'
Game of Thrones was a new and unproven show at this point, with just eight episodes on its back. But the ninth episode showed its dramatic flair with one of the show's all-time big moments - teenage King Joffrey told man-of-honour Eddard Stark to be off with his head. And just like that, every viewer understood this was a different series; one where no one was ever safe, not even the leading men and women. Book fans might have seen it coming, but by building the first season around the Stark family, the writers provided shocks aplenty, and taught viewers that there is no place for brave men of their words on a show like Game of Thrones.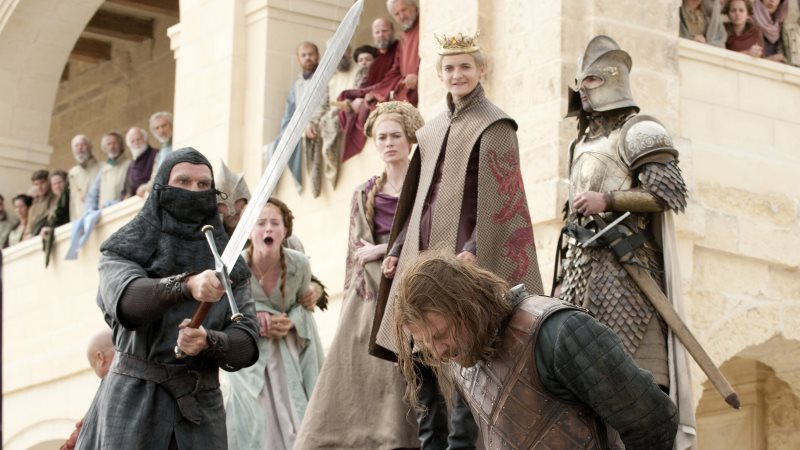 Episode title trivia: The head of the Stark family was executed at the Great Sept of Baelor.
Season 2, Episode 9 'Blackwater'
In its second season, Game of Thrones continued to deliver some of television's best fictional work across all types of scripted drama. George RR Martin, whose novels the show is based on, took writing duties for the penultimate episode that focused on Tyrion's efforts towards keeping Stannis Baratheon's forces from taking King's Landing, as Joffrey cowered in the basement. But even his best ideas - which eliminated most of Stannis' fleet - didn't garner him any compliments from his family. Instead, all he ends up with is a hideous scar across his face.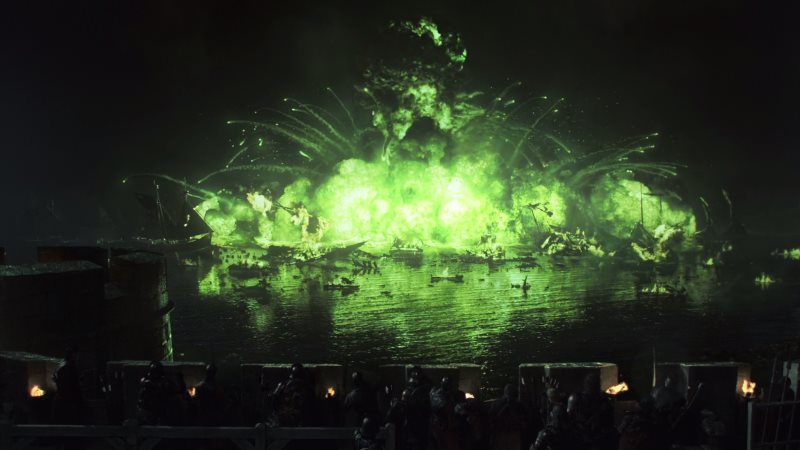 Episode title trivia: Blackwater Bay is where the battle was fought.
Season 3, Episode 9 'The Rains of Castamere'
The infamous Red Wedding. An unforgettable moment after moment unfolded before the audience's eyes as they watched in utter horror the massacre of the Starks and their bannermen. Heartbreak, devastation, and indignation followed - just look at the endless number of reaction videos that the episode spawned. There are even compilations of said videos. By killing King Robb, his mother Catelyn, and Queen Talisa along with her unborn child, House Frey ensured they would be the most hated family of all for the duration of the show - by viewers and Lords alike. Thankfully, the Freys weren't seen for another two seasons.
Also, Grey Wind the direwolf will always be in our hearts.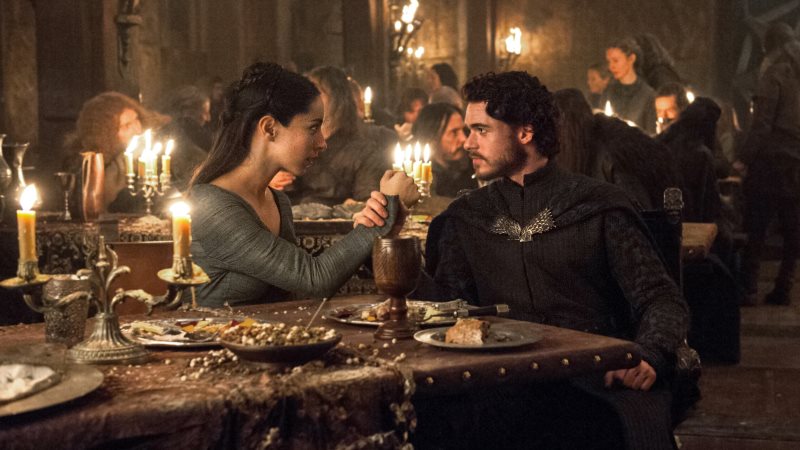 Episode title trivia: The Rains of Castamere is a song that speaks of House Lannister's wrath, whose head Tywin made a deal with Walder Frey.
Season 4, Episode 9 'The Watchers on the Wall'
Unlike previous seasons wherein the ninth episode was providing the season's big shocks, that ambition was achieved by the episodes surrounding it - from Gregor 'The Mountain' Clegane squaring off against Oberyn Martell in episode 8, to Tyrion putting a crossbow through his father in episode 10.
This episode took a season two approach and followed a single battle: the wildling's invasion of Castle Black and The Wall, as Jon Snow and his fellow Night's Watch brothers did their best to throw them off. Ygritte's death was the only real personal moment, with the episode delivering big on execution of scale. The episode ended with Jon Snow going off to assassinate Mance Rayder.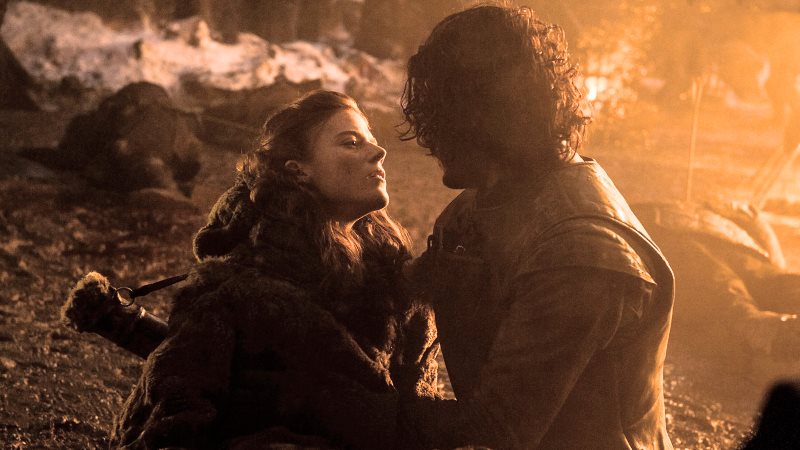 Episode title trivia: The Night's Watch oath has the words: "I am the watcher on the walls."
Season 5, Episode 9 'The Dance of Dragons'
Okay, we're going to just come out and say this upfront: the fifth season's second to last episode was by far the weakest in our opinion. It was also the first of the lot that wasn't based on events from GRRM's novels, so maybe that's why.
It did have a couple of shocking moments though. Facing a blizzard, Stannis decided to burn his daughter, Shireen, at the stake in order to curry favour in the Lord of Light's eyes, as suggested by Melisandre. It was utterly horrifying, and proof that Stannis had descended into madness. Elsewhere, the show decided to postpone climactic events for the season finale, including the moment everyone lied about for a year: Jon Snow's death.
There was one other big scene in the episode, and it belonged to Drogon. After Daenerys and her entourage found themselves outnumbered and surrounded by Sons of the Harpy, the dragon flew to his mother's rescue.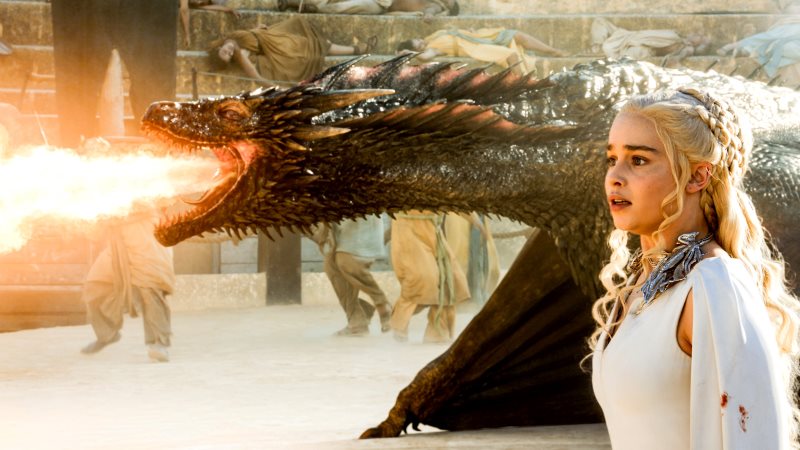 Episode title trivia: Shireen Baratheon was reading about the Targaryen civil war in a book called 'Dance of the Dragons'.
Season 6, Episode 9 'Battle of the Bastards'
That brings us back to the present. Since the moment Jon Snow woke up at the beginning of episode 3, Game of Thrones has been building towards a face-off this season between the two Snow bastards in the title: Ramsay Bolton, who has killed all of his kin and is the lawful ruler of Winterfell by decree, up against Jon Snow, fighting for his home and on behalf of the rightful ruler, Sansa of House Stark.
The Battle of Winterfell, as it will be officially called and remembered, is the biggest thing the Game of Thrones crew has ever pulled off, according to Jon Snow actor Kit Harrington. It took 25 days of shooting, 70 horses, 500 extras and 600 crew members to pull off the fighting sequence which will of course be expanded upon by computer-generated imagery (CGI).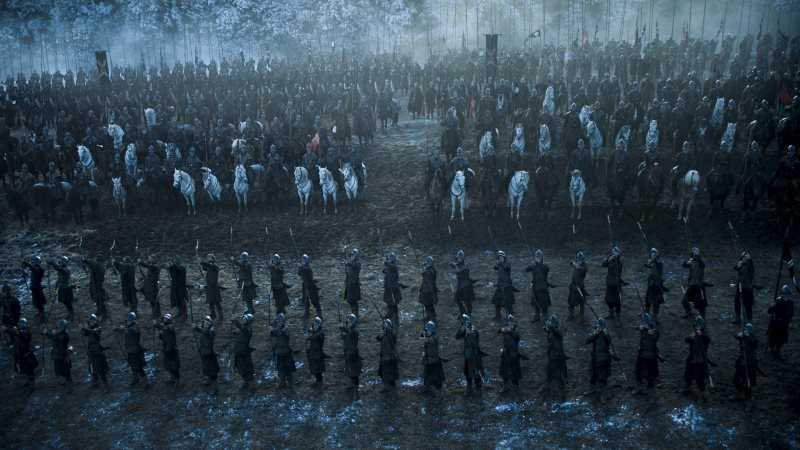 And if that wasn't enough hype for you, the upcoming ninth episode has the heaviest representation from Game of Thrones at the Emmys this year: submissions in six different categories. It will also run for 60 minutes, almost 10 minutes more than usual episodes.
But not all of that time will be dedicated to Winterfell happenings, apparently. The episode will also include the Greyjoy fleet landing on the shores on Meereen to save Daenerys and clan from the slave masters' fiery catapults. Last we heard from the fleeing Ironborn, they had already made it to Volantis. If they do manage to get the upper hand, you can bet the Targaryen queen will look favourably upon her new Westerosi guests. After all, she does need a thousand ships.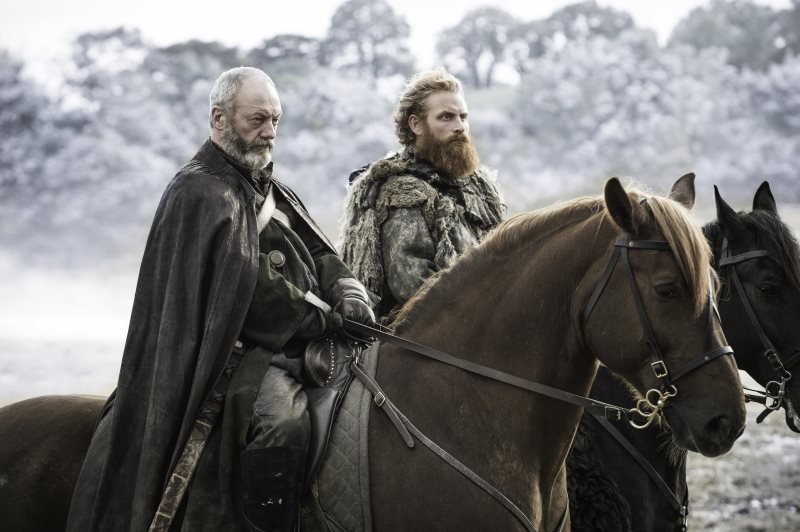 For all the big stakes involved, there are bound to be more than a few deaths as well. Jon Snow just came back this season, so it'd be comical to dispatch him again. But Ramsay Bolton, useless as a prisoner to anyone, seems like a fair bet. The only other known personality on his side is Smalljon Umber, and we doubt anyone will miss him if he's gone.
With the shortage in troop numbers on the Starks' side though, we might lose Ser Davos Seaworth, Tormund Giantsbane and the giant Wun Wun. That will all depend on when the Knights of the Vale - at Sansa's request and Littlefinger's behest - arrive to save the day.
What are your hopes and expectations from this season's penultimate episode on Sunday? Let us know via the comments below or tweet to @Gadgets360 with #GameofThrones.