While browsing Facebook, this correspondent came across an interesting new service called Champiwala that is offering a champi, shave and a haircut at the click of a link - the company just launched in Delhi a week ago, and its services are limited to just the capital right now, but for people in Delhi at least, this online barber-on-demand service is really great.
The company was formed by two friends, Chaitanya Arora and Faiz Raza, because they wanted a maalish after a round of squash, and didn't find any good options for home service. "We've known each other since we were kids, and growing up, we used to get a champi done after playing sports," says Arora, "and it's a great way for guys to relax and bond. We wanted to create a service which brought the experience to everyone, with the best modern equipment and well trained staff."
Arora, whose family business is apparel imports and exports, decided to launch Champiwala with advice from Raza, who works in a major technology company. They hired a web designer and four full time barbers from salons in Delhi, and launched the company.
When I came across their ad on Facebook, I knew that I had to hire them to see what the customer experience is like - and by the time my appointment had ended, I came away really impressed.
Champiwala's services are fairly extensive - you can see the full list here but a head massage will set you back by Rs. 350, while a full body maalish costs Rs. 950. A haircut costs Rs. 300, while a hot-towel shave, which included a face massage and a short head massage, will set you back by Rs. 700. The full service option, which is a 2 hour 45 minute appointment, costs Rs. 2,950. The minimum billing is Rs. 800.
These prices are actually pretty competitive - at Jawed Habib's salon, a head massage and hair wash costs Rs. 450, while a pedicure costs Rs. 400, compared to Champiwala's Rs. 550. It's still a lot more expensive than going to my local barber of course, who'll give a shave and a haircut along with a dose of the gossip about the market for just Rs. 100, but then, my barber isn't coming to my house and cleaning up afterwards.
You need to make the booking at least a day in advance - you can't use Champiwala for a spontaneous massage at the end of a day's work. But if you've got a tennis game with friends planned for the weekend, adding on a Champiwala booking for when you get home sounds like a good idea.
I made my appointment via the website, and got a call from the team to confirm the details. On the day of the appointment, I received an SMS from the team 20 minutes ahead of the meeting, to remind me about the booking, and the doorbell rang precisely on time. Since I hadn't told them that I was writing an article about the company, it's good to see that Champiwala is taking people's time quite seriously.
Of course, this is possibly because Champiwala is a completely new service, and doesn't have too much demand yet, although our barber Rahul Kumar told us that after finishing up with us, he had to head to Greater Kailash for his next appointment, and so couldn't have a cup of tea.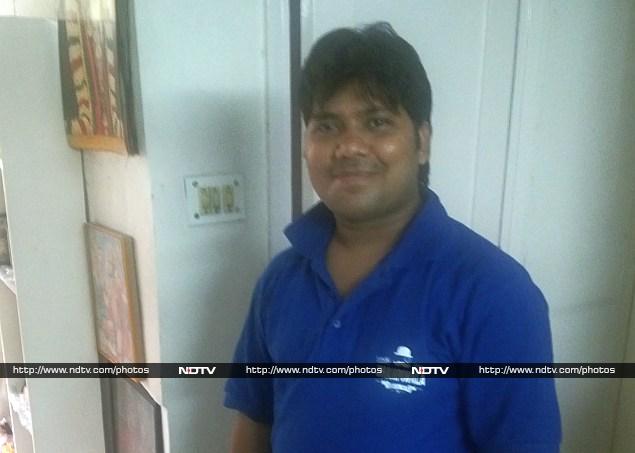 He arrived carrying a huge bag filled with supplies for the day - various creams and oils, little spray bottles and cologne, along with scissors, razors, bowls, an electric kettle, drop cloths, towels and even a mirror. From my side, I only had to provide some ice, but more on that later.
Along with the bag of supplies, he also carried a comfortable deck chair, and at our direction, set up the chair in the bedroom. Setting things up took him just about five minutes - a coffee table was commandeered to place all the various implements which would be turned on me, and the kettle was plugged in to get the water boiling.
Kumar, who is originally from Bihar, has been in Delhi for years, he told us, and had been working at a hair salon in South Delhi, before he heard about a new company that was hiring barbers for an online business. In just a week of operations though, he says he's already lost track of how many people have availed of his services.
Once the work starts, there's little that's different from a normal barber's shop - except for the fact that I hadn't left home, and got to sip on my favourite blend of fresh homemade coffee instead of getting into the car and driving to the market, then sitting in the salon's waiting room.
The haircut was quick and efficient, with each step being punctuated with a small explanation of the products being applied - this beard oil helps provide a smoother shave, this deep cleansing moisturiser is very good for a face massage, this gel helps with the bags under your eyes - and once we were done, there was a small break as the whole area was immediately cleaned up, so no stray hairs were left in my house. This was something that had been a cause of much debate, and my wife had wanted me to get the Champiwala team to set up in the garage instead of the house, so it was a big relief to see how neat and clean the whole service was.
Haircut over and clean-up done, I was back in the chair to enjoy the Champiwala wet shave - some more oils and massages followed, and then a hot towel was tightly wrapped around my head to soften the beard. Kumar quickly followed up with the shave, and then wrapped my face up again in a towel that had been soaked in ice - the only thing used so far which hadn't come out of his capacious bag.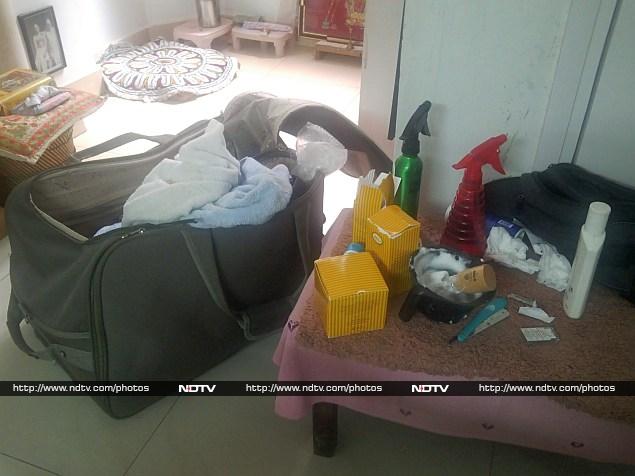 Afterwards, I chatted a little with Kumar, but he was clearly in a hurry to get to his next appointment. So I talked to Champiwala's founder, Arora, to learn more about the company's plans. "We haven't really made big plans, and want to grow slowly," he says. "For now, we're just going to focus on delivering a good experience and taking feedback from the customers, to improve our services."
Champiwala is going to stay limited to Delhi in the immediate future, but Arora is thinking ahead. He has a famous relative, Praveen Kumar who played Bheem in the Mahabharat TV series, and Arora said that Kumar has agreed to help out with a little marketing near the end of the year, once the service is properly tested.
There are a lot of things that can be done from a technology perspective to improve the Champiwala experience. For one thing, the entire ordering process is still managed manually - automating appointments is the obvious next step, and then the team should look into building a mobile app, so users don't have to key in their address, and can get automatic reminders through the app instead of as text messages.
From a service perspective though, Champiwala is off to a great start. Would we recommend it to other people? Well, it depends. If you're used to going to proper salons where spending Rs. 1,000 for these kinds of services is typical, then I'd heartily recommend it. But I'll be sticking to the Rs. 100 shave and a haircut though, because it's the only way I'll leave the house at this rate