Bullitt Group is the company responsible for helping big companies tap into the gadgets market by licencing their brands and manufacturing specialised products for them. For instance, the company partnered with Caterpillar earlier this year to bring out the Cat S60 (Review) rugged smartphone for adventure seekers and engineers. It's also planning a smartphone with Land Rover, which is in the works.
Today, we have the Kodak Ektra, the result of Bullitt Group's collaboration with Kodak that was announced last December. The phone is now available in India, surprisingly, at a much lower price of Rs. 19,990 compared to the $520 (approximately Rs. 35,000) that it retails for in other countries. The focus for the Ektra is photography, which extends to the look and feel of the phone, not just its camera sensor. Have these two companies managed to strike a good balance?
Kodak Ektra design and build quality
The design of the Ektra is an homage to classic film cameras; a design that Leica and Fujifilm still adopt to this day. If you've grown up with such cameras or love the retro look, then you'll appreciate the resemblance. The design works very well for a camera-centric phone, but it isn't everyone's cup of tea. The phone is super light and the 'swollen' base acts as a handgrip which lets you hold the phone more easily with one hand. There's even a shutter button, which we found was positioned perfectly for an index finger. Bullitt has even preloaded some interesting retro-themed wallpapers to match its overall look.
The Kodak Ektra measures 9.6mm in thickness, so it isn't exactly slim. If you count the camera bump at the back, the thickness increases to about 14mm. The display also has thick borders all around, and it isn't laminated onto the protective glass so you can see the two distinct panels at an angle. The plastic sides have a brushed metal texture which adds to the retro look. We even have faux-leather on the back. Bullitt has used a steel ring around the camera lens which juts out partly for aesthetic value, partly to protect the lens from scratches, and partly to accommodate the optical image stabilisation system.
The 5-inch full-HD display on the Kodak Ektra is sharp enough, with good viewing angles, but images don't really pop. However, touch response is fairly good. The fact that the Gorilla Glass and display panel aren't fused doesn't give you the feeling that you're actually touching the panel, similar to budget smartphones from a couple of years ago. There's a notification LED on the top and capacitive keys at the bottom for navigation. There's no fingerprint sensor, which is disappointing.
The Ektra is a single-SIM smartphone and the tray for that is placed on the left. The lack of Dual-SIM functionality might put some buyers off. This tray also has a slot for a microSD card of up to 128GB. In addition to the camera shutter button on the right, we also have the volume and power buttons and a little loop for a lanyard. The headphones socket and USB Type-C port are on the top and bottom respectively. Overall, the Ektra is put together very well and has a sturdy feel. It's a bit too bulky to be comfortable in a pocket, but its low weight somewhat compensates for that.
Kodak Ektra specifications and features
Bullitt has chosen one of MediaTek's top-tier SoCs for the Ektra, the deca-core Helio X20. This consists of four Cortex-A53 CPU cores running at 1.4GHz, four more running slightly higher at 1.85GHz, and two powerful Cortex-A72 cores running at 2.3GHz, all with an integrated Mali-T880 GPU. Even though this is a high-end chip, its performance is akin to the mid-range Snapdragon 652 from Qualcomm. OS and app performance is pretty good. We got an AnTuTu score of 85,609, and GFXbench managed 35fps in the T-Rex test.
There's also 3GB of RAM. Other specifications include 32GB of storage, Bluetooth 4.1, dual-band Wi-Fi 802.11ac, NFC, USB-OTG, GPS. and all the necessary sensors. FM radio is absent, but this phone does support 4G with VoLTE.
The Ektra runs on a slightly dated version of Android Marshmallow, but the good thing is that the UI is nearly stock. You get custom camera and gallery apps and another one called Super 8, which lets you apply various filters to the photos and videos you capture to mimic traditional Super 8 film cameras. The interface is a bit clunky and saving and applying filters requires a wait.
The Prints app lets you upload photos from your phone to be printed and delivered to you. Rates vary on the type of photo paper, number of copies, and the sizes you choose. A standard-sized photo on glossy paper will cost you Rs. 6, but then there's a shipping charge of Rs. 65 per order. When you run the app for the first time, you can briefly see an option for in-store pickups but then it immediately switches to only offering shipping, at least in India. There's also no way to edit a shipping address, the only options are to add or delete them. Plus, Paytm seems to be the only method of payment here.
Other preloaded apps include the Snapseed photo editor, MobiSystems' Office Suite, File Commander, Twitter, WhatsApp, and AVG Antivirus.
Kodak Ektra performance, camera, and battery life
The Ektra does a great job with day-to-day tasks. Apps load quickly and multitasking performance is good. We rarely noticed any stutter or lag. The Ektra feels a bulky, especially when you're used to today's slim smartphones. There's no heating problem with standard apps, but fire up a game or use the camera and it starts to get quite warm. The heat can be felt along the upper edges and around the camera lens.
Media playback is handled well. The Ektra supports all popular media formats and can handle 4K video too. The display smudges quite easily and is reflective, which isn't easy to view outdoors. There's a single mono speaker around the back, which does its job for alerts but doesn't get too loud for media and games. The sound enhancement option in the Settings app helps a tiny bit, but not by much.
We now come to the main attraction of the Kodak Ektra, and that's the camera. There's a 21-megapixel sensor on the back with a special anti-reflective lens coating. It has an f/2.0 aperture, 6-axis OIS, and PDAF.
In daylight landscapes and macros, the Ektra captures good amounts of detail, with good colour rendition too. However, it isn't perfect. There was noticeable chromatic aberration in some of our landscape sample shots, and white balance wasn't consistent. We took a couple of shots with the same frame in quick succession that ended up having very different white balances. On the other hand, focusing is quick and macros turned out fairly detailed. In low light, images aren't noisy, but detail levels take a bit of a hit. The front camera good even with a 13-megapixel sensor, as images are soft and lack good detail.
Video recording maxes out at 4K and the quality is good in daylight. At night, details get a bit fuzzy although noise is kept well in check. Focus shifts quickly when you pan about, but the claimed '6-axis OIS' doesn't seem to to be effective at all even at lower resolutions. We reached out to Bullitt for some clarity on this and we were told that the camera module has 3-axis stabilisation but the rest is done using the gyroscope.
The thing we liked most about the camera is the design of the app. You can launch it with a double tap of the shutter button even when the phone is locked. The app disables the phone's capacitive buttons so you don't accidentally press them, and you have to use a dedicated on-screen button to close it. Bullitt has recreated the mode dial that you seen on DSLRs, which works seamlessly on screen. Other settings like photo and video resolution can easily be changed from the viewfinder itself. Manual mode gives you decent amount of control although you can't change the aperture value.
The 3000mAh battery lasted for 8 hours and 21 minutes in our HD video loop test, which is quite a weak performance. With regular use, we had to charge the phone before the day was up as even a little bit of gaming or camera usage made a sizeable dent in the battery level. The bundled 10W charger supports MediaTek's Pump Express standard for quick charging, but it isn't great. We able to get up to only roughly 30 percent in about half an hour.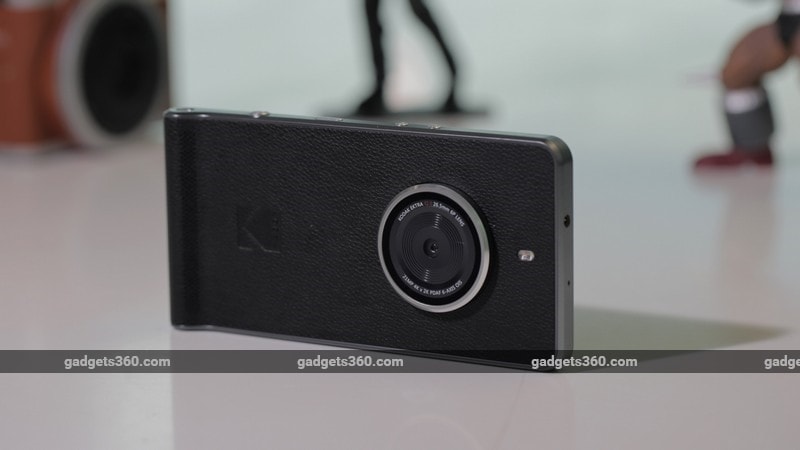 Kodak Ektra in pictures
Verdict
Bullitt has got the pricing right with the Ektra, as anything more than Rs. 20,000 would have made it too expensive to consider. In fact, we're surprised that it has been this aggressive considering that this phone sells for much more overseas. The throwback to old-style film cameras in the design is a nice touch and gives the Ektra some nostalgic value. However, this is a smartphone at the end of the day, and all things considered, it doesn't really stand out. The main highlight is its camera, which is good, but not great.
We think smartphones like the Honor 8 (Review) or even the Samsung Galaxy On Max (Review) will serve you a lot better at this price point, as they offer very good smartphone experiences without compromising on camera performance.