Indians might have a firm grasp on the idea of online matrimonial websites, but dating on the other hand is not something that a lot of people are comfortable doing, or even talking about, and the country doesn't really have many online dating sites. That's something that is changing and today you have a lot of different options.
(Also see: Beyond the norm: Matrimony sites that focus on small groups reap big benefits)
Varsha Agnihotri came up with the idea of starting Footloose No More four years ago, when she was at a Holi party. The idea of a website that would allow "modern, urban Indians" to choose their own partners and go from dating to perhaps matrimony at their own comfortable pace seemed worth doing. Since she didn't see too many alternatives in India, packaging the site in a "different" format would be the key.
Agnihotri, who met her husband at that Holi party, started to work on the site, and decided that instead of matching people based on an algorithm, the site screens all applications, and then hosts a curated meet-up for new members. The catch is that you can't use the site just to meet people online - if you miss three Footloose events in a row, then your membership is revoked.
Another Indian dating site is Truly Madly, whose co-founder, Rahul Kumar, says the website is a modern-day matchmaking service that relies on "scientific methods" to match people.
"The website works on a social algorithm to connect likeminded individuals who are looking for serious relationships," says Kumar. "The algorithm is based on an exhaustive research conducted by a team of psychologists who have derived a set of personality attributes responsible for a long term, successful relationship. The site then matches profiles of people based on who they are, what they are looking for, instead of traditional matches based on caste or location."
A site that caters to both Indians and NRIs, Sirf Coffee has a similar approach, and takes care not to identify itself as an online-dating service. Its focus is on using the Internet to make it easier to meet people - offline.
The charges vary - Footloose No More has a free membership, while Truly Madly charges Rs. 100 for each connection. Sirf Coffee takes a hefty $325 (nearly Rs. 20,000) per year as a membership charge.
Footloose No More claims to have 5,000 members, mostly from Mumbai and Pune; Delhi and Kolkata follow, and then Bangalore and Hyderabad. Truly Madly claims similar numbers, while Sirf Coffee, which has a much higher cost of entry, claims to have around 1,100 members, of which around half are in India (mostly Mumbai again) and the rest are NRIs.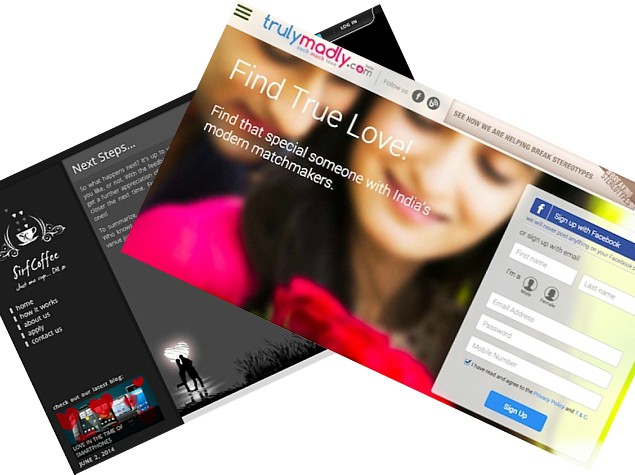 The India model
Scientific methods and curated meet-ups sound good, but most e-commerce ventures had to be tailored to meet the needs of the Indian market. Simply bringing international ideas to India has not been very successful. And that is why a lot of these websites in fact brand themselves as working on a "relationship management model" or "modern day matchmaking".
Take the case of Sirf Coffee, which uses the "relationship management model", and launched in 2008. Sunil Hiranandani, founder, insists that Sirf Coffee is not an online-dating service.
"It is about getting to know a client on a personal level," says Hiranandani. "A user directly meets a hand-picked date over a cup of coffee (or cocktail), and get to know them in person, as opposed to online."
Unlike online dating sites in the West, where there typically is a lot of interaction between people paired by computers until they actually meet, Indian sites seem keen to offer a boutique service of hand picking people to meet in person, instead of having to get to know each other through a computer screen. The stress is on helping you find long term relationships, and not just casual dating.
"We ensure a pressure-free environment where you can be yourself, deriving comfort from the fact that you and date tick each other's boxes," adds Hiranandani. "You can exchange numbers if you like, date for years, get married next week, or simply leave after a casual drink. There is opportunity to move forward, without the obligation to do so."
Footloose No More's curated events also keep the interactions offline. You can see people on the site, but you can't message them on your own. The site matches you, and brings you together at the "curated" events, so there is no "awkwardness or stigma". Agnihotri says these events help people come out of their shell, but allow them to take things forward at their own pace.
And indeed, people aren't all comfortable with the idea of dating sites, something that Truly Madly's Kumar says the company has been trying to change.
"We recently launched a social media campaign called Breaking Stereotypes, which was aimed at disproving stereotypes, thereby supporting compatibility and personal interactions among individuals," he says.
According to Kumar, people in India want "more choice in their matchmaking decisions, but don't want to tell people - particularly their parents - that they are registered on dating websites."

An online-offline hybrid
That's why sites like Sirf Coffee and the others try to sell the idea of a mediated experience, instead of online dating.
Agnihotri says that on Footloose No More every member who gets approved gets a screening call.
"He/ she must submit documents proving their authenticity," says Agnihotri. "We check their Facebook profiles, their LinkedIn profiles and finally when we meet them in person is when we decide if the person should be a member or not." Truly Madly also verifies identity, though they don't go as far as requiring in-person interviews.
Sirf Coffee also interviews clients in person, and Hiranandani says that if a client can not come for a personal meeting, then they arrange a Skype interview.
According to him, "the purpose of the interview is to ensure we are bringing on board a 'matchable' client. Folks that have strong character, interesting backgrounds, a positive attitude, and a genuine intention of dating to get married."
The model is continuing to develop; this is a business which has not really taken off in India yet, and the various players are still working things out.
"We don't have foreigners yet on our site [Footloose No More], so we would want to look into that," says Agnihotri. "We are also launching a mobile app." Hiranandani also believes that the model at Sirf Coffee can lead to growth outside cities like Mumbai, and he says Chandigarh and Ahmedabad are next on his list. Truly Madly has similar plans, with iOS and Android apps on the card, as its looks expand to other cities.
"The whole idea is to get more and more people involved and remove this fear and stigma associated with online dating," says Kumar. "And the more we reach out the easier it will be."