Soon after Microsoft unveiled its Windows 10 devices on October 6, its OEM partners started taking turns unveiling their own Windows 10-ready devices. HP was one of the first hardware partners to announce its new line of laptops and 2-in-1 devices. The new operating system (OS) from the Redmond-based tech giant was just the shot of adrenaline needed to jump start the PC industry, which had been in a slump for a long time. The new features added to Windows 10 also give OEMs added incentive to think outside the box and come up with new ways of interacting with PCs.
These new and exciting devices are yet to hit store shelves in India and we should probably expect them around the end of 2015. However, this hasn't stopped OEMs from launching refreshed versions of older models with Windows 10, and that's exactly what we have today with the HP 15-ac101TU. This is the first laptop we're testing to come with Windows 10 pre-installed. It's a budget offering from HP designed for those looking for a general-purpose computer at home. We'll be referring to the laptop as HP 15 for the rest of the review to keep it simple.
Look and Feel
For alaptop at this price level, the HP 15 looks really good. We received the 'Turbo Silver' variant but you also have a choice of 'Flyer Red' and 'Nobel Blue', which have different model numbers. Instead of a simple texture, HP has gone with a diamond pattern for the lid which enhances the aesthetic appeal and keeps fingerprints at bay. There's also a large 'HP' logo prominently displayed in the centre.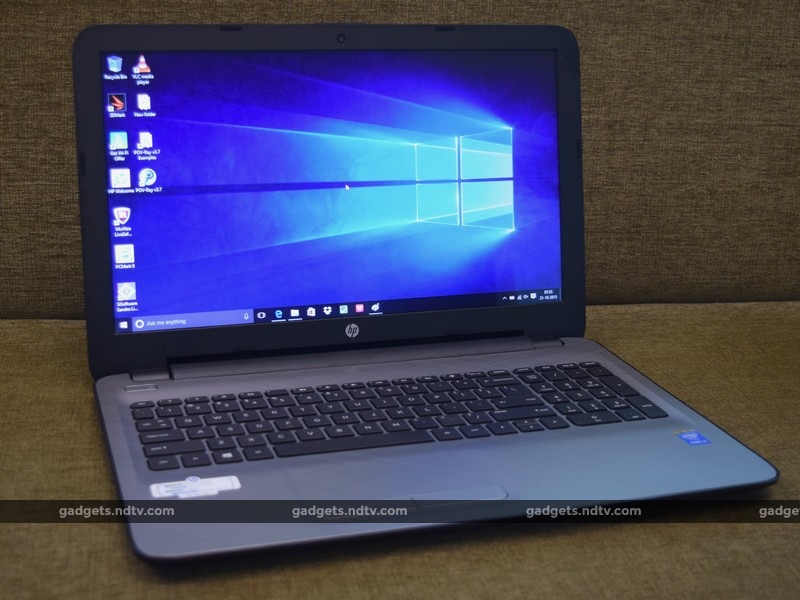 Opening up the lid reveals a cross-brush pattern for the keyboard deck. The laptop is made primarily of plastic but thanks to the clever patterns and textures, it doesn't appear tacky. You get a full-sized keyboard along with a number pad. The chiclet-styled keys have good spacing although we're not a big fan of HP's design of the arrow cluster as the keys are too close together.
We didn't like the tactile response of the keys too much; they feel too hard when you type. The travel is decent and even though they aren't sculpted, you'll rarely hit the wrong one. We really liked the fact that the entire palm rest, trackpad and keyboard tray is just one piece of plastic. It makes the keyboard very rigid and the keys don't deform even when you're typing rapidly. There's also very little chance for dust and dirt to accumulate.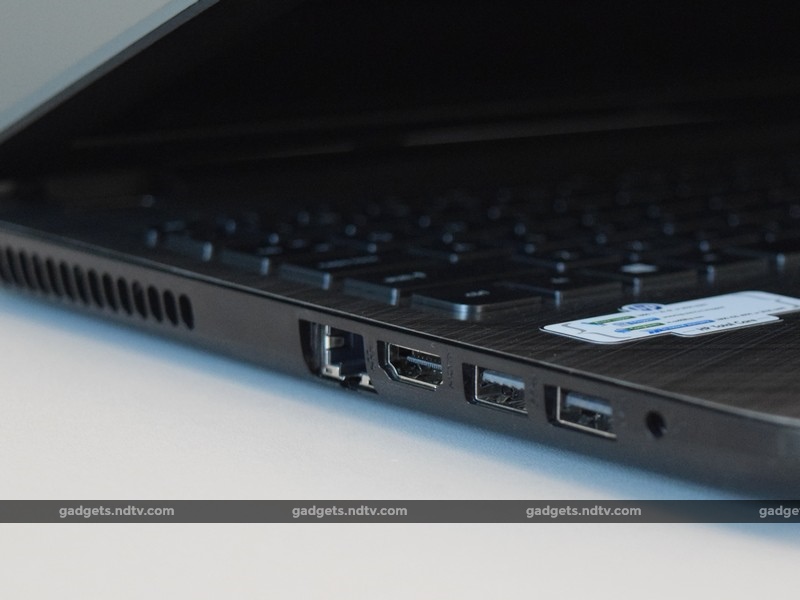 The trackpad is very roomy and you get two physical buttons for left and right mouse clicks. We often found ourselves hitting the edge of the laptop when we needed the buttons, thanks to their placement. It's just something that will be better once you get used to it.
The ports are spread on either side of the laptop. On the right, we have an SD card slot, one USB 2.0 port, DVD writer, Kensington lock slot, and LEDs for power and hard disk activity. Over on the left, we have the headphones socket, one USB 2.0 and one USB 3.0 port, HDMI v1.4, a LAN port, the charging inlet, and exhaust vents. We would have liked to see more USB 3.0 ports since this is amodern 15.6-inch laptop.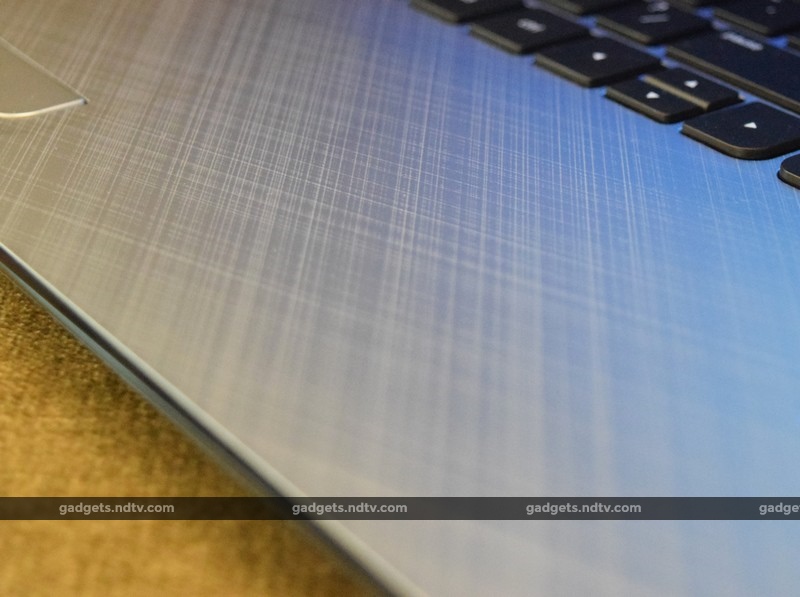 Underneath, we have the two speaker grilles, which are front-firing but angled downwards. HP doesn't provide a hatch to easily get to the RAM or HDD. However, the battery is removable.
Overall, HP has done a decent job with the design and finish of the 15-ac101TU. It's quite slim, measuring around 22mm in thickness, but is fairly large and heavy at 2.1kg. HP ships a charger and backpack with the laptop, although you can pick it up without the bag from online stores and save a few rupees.
Specifications and Software
The HP 15 is powered by a 5th Generation Intel Core i3-5005U CPU. This is a Broadwell chip which borrows the same basic architecture from Haswell (Intel's 4xxx series CPUs) but uses the smaller 14nm fabrication process. It's a dual-core CPU with a maximum speed of 2GHz (no Turbo) and supports Intel's Hyper-Threading. You also get 4GB of DDR3 (1600MHz) RAM, a 1TB 5400rpm hard drive, and integrated Intel HD Graphics 5500. Other specifications include Wi-Fi b/g/n, Bluetooth 4.0, an HD webcam, a 4-cell battery (41WHr) and DTS Studio Sound enhancement for the stereo speakers. The two DIMM slots can accommodate up to 8GB of RAM, even though they aren't user-accessible.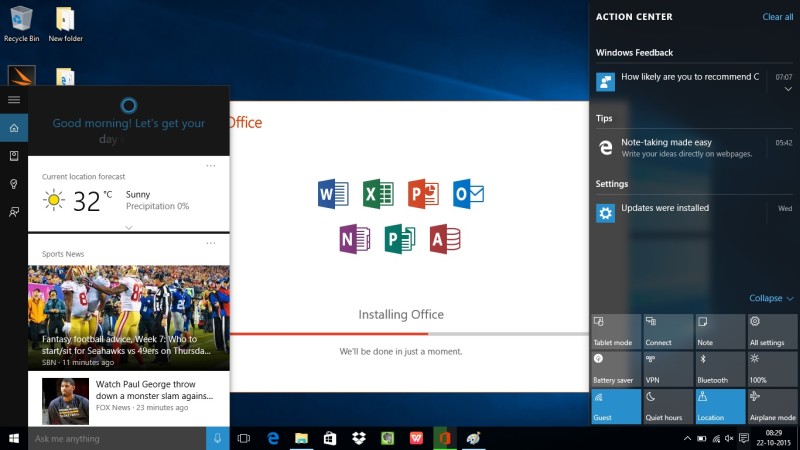 On the software front, HP installs Windows 10 Home 64-bit edition and a bunch of apps. There are a couple of programs from CyberLink including YouCam, PhotoDirector, and Power Media Player. You also get 25GB of free Dropbox cloud storage for six months with the laptop. HP doesn't bundle Microsoft's Office suite but you do get WPS Office 10 Personal Edition and a trial version of Office 365 Personal Edition. Other software includes WildTangent Games, Evernote, McAfee LiveSafe Internet Security, and HP's support programs. The latter can get on your nerves with popup messages every now and then, which are a pain to get rid of.
Performance
Once you get rid of the annoying bloatware, the HP 15 functions well. You'll notice a hint of sluggishness intermittently but Windows 10 runs smoothly for the most part. If you're coming from a Windows 7 PC then it will take some getting used. The search box in the taskbar is your best friend when it comes to finding programs and features. In fact, here are some default settings that we recommend you change on any Windows 10 machine before you get started.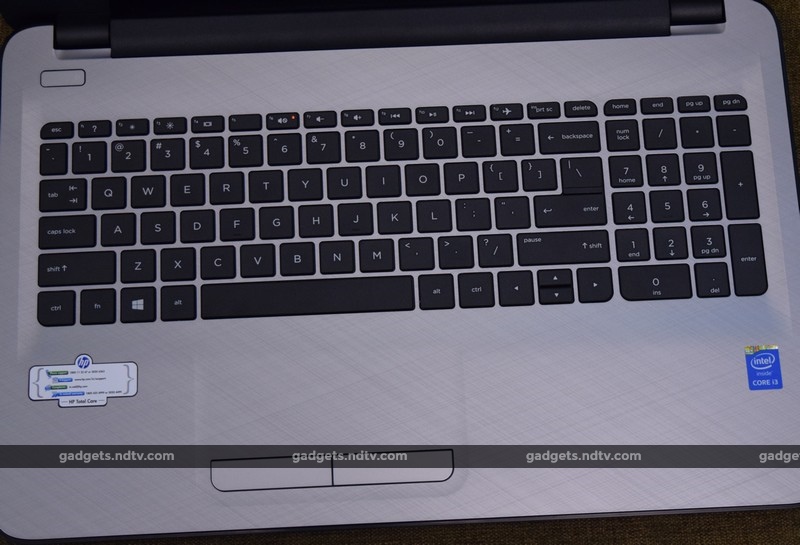 To take full advantage of all the features, we recommend you sign in with your Microsoft account. The Cortana voice assistant feature is disabled by default but you can enable it by simply changing the region from India to the US. You can initiate commands with the phrase 'Hey Cortana', which works well on the HP 15. Some features such as Windows Hello are not supported simply because this laptop doesn't come with the required hardware for biometric user recognition.

(Also see: Windows 10 Review: New, Yet Familiar)
The 15.6-inch screen has a resolution of 1366x768 and is LED backlit. As you'd expect, viewing angles are quite poor as colour banding is very evident even in wallpaper images. This also affects text and icons, which exhibit jagged edges. The lid doesn't offer much protection either, and the display smears pretty easily when you apply even light pressure. The screen is highly glossy so reflections are a real nuisance.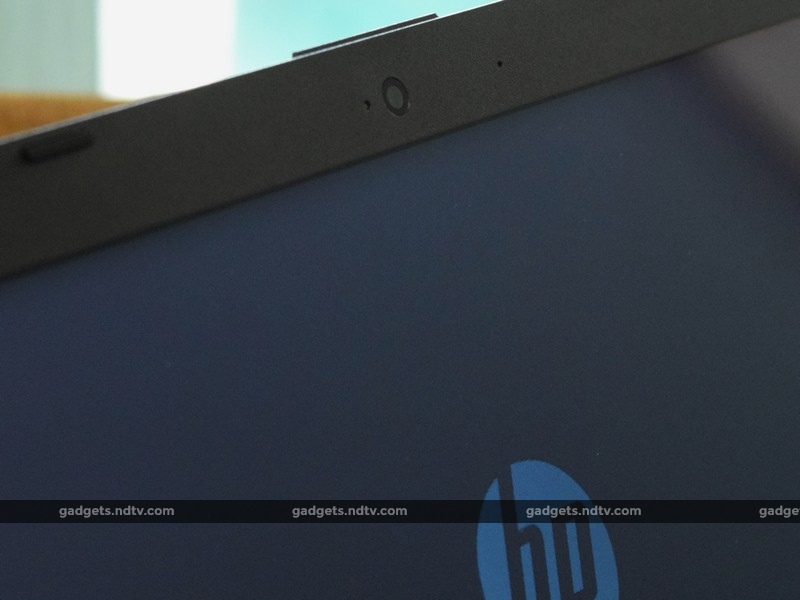 The trackpad has good response thanks to the smooth surface and HP has also added gestures for Windows 10. A 3-finger tap will wake up Cortana while a 4-finger tap will bring up Action Centre from the right, which is similar to the notification shade in Android. A 3-finger swipe down will minimise all open windows. Other gestures are similar to what we've seen from HP in the past.
Coming to the benchmarks, the HP 15 scored 2,842 and 3,878 in the Home and Work benchmark suites of PCMark 8. In the graphics tests, we got an overall score of 495 in 3DMark Fire Strike. POVRay completed its run in 10 minutes and 42 seconds. These numbers show that the i3-5005U is marginally better than the similar Haswell counterpart which powered the HP Pavilion 13 (Review). It's more than adequate for running Windows 10 with ease as well as light multimedia work.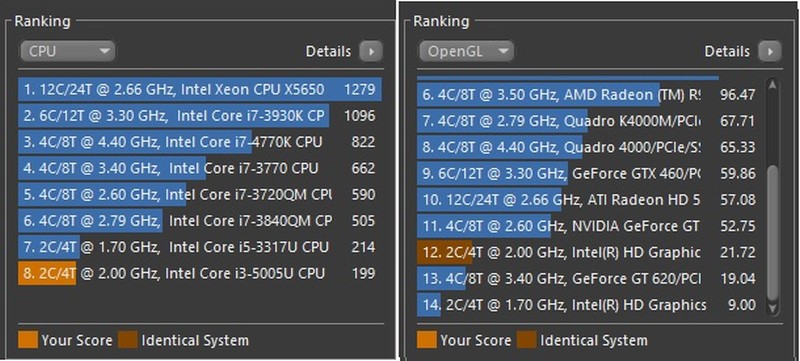 Cinebench R15 - CPU and GPU scores (Higher is better)

The HP 15 supports 4K video playback with hardware decoding, due to which CPU utilisation rarely goes beyond 15 percent. This means you can perform other tasks in the background. However, watching a movie isn't a very enjoyable experience due to the lackluster screen. Audio quality is not too shabby though. After tinkering around with the DTS enhancements, audio levels can become fairly loud with decent depth. The placement of the speakers also helps sound bounce off a table's surface, thereby amplifying it a little.
The 41WHr battery managed to give us 2 hours and 11 minutes in Battery Eater Pro. This should translate to roughly 4 hours of regular usage. It's not great but it's something we've come to expect from laptops in this price range. We didn't notice any heating issues with regular usage and you can only faintly hear the fans spinning when it's working on anything CPU intensive.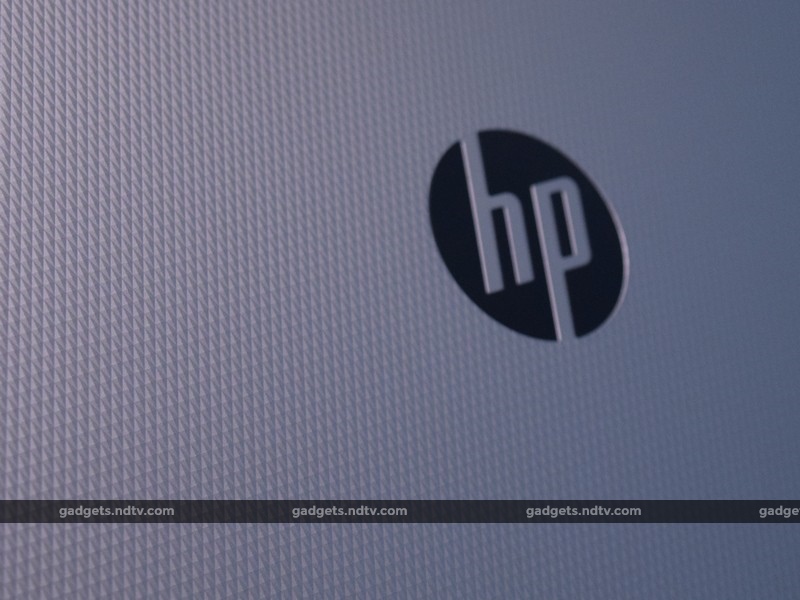 Verdict
The HP 15-ac101TU is a decent entry point for those looking at a basic Windows 10 laptop. At Rs 35,990, it feels a little too expensive, as a price closer to the Rs 30,000 would have been ideal. The build is good for a plastic laptop and HP has added some very neat touches to make it look up-market. We love the moulded palm rest, which apart from looking great, is easy to maintain. The laptop is also fairly slim and it doesn't hurt to have 4K video playback ability as well.
However, there's a lot which can be improved. We would have liked more USB 3.0 ports instead of just the one. The quality of the display could have been better too - if not a higher resolution, then at least a better panel. The lid is quite flimsy and doesn't offer much in terms of protection for the display. Finally, we would have liked at least a 6-cell battery considering the size of this laptop.
Price (MRP): Rs. 35,990
Pros
Looks good

Full-sized keyboard
Runs cool and quiet
Large trackpad

Cons
Average battery life
Underwhelming display
Flimsy lid
Single USB 3.0 port

Ratings (Out of 5)
Design: 4
Display: 3
Performance: 3.5
Software: 3.5
Battery life: 3
Value for Money: 3.5
Overall: 3.5