Samsung has been in the smartphone race longer than most of its competitors. Naturally, the brand has a lot of recognition in India, such that people eagerly wait for each of its new phone announcements. One such smartphone is the Samsung Galaxy J8, which was launched recently in the sub-Rs. 20,000 segment.
With the Galaxy J8, the company is bringing the Infinity Display popularised by its S series of smartphones to the masses. The Samsung Galaxy J8 sports a big display with narrow borders, dual cameras at the back, and face recognition technology. But did Samsung cut any corners when designing the Galaxy J8? We find out.
Samsung Galaxy J8 design
The Samsung Galaxy J8 is a good-looking smartphone. It has a big 6-inch display with an 18.5:9 aspect ratio which makes the body tall and narrow. The 16-megapixel selfie camera is positioned above the screen along with a metallic earpiece and a single-LED flash. The space below the screen is blank, as the phone makes use of onscreen navigation buttons instead. Though Samsung uses the Infinity Display trademark, the screen on this phone doesn't have curved sides like the ones on the Galaxy S9 (Review) and S9 Plus (Review).
Samsung has opted for a polycarbonate body, and it feels well-built. The phone weighs 177g but the weight has been well distributed. There's a vertically oriented dual-camera setup at the back consisting of a 16-megapixel primary camera and a 5-megapixel secondary one. The fingerprint scanner is positioned right under the camera module, where your finger rests naturally.
The Galaxy J8 looks like a Galaxy A6+ (Review) with a few components changed, as the positions of the buttons, cameras, and SIM trays are all identical. The power button is on the right, with the loudspeaker above it. We found that the speaker is easy to muffle while playing games or watching videos in landscape mode. The left side has the volume buttons, a single tray for Nano-SIM 1, and a second tray for Nano-SIM 2 and a dedicated microSD card slot. Samsung has opted for a Micro-USB port for charging, and we would have preferred a USB Type-C port. The 3.5mm headphone socket is positioned next to the charging port and you do get headphones in the box.
Samsung Galaxy J8 specifications, software, and features
The Korean smartphone maker has succeeded in making a good-looking device, but the hardware inside could've been better. This smartphone is powered by an octa-core Qualcomm Snapdragon 450 processor clocked at 1.8GHz. We have seen the same processor powering the likes of the Xiaomi Redmi 5 (Review) which costs half as much as this phone. The Galaxy J8 has 4GB of RAM and a generous 64GB of storage, out of which around 51GB is available to the user.
Samsung's much-advertised Infinity Display is an AMOLED panel with an HD+ resolution, which is lower than what competitors offer at this price point. Even less expensive smartphones such as the Xiaomi Redmi Note 5 (Review) and RealMe 1(Review) sport FHD+ panels. The AMOLED panel has a vivid output but the lower resolution does cause you to notice jagged edges. Samsung doesn't offer any always-on display functionality, which would have been useful.
This smartphone misses out on an ambient light sensor, which is a shocking omission and forces you to change the screen's brightness level manually all the time. It also lacks a magnetometer and a gyroscope. Without the magnetometer, it is impossible to determine your orientation, for example when using Google Maps for navigation. These omissions in the sub-Rs.20,000 segment put the Galaxy J8 at a major disadvantage compared to its competitors.
Connectivity options on the Galaxy J8 include Bluetooth 4.2, Wi-Fi 802.11 b/g/n, 4G, and VoLTE. The two Nano-SIM slots support 4G but only one can use it actively at a time, while the other is limited to 3G. There's a call forwarding function that diverts calls to the active SIM automatically. Samsung has packed a 3500mAh battery into the Galaxy J8.
The Galaxy J8 runs Android Oreo with Samsung Experience UI on top, which brings a lot of customisation. This phone also comes loaded with a host of Google and Microsoft apps, which can only be disabled, not uninstalled. Samsung also has its own apps including Samsung Max, a data management app; Samsung Mall, which lets you search for products on e-commerce websites using image recognition; and Samsung Pay Mini, which helps with mobile payments. This smartphone also supports themes, letting you tweak its look as per your taste.
The Settings app has been rearranged and has multiple sub-menus. Thankfully there's a search function to help you find the right settings. Some of the additions include finger sensor gestures that let you pull down the notification shade by swiping down on the fingerprint scanner. Smart Alert makes the phone vibrate when you pick it up if you have pending messages or missed calls. We tried this feature and found it to be useful since the display does not light up when you pick the smartphone up. Dual Messenger lets you run two instances of supported apps such as WhatsApp and Facebook.
One of the new features that Samsung has introduced to the J series is called Chat over Video. It allows users to chat using WhatsApp and the default messaging app while watching videos full-screen. You get a translucent overlay and keyboard that lets you reply to messages over an active video. We used this feature with YouTube and while playing a video in the stock player, and it worked as advertised.
Swipe right from the home screen and you will find Bixby, Samsung's virtual assistant, which gives you the current weather, news, and suggestions from other apps. You can also summon the Google Assistant by long-pressing the home button. Galaxy Apps is an app store that comes preloaded on the phone, and is an alternative to the Google Play Store.
Samsung Galaxy J8 performance, cameras, and battery life
The Samsung Galaxy J8 has enough power to deliver a smooth experience while scrolling through its UI. We did not see any lag or stutter when launching multiple apps and multitasking, except when we slide from the home screen to access Bixby. Samsung's face recognition is slow to unlock the phone, and the fingerprint scanner isn't much better.
We played Asphalt 9 and Clash Royale on the Samsung J8. While Clash Royale ran without any issues, Asphalt 9 had jagged graphics when played at the highest settings. We ran our benchmark tests on this smartphone and it managed to clock 70,812 in AnTuTu. In Geekbench 4's single-core and multi-core tests, the phone scored 741 and 3842 respectively. It scored 33fps in GFXBench T-Rex. In comparison, the less expensive Redmi Note 5 Pro scores 1,05,369 in AnTuTu, 1326 and 4232 in Geekbench 4's single-core and multi-core tests respectively.
In our HD video loop battery test, the phone managed 16 hours and 24 minutes, which is really good considering the 3500mAh battery capacity. We also put the phone to test in the real world, where our usage consisted of an active WhatsApp account, taking a couple of photos and videos for our tests, playing games, watching videos on YouTube, and using Google Maps for an hour for navigation, and we ended our day with around 50 percent of the battery left. Idle battery drain is quite low, and this smartphone has an App Power monitor that puts unused apps to sleep. With all this running in the background, you should be able to get close to two days of battery life with light to medium use.
The Galaxy J8 features a 16-megapixel primary rear camera with an f/1.7 aperture, and a secondary 5-megapixel camera with an f/1.9 aperture. At the front, it has a 16-megapixel camera with an f/1.9 aperture. Both the front and rear have single-LED flashes. Samsung offers a lot of modes in its camera app such as Live Focus, Beauty, Night, Panorama, and Sports. It also offers a Pro mode that lets you control the ISO, white balance, exposure, and metering. Stickers mode lets you use AR stickers with both the front and the rear cameras. There are lots of stickers and stamps to choose from and you can download more within the camera app itself.
One of the first issues we encountered while shooting photos is the ability of the Galaxy J8 to lock focus as it kept hunting for focus. As a result, macro shots aren't easy to take, as you need to tap multiple times to get the phone to focus where you want. When the phone does manage to get a focus lock, colour accuracy is a little off and a few colours appear oversaturated. It is able to gauge metering correctly while shooting and enables HDR automatically if required. The output has good dynamic range though objects at a distance lose out on detail.
Tap to see full-sized Samsung Galaxy J8 camera samples
Live Focus mode for the rear camera lets you take portraits with depth-of-field effects making use of the secondary 5-megapixel camera. You get a slider to determine the amount of blur you want to add to the background. Edge detection is good overall, but we observed that the smartphone fails to detect gaps between a person's arms and body. You can also change the level of blur after an image is shot, or add effects to the background, in the gallery. If you like editing and adding filters to your photos you will like this option.
The Galaxy J8 takes advantage of its primary camera's f/1.7 aperture in low light and keeps the ISO in check. However, it also drops the shutter speed so you need to keep your hand steady. Photos taken at night appear good when viewed as is, but zoom in and you will notice a lack of detail. Samsung uses aggressive noise reduction which leads to artefacts in the output.
The Beautify mode helps smoothen faces out but still makes them look natural, and the output is good enough to be shared on social media and messaging apps. Video recording maxes out at 1080p for the front and rear cameras. There is no option for EIS, which results in shaky footage. There is continuous autofocus when recording video using the rear camera.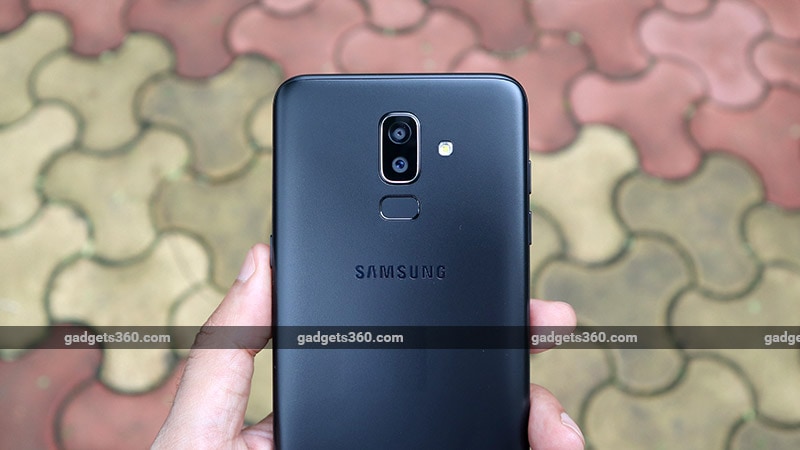 Samsung Galaxy J8 in pictures
Verdict
The J series aims to offer the Samsung experience at a mainstream price point. The Infinity Display does grab eyeballs, and this phone feels solidly built. The front and rear cameras perform decently, and some of the features such as Chat over Video are useful if you really love to multitask. Battery life is the strongest weapon in the Galaxy J8's arsenal.
However, it feels as though Samsung has cut a lot of corners with this phone. Its Infinity Display sports an HD+ resolution only, making pixels visible when you look closely. There's no ambient light sensor or magnetometer, which is unacceptable at the price this phone commands. We have seen more powerful processors in phones at much lower price points, making it hard for the Galaxy J8 to justify its cost. If you are looking for a smartphone in the sub-Rs. 20,000 segment and want a phone that offers more than just great battery life, you should consider the Xiaomi Redmi Note 5 Pro (Review), Oppo F7 (Review), or the Nokia 6 (2018) (Review).