The road to the offices inside Inter-University Centre for Astronomy and Astrophysics' (IUCAA) Children Science Centre in Pune passes through a well-set, well-manicured lawn past the administrative buildings of the place. The tranquil atmosphere of the campus is broken only by the chaos in the room opposite his office. Noisy children are playing with 2D and 3D models made of matchsticks. Whilst some, sporting mischievous grins, are using a syringe pump to squirt water at distances of five feet, others are busy powering up an LED generator.
The office of Arvind Gupta, Visiting Scientist, is nothing like your average office. It's more of a warehouse, with toys made from regular junk, piling up every nook and cranny. There is a white board with figures and calculations scrawled across in one corner. A large table is piled up with toys across which Gupta sits on a bar-stool. And somewhere amidst the mess is also a powerful desktop computer where two assistants work on uploading videos to YouTube and documenting the new toys. It is rather ordinary. And yet filled with an innate extra-ordinariness.
For the last three decades, Arvind Gupta has been making toys, to explain the concepts of science to children. For a moment though, when standing in the warehouse-looking-office, there is a quick, recurring, memory of Aamir Khan's character from the film '3 Idiots.' Gupta himself laughs at the comparison. Anyone around cannot escape his energy. He, himself, is careful enough to infect anyone around him as he talks about his work.
The energy that is spoken about is evident in his workshops, which he conducts with school children as well as teachers. One of the more regular questions that Gupta puts to children during his workshops is, "What is common in between a Transrapid maglev train, five circular magnets, a pencil, a discarded sole of a rubber slipper and a compact disc?" A question like this might send the smartest brains scratching their heads on a normal day. Gupta, however, feels otherwise. At his office on the already over-cluttered table lie the tools for the answer.
A discarded rubber slipper sole with three slots cut into the three openings for the bands, having a couple of magnets inserted in them. A cut compact disc (CD) and a pencil complete the collection. Gupta takes the piece of the CD and puts it in the longer slot towards the toe end and transfixes it there. The pencil is fixed with two magnets around it and then bought into the picture. Understandably, the polarity on the magnets in the sole and on the pencil is the same, so they repel. Touching the point of the pencil to the CD, Gupta gives it a spin and the magnetic levitation causes the pencil, suspended in mid-air, to spin in an endless loop.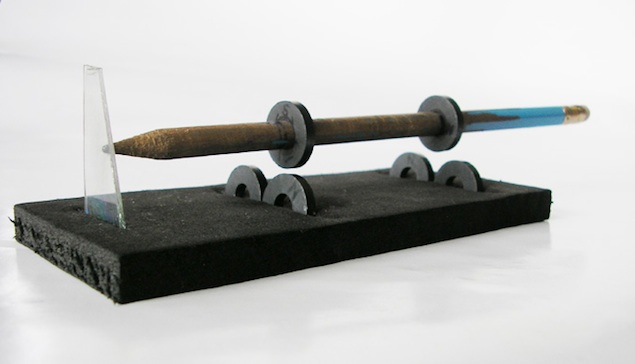 "All the costs involved in the making of this spinning pencil is that of the magnets. Its not difficult to find a discarded slipper, a CD and a pencil," says Gupta. The simple spinning pencil is the toy created by Gupta to explain the complex process of magnetic levitation. It is not difficult to see why his toys have found popularity not only amongst his peers, but also his real audience-children. Magnetic levitation might be one tiny part of the toy factory, but it just goes to show the amount of ingenuity that goes into making something so simple, so easily accessible.
For Gupta, a sexagenarian, the journey began a long time ago somewhere in the bylanes of Bareily. "My parents never went to school. Perhaps that is the most important reason behind it all," he says. "They understood the value of education. My mother ensured that we all went to the best school in town. It inculcated that value, the hunger to learn and more importantly to give back to society. It stayed on."
His project, Toys from Trash has steadily garnered a fan following, thanks largely to the Internet. Gupta and his team work on making toys from everyday waste materials. The procedure of making these toys, along with the explanation of the concept behind them, is then documented on video and uploaded to Gupta's YouTube channel.

The details of the beginnings for Toys From Thrash involves a trip down memory lane for Gupta, who many will recall as a familiar face from their childhood thanks to Doordarshan's programme called Tarang. Post his schooling came a degree in engineering from IIT Kanpur and then a job at TELCO in Pune in 1975. "I have been often asked, why make toys for children, and I have always replied, the answer lies in my schooling," Gupta says. "The missionary school that I studied at inculcated the value of 'working for the poor'. That stayed on with me always. And continues to stay on."
It was the year 1978, three years after Sholay had become a blockbuster, when Gupta took a year off from his job at Telco to work with Kishor Bharti, an NGO, dedicated to revitalising and popularising science learning in school through experiments. He spent time at a village that was under the umbrella of the Hoshangabad Science Teaching Programme (HSTP). Gupta remembers those days fondly, saying, "Every week it had a bazaar, from where I picked up things I needed for my creations. Very soon I was designing 2D and 3D shapes using matchsticks and bicycle valve tubes. I was making Meccano toys for children out of things sold or found on the road and it was fun. And what's more important is, they could learn about all this, make it in their own houses and study at the same time. It dawned upon me making science toys was more fun than making trucks."
In his case it has definitely been more satisfying to make toys rather than trucks. And if numbers could speak, they would have some staggering details to tell. Gupta and his team, in the last three decades, have made over 4,200 videos. These videos are available in 18 different languages. In the last two years, they have made over 700 toys to explain the concepts of gravitation, centrifugal and centripetal forces, magnetism, friction, electricity, crystal lattice structures, mathematical models, Newtonian laws and other whatnots. The videos have garnered nearly 25 million views on Youtube, while Gupta himself has taught in over 3,000 schools in 20 countries. In addition there are 4,000 books on the website on the topics of education, environment, peace, science and mathematics. "On a daily basis around 12,000 books are downloaded for free. In addition another volunteer, Dr. Breezy Ocana Flaquer, dubbed 300 of our videos in Spanish. Millions of children across Latin America were able to see them," he adds.
Gupta brings up an invention called Touching Slate, designed by Pragya and Dilip Bhatt, an Ahmedabad-based couple. "Their son Nikunj, was born 18 years ago visually impaired. They designed the slate for him and now it helps over 13 million visually impaired children, according to surveys conducted by the government in India," says Gupta, as he marvels at the ingenuity of the toy. "The slate is made of Velcro - with millions of nylon hooks. One can write with a wool disperser - it is like a fishing line. As one draws on the slate wool comes out of the pen and sticks to the slate. The children can 'feel', the drawing with their fingers."
Gupta and his team uploaded a video that showed how anyone could build the Touching Slate using material easily available at home. A teacher working with special children in Bangkok saw this video and made slate for his visually impaired students. "It got a huge response and he even got a corporate sponsorship to make these slates for all Blind Schools in Thailand," says Gupta. "That is the power of design, functionality and usage. Who can say that it costs less than a 100 rupees to make one? But it is there. Inexpensive and very functional."
Gupta's work is as practical as it gets, far removed from the world of PhDs and scientific papers. He is unable to hold back his laughter while recalling the attempts of some determined individuals to comprehend the science behind one of his creations. "Six research papers have been written on it till now to explain the phenomenon," says Gupta. "The papers are in detail. The angle of the cut, the depth of the notches and things like that. The toy is anything but all that. It's just basic and simple. And they say making toys is dull!"
While some may say science is dying in a world increasingly dominated by MBAs, Gupta disagrees. "There is a hunger in children for learning science. As an advisor to UNSECO on science teaching I have travelled to countries and I can say that children here in India are just as smart as any others. They just need better science mentors and techniques."
Ask Gupta about the future, and he is both sad and optimistic, with almost a childlike-enthusiasm. "We are desperately looking for volunteers to dub the videos into Bangla, Oriya and Nepalese. Imagine how many children would benefit from these videos in these places," he says. "I make toys for a living, make children happy, help them discover science and even manage to earn liveable wages out of it. That is how much joy there is to give, and inherit from, this world."