Qureshi Alla Rakha Khan, the tabla maestro more popularly known as Ustad Alla Rakha, is the subject of Tuesday's Google doodle on the occasion of his 95th birthday.
Born on April 29 in 1919 in Paghwal, Jammu, Ustad Alla Rakha is said to have become fascinated by the tabla at age 12, and soon ran away from home to study the Indian percussion instrument (also featured in the
doodle
) under Mian Kader Baksh of the Punjab gharana, before studying voice at the Patiala gharana.
Famously known as an accompanist, the subject of Google's most recent doodle frequently accompanied Ravi Shankar, the famous sitar maestro. According to his Wikipedia page, Ustad Alla Rakha began his career as an accompanist in Lahore, before heading to Bombay to work at All India Radio in 1940, where he famously played the station's first broadcasted tabla solo.
Ustad Alla Rakha married Bavi Begum, and had three sons, Fazal Qureshi, Taufiq Qureshi, and the famous tabla maesto, Zakir Hussain, apart from a daughter Khurshid Aulia née Qureshi.
In Tuesday's non-animated doodle, Google features Ustad Alla Rakha prominently, with the maestro beatifically playing the two drums of the tabla that also serve as the two 'O' letters in the Google logo.
On clicking the painted Alla Rakha doodle,
Google
redirects users to the search results page for 'Alla Rakha', which prominently features the Wikipedia
page
for the tabla maestro, as well as YouTube links to music recitals by the maestro, alongside Ravi Shankar and Zakir Hussain. Google has also listed a number of songs by Alla Rakha, as well as news centred on him.
For more
Google doodles
visit
this page
.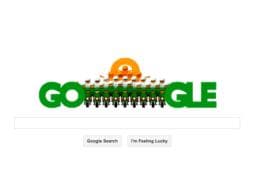 The best Google doodles of 2014