Indian weddings are often big, elaborate affairs, with multiple events and huge numbers of participants. From showing up in a helicopter, to outfits with enough embroidery that they weigh as much as a person, people don't miss any chance to leave an impression on their guests. So it's probably no surprise that the Big Fat Indian Wedding has been getting high-tech over the years.
The principal part of the process - getting a bride or groom, turned into a big digital business in India years ago, with sites like Shaadi.com and BharatMatrimony. Today though, the wedding itself has also gotten the same treatment.
Last year, Puneeta Sawhney, a graphic designer based in Delhi, was getting married and wanted to create a page where all the announcements, directions and photos could be put up, and she didn't want to use her Facebook page. She decided to surprise her Web designer husband Abhinav by putting together the page without his help, and searched for templates she could use.
What she found was that you didn't need to do something like this yourself anymore, as there are a lot of sites that are dedicated to just helping users create wedding webpages. Sawhney used a service called The Knot, which lets you create a themed wedding website for free. The process is simple, and you get a custom URL which you can share with your friends and family, where you can put up pictures, have people sign up for notifications, and show maps. It's very easy to use, and anyone can create a website using the tools the site provides.
There are now several Indian companies which do the same thing - we liked Shaadi Saga, which lets you create a free website and send out invitations over the Internet. As you can see from the sample website, users can customise the look of the page, add details about their first meeting and proposal (and your friends can roll their eyes and skip past all that quickly) along with useful links such as dates and timings, maps, and RSVP. The best part - all that is completely free.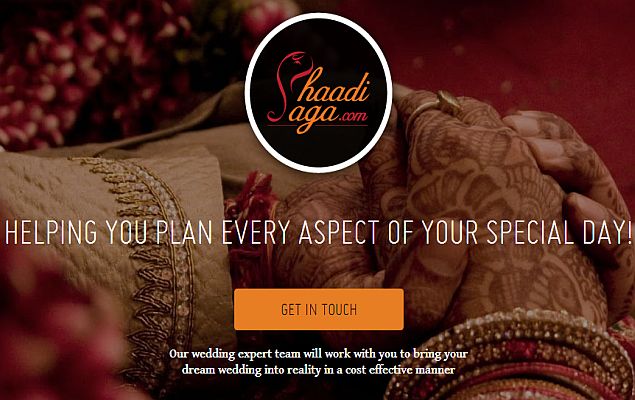 Shaadi Saga makes money by offering additional wedding services - you can hire venues, planners, caterers, florists, photographers, and pretty much everything else that you might want for the wedding. There are dozens of similar sites around, and if you're not happy with the design options on one, you can browse around - you have Indian and international sites. Again, almost all these websites are completely free.
In case a website feels a little too old fashioned, then you can also try out Euphoriq as this service also creates a free wedding app for you.
Aside from the wedding website, you also get a mobile application which includes all the main features like a guestbook, contact details, a calendar of events etc. However, features like unlimited photo storage and instant sharing, guest management and SMS and email reminders are locked behind paywalls.
If setting up yet another wedding website doesn't appeal to you, don't worry, there's plenty of other stuff that you can do. You might, for instance, want to call people personally, to ask them to attend your wedding ceremony. If your guest list is in the hundreds (not an unheard of occurrence here) then calling everyone is just not possible. Recording your message once, and then having it sent to everyone on your list sounds a lot better though, doesn't it?
It's a little like the way political parties reach out to potential voters during the elections - a trend started by Atal Bihari Vajpayee for the 2004 elections. At the time, people around the country got calls from an unknown number, which began speaking: "Main Atal Bihari Vajpayee bol raha hoon."
Unicel Technologies is a Bangalore-based communications solutions company which offers this service to everyone, at rates that are pretty reasonable compared to everything else you'll be spending during the wedding. The company is largely focused on B2B offerings, and its client list includes firms like IBM, HP, Flipkart, Unilever and HDFC Bank, but according to the MD Vinay Agarwal, it is building a self-service product that anyone can use to send out a voice broadcast, for as little at 50 paise per call.
"You see political parties doing a lot of voice broadcast during elections, at a huge scale," says Agarwal, "and we offer this as a custom solution, but doing this for each small case doesn't make sense from a business perspective. But there is a lot of demand, because people want the personal touch. I did it myself, some years ago, for my son's first birthday. We recorded a personalised thank you message for everyone who came, and after they had gone, we sent the voice message to all of them."
"Weddings are all about the personal touch," he adds. "A lot of people have been coming to us to offer this solution for them. A printed invite is well and good, but people like to hear the voice, it builds a connection, you feel closer to the person."
Alive Cards is a newly launched business that's looking to increase the personalisation factor even further. A venture by Times Internet, the service wants to bring Augmented Reality (AR) to wedding invitations.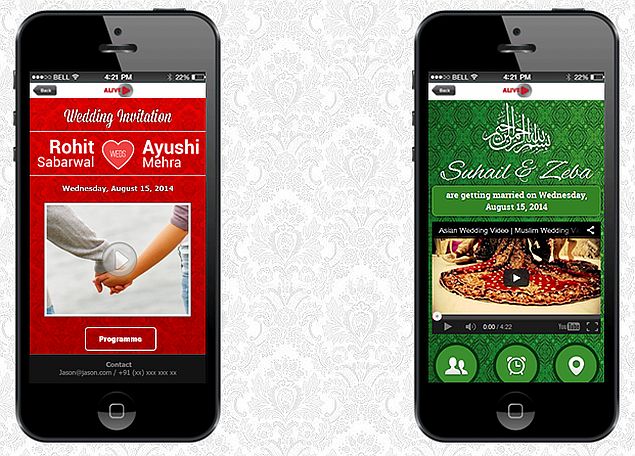 Ajay Vaishnavi, Director - Telecom, Times Internet, told NDTV Gadgets that registering for Alive can cost users anywhere between Rs. 10,000 and Rs. 50,000, depending on the services they want. After that, they upload an image of the card and configure the actions it will trigger as well as the dates they want it to be active.
So what can you do with these cards? "You can show an image, and save the program details on your phone," he says, "or open a webpage. You could have it set a reminder on your phone, or mark the location on Google Maps."
Actually, the basic pack only allows you to display an image, timings and open a page. Google Maps integration will set you back by Rs. 20,000, while the superior pack, which includes features like sending you message when someone reads your cards, playing background music and setting reminders on the phone, will cost you the full Rs. 50,000.
While this is a pretty hefty fee, the service is unusual right now, and according to Vaishnavi, the company also has been talking to matrimonial websites to offer the service as a part of the packages they have - officially bringing the Big Fat Indian digital wedding a full circle.