You probably haven't heard of Rock Jaw before. We don't blame you; it's a small British outfit based in a village called Belper in Derbyshire. With a total of five products listed for sale on its website, Rock Jaw is the kind of company that you would call small but focused. The focus is on quality design and engineering, and the brand is slowly growing in popularity thanks to this but also because of its low prices.
One of the company's most popular products is the Rock Jaw Alfa Genus. These in-ears cost £50 (approximately Rs. 5,000) and offer more than you would normally expect from similarly priced competitors. But what additional value are you getting? Read our review to find out.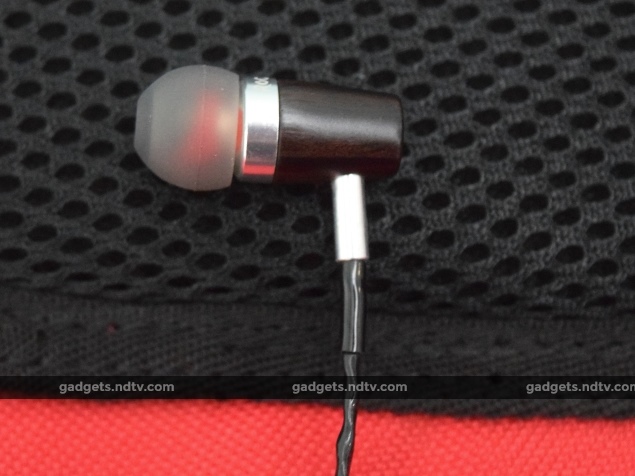 Specifications, design and features
The Rock Jaw Alfa Genus is powered by 8mm neodymium dynamic drivers, with an impedance of 16Ohms and a sensitivity of 108dB. Frequency response ranges from 20-20,000Hz. It has a 1.2m cable with an in-line remote and microphone that is listed to be compatible with iOS, Android and Windows devices. The microphone worked fine in our tests, but the remote on our review sample refused to work with an iPhone. However, it played well with our Android smartphone, with both the play/pause and call answer functions working perfectly.
The earphones themselves are beautiful, thanks to excellent wood and aluminium casings. They are closed-backed for the most part, although there are small bass ports. This leads to a bit of sound leakage, but it is well within tolerable limits. The use of aluminium is intelligent, with the metal surrounding all the critical parts of the casing, especially the stalk where the cable is attached.
The cable is wrapped in twisted rubber, which we personally don't like the look of. Although this makes it extremely tangle-resistant, it looks cheap and unsophisticated in our opinion. The plastic remote/microphone and L-shaped 3.5mm plug feel a bit unrefined as well, but they are durable and get the job done. On the whole we're pleased with the build quality and aesthetics, although a bit less so with the latter.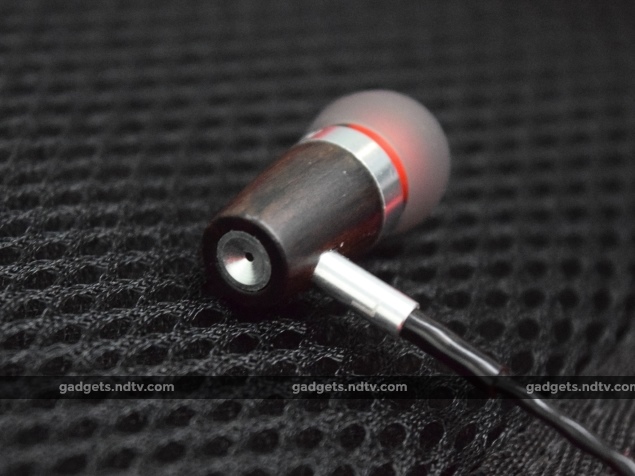 One of the most unique features of these in-ears is the fact that they come with interchangeable tuning filters. A total of three filters are included in the box: silver for enhanced bass, black for enhanced highs and gold for a neutral sound. This essentially means you get three distinct sonic signatures from the same set of in-ears. Changing the filters is a quick task and can be done easily every time you want to set the Alfa Genus up for a particular type of music. This is a concept we last saw on the RHA T10i, although the differences in sonic signature are more defined here than on that pair. We personally preferred the silver bass-enhancing filters, but did occasionally switch to the others for specific results. The filters are really small and can easily get lost, so make sure you're sitting down at a table when you're switching them out.
Also included in the box are a soft carry pouch and three silicone ear-tips of varying sizes. Although fit was alright, we had a bit of trouble with sound isolation. Switching to a pair of aftermarket Comply 'isolation' tips solved this problem, and really helped get more out of the Rock Jaw Alfa Genus. However, comfort is not a problem at all, even with the standard tips. These in-ears are light and well designed, ensuring comfort over long periods of time.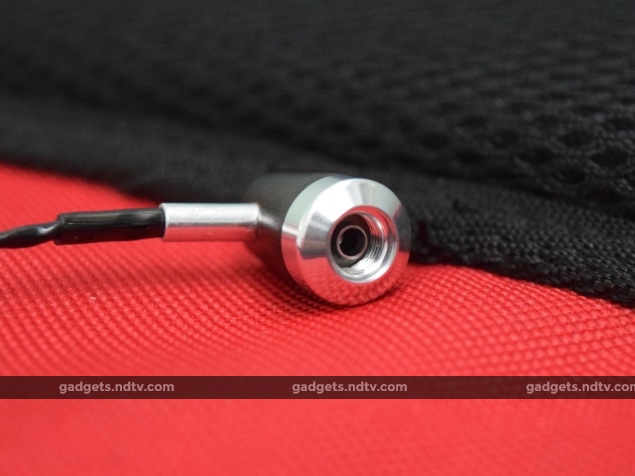 Performance
We used our reference Fiio X1 high resolution player and an Android phone for the performance review of the Rock Jaw Alfa Genus earphones. Since the individual tuning filters modify the sound considerably, we decided to divide the performance portion of this review into three sections, focusing on each filter separately. Focus tracks were all in 16/44.1 FLAC format: Close To You by The Avalanches (silver filter), Don't Stop Me Now by Queen (gold filter) and Mountains from the Interstellar soundtrack (black filter).
We started with Close To You and the silver filters, and the first thing we noticed was a strong, attacking bass and a definite skew towards the low frequencies. Bass response was a little overbearing in this setup, although not too much. Sub-mid and upper-mid frequencies were well translated, but highs seemed to be a bit subdued by the strength in the lows. Stereo separation and soundstaging were decent as well, but not quite at the same levels we experienced with the similarly priced Ostry KC06A in-ears. On the whole, these filters added a sizable helping of thump and excitement to the Alfa Genus.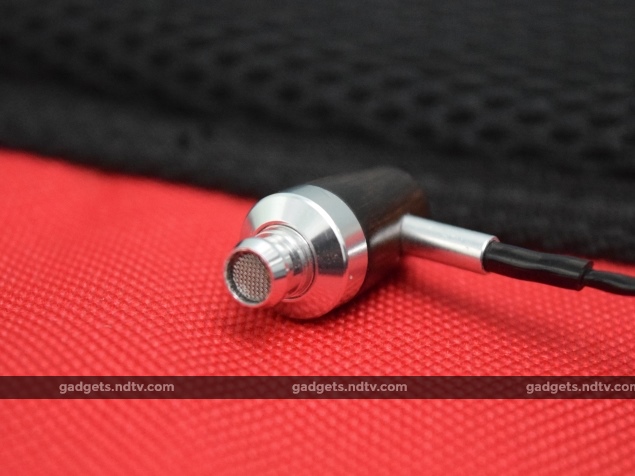 Moving on to Don't Stop Me Now with the gold filters, we experienced a much more open, detailed sound. Stereo separation was vastly improved, as was the width of the soundstage. Lows and bass response were still present, but much more subdued this time. Instead, highs had a bit of sparkle, while vocals and mid frequencies also had a bit more bite in them. The thump had been reduced a fair bit and there was now a bit of sharpness to the music. This filter offers a truly neutral sound that enhances detail across the frequency range.
Finally, we put on Mountains with the black filters, and we were treated to a level of immersion and detail that we hadn't heard in a long time from sub-Rs. 10,000 headphones. The soundstaging and imaging were incredible, with some of the gentler elements feeling hauntingly close and real. However, all thump and tightness in the bass had vanished. These filters are focused on enhancing the frequencies across the range, and this has a tendency to bring out flaws in the recording, as was evident when we used it with some lower quality MP3 files. There's also a considerable sharpness in the signature which can become unbearable at higher volumes. Provided the volume is at comfortably low levels and you stick to the right kind of music, you'll find the detail and immersiveness beautiful.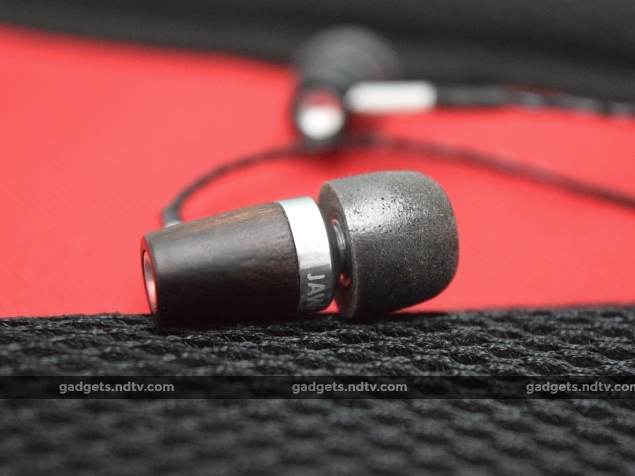 Verdict
Yet again, a small company has managed to surprise us. Rock Jaw has produced an affordable gem in the Alfa Genus in-ears. Interchangeable filters aren't new, but the sonic signatures are much more distinct in each case. As such, you're getting three different pairs of earphones for the price of one. This in itself is a big reason to buy the Rock Jaw Alfa Genus.
Rock Jaw sells the Alfa Genus in-ears through its website rockjawaudio.com, and products are shipped worldwide for free. The cost of the earphones is £50 (approximately Rs. 5,000), but this might increase depending on import duties and transaction charges on international credit card payments. However, when you consider that you're getting three different sonic signatures, all of which sound great and work to enhance specific genres, you'll find that this is an excellent deal. This ability to tinker and tune the headphones to your needs is enough for us to recommend the Rock Jaw Alfa Genus to all enthusiasts.

Price (online): £50 (Approximately Rs. 5,000, not including import duties and taxes)

Pros
Three different tuning filters give you distinct sonic signatures

Sound that varies from punchy and exciting to open and immersive

Soundstaging and sonic signatures can be set to your liking
Comfortable, well-built and decent looking
Cons

Cheap-looking cable, plug and in-line remote

Sound isolation with included ear tips is average at best

Ratings (Out of 5)
Design: 4

Performance: 4.5

Value for money: 5

Overall: 4.5