Asus is no stranger to the laptop world. The Taiwanese giant
launched a bunch of new Windows 10-ready
mainstream laptops earlier this month, and today, we'll be testing its highest-end offering in the A-series, the A555LF. This laptop features an Intel Broadwell CPU and a discrete graphics card for that occasional gaming session. Let's see if it's worth your time and money.
Look and feel
The Asus A555LF is well put together and has pleasing aesthetics which makes it very presentable. The laptop is built primarily of plastic, which is of high quality, but we did notice some flex in the lid and the keyboard. Speaking of the lid, Asus has gone with a mosaic pattern which is really highlighted when light hits it. The finish is glossy brown and is a major fingerprint magnet.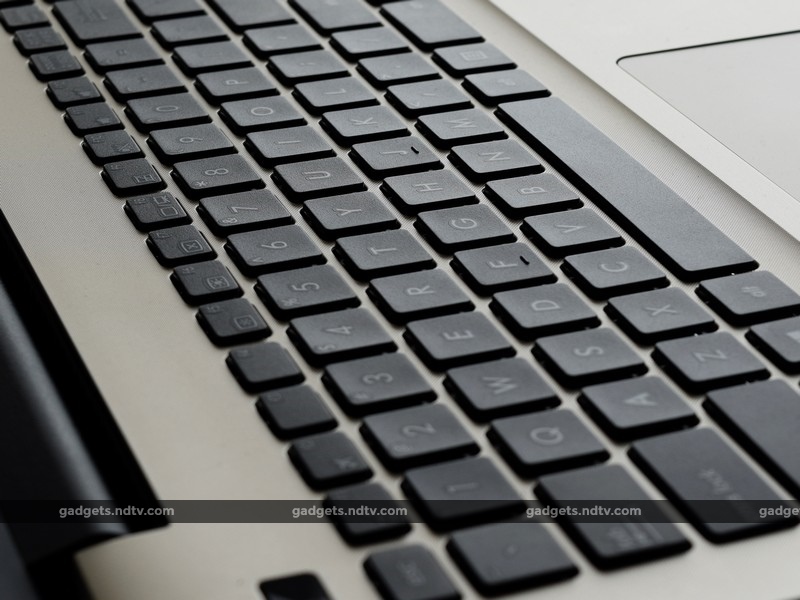 Inside, we have a champagne tone for the palm rest and keyboard deck. The chiclet-style keyboard is comfortable to use and the keys are soft with good travel. You also get a full-sized numeric keypad. Above the keys, we have the power button towards the left and a 'Sonic Master' inscription on the right, which is Asus's proprietary audio enhancement.
The palm rest is generously proportioned and you get a large trackpad too. The latter has a smooth finish with minimal friction. Although the entire trackpad is clickable, the left and right click functions only work when you press the respective corners at the bottom. Also, as the trackpad and the rest of the unit are separate pieces, dirt and dust could accumulate in the gaps over time.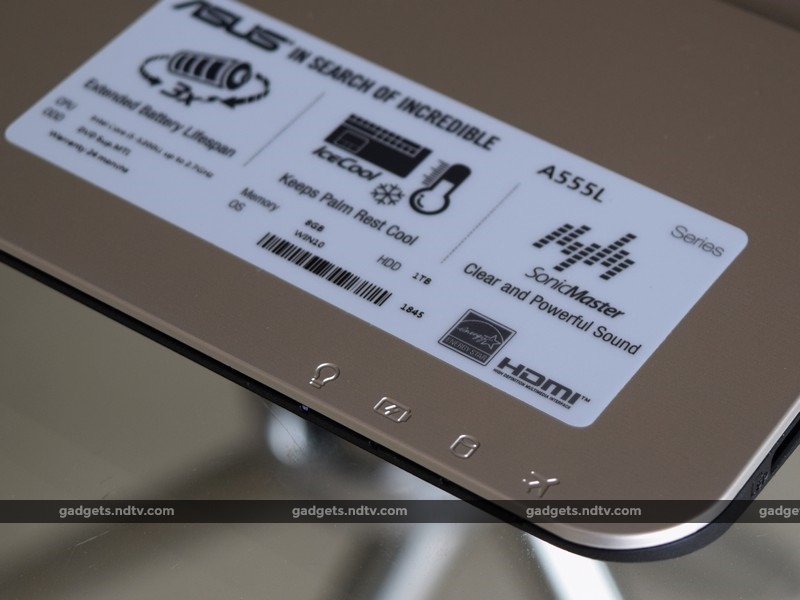 Notification LEDs for power, battery status, hard disk activity and airplane mode are on the front, just below the lip of the palm rest. On the left side, we have an Ethernet port, VGA, HDMI, two USB 3.0 ports, and a Kensington Lock slot. Coming to the right side, we have the DVD writer, a USB 2.0 port, aheadphones/ microphone combo socket and the SD card slot. There aren't any ports on the back as the hinge takes up the entire length.
The A555LF doesn't have a removable battery but you do get an access panel for swapping out the RAM. Interestingly, only one 4GB stick can be removed; the other 4GB is soldered directly onto the motherboard. This is quite an unusual design choice and something we haven't come across before. Another thing worth noting is that the removable DIMM supports speeds of up to 1600MHz and is made by Samsung, whereas the soldered chips go up to 1866MHz and are made by Micron. Our guess is that Asus chose this design in order to save some space but still provide a degree of upgradability.

The laptop is propped up on four rubber feet so it doesn't skid around on a desk. The exhaust vents are cleverly hidden near the hinge so you rarely feel the heat when using it on your lap.
Overall, Asus has done good job in designing the A555LF. Build quality is good and apart from the slight flex on the lid and the keyboard, there isn't much to complain about.
Specifications and software
The A555LF is powered by an Intel Core i5-5200U which is a dual-core CPU with speeds of up to 2.7GHz. There's no Turbo Boost here but you do get Hyper-Threading. There's a total of 8GB of DDR3 RAM in a dual-channel configuration; a 1TB hard disk (5400rpm); and an Nvidia GeForce 930M graphics card with its own 2GB of memory. Other specifications include Wi-Fi b/g/n, Bluetooth v4.0, Gigabit LAN, a VGA webcam, and a 2-cell Lithium polymer battery. The battery capacity might seem small but since this is Lithium Polymer, we should expect more runtime than a similar sized Lithium ion battery would provide. The non-HD webcam is a bit disappointing, especially if you'll be video chatting a lot.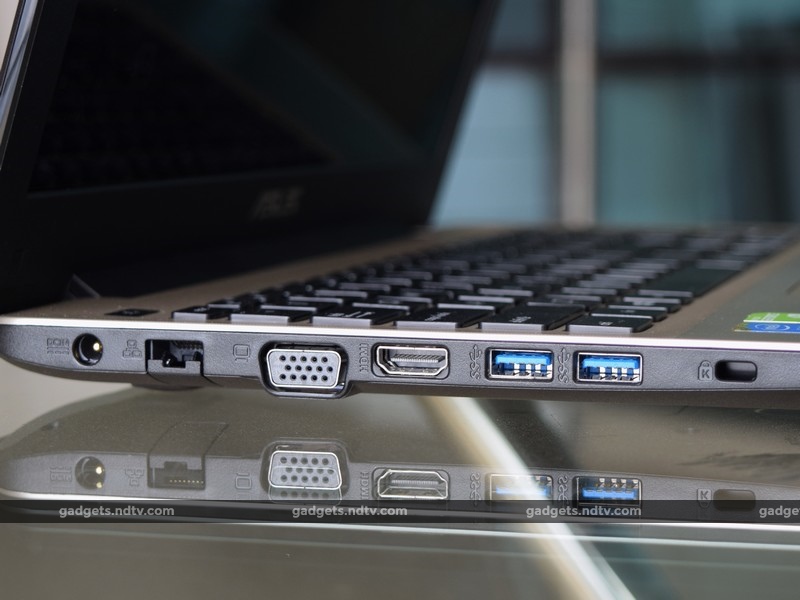 The dedicated GPU is a lower mid-range part from Nvidia based on the Maxwell architecture, which should be good for gaming at low to medium settings depending on how demanding the game is.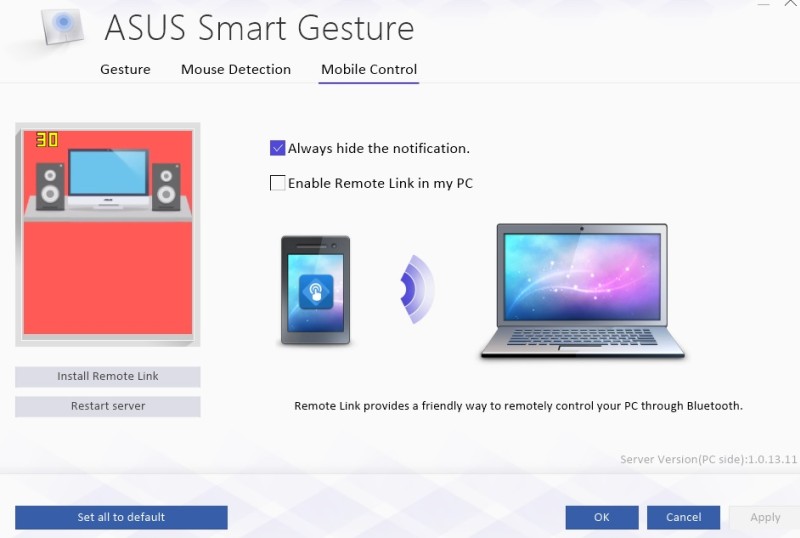 Asus ships the A555LF with Windows 10 Home 64-bit edition and bunch of its own as well as third-party applications. From Asus's stable, we have Live Update, which will automatically look for latest drivers and software updates; Splendid Utility, which lets you change the display's colour temperature; USB Charger Plus, which lets you charge mobile devices quicker when the laptop is on; WebStorage, which is Asus's own cloud storage service; and WinFlash, which lets you update the BIOS if needed.
Asus also installs 'GiftBox' which is like a mini app store with special offers on paid apps. Finally, there's Asus HiPost which is somewhat like Evernote but uses OneDrive to sync files between devices. You also get McAfee LiveSafe Internet Security (limited time subscription), a trial version of Microsoft Office 365, and 25GB of Dropbox space for six months.
Performance
The 15.6-inch display on the A555LF is just like any other you've seen in the budget laptop segment. The low resolution of 768x1366 means icons and text exhibit jagged edges. The screen is glossy making it very reflective in most situations. The viewing angles are not great either, so there's a very small sweet spot where the picture looks like should. Anything beyond this results in either an underexposed or oversaturated picture.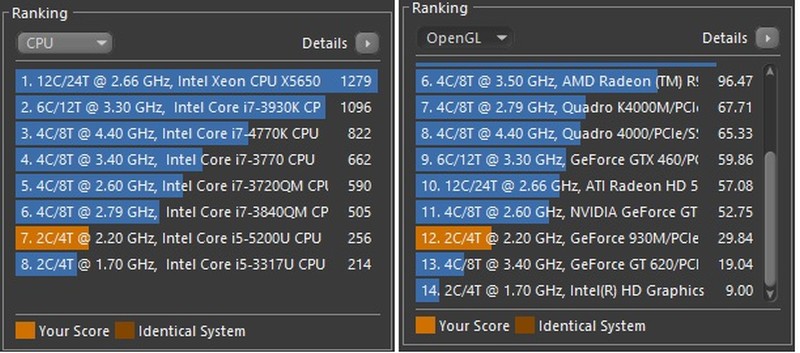 Cinebench R15 - CPU and GPU scores

Thanks to the decently powerful Core i5 and ample RAM, general performance is good. Applications run well and we didn't have any issues with multi-tasking either. In our synthetic benchmarks, POVRay returned a trace time of 8 minutes and 12 seconds; 3DMark Fire Strike gave us an overall score of 1309; and PCMark 8 returned 2,988, 3,126 and 2,732 points for the Home, Creative and Work benchmark suites respectively.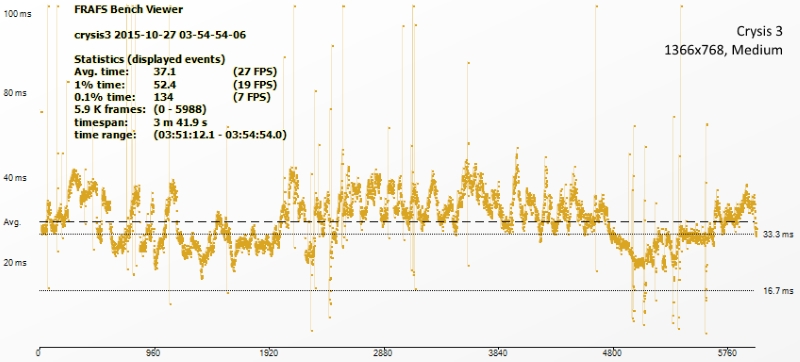 As this laptop has a dedicated graphics card, we ran a variety of real world games to gauge its true potential. We started off with Crysis 3 and straight away bumped up the 'System spec' and 'Texture resolution' to high. We were averaging about 24FPS, which isn't much, but the game was still manageable. Dialling some of the settings down to medium gave us a smother frame rate.
Tomb Raider (2013) returned an average of 26FPS at the native resolution and everything turned up to 'Ultra'. Switching to the 'High' preset resulted in a more playable frame rate of 35FPS, without having to sacrifice much on visual quality.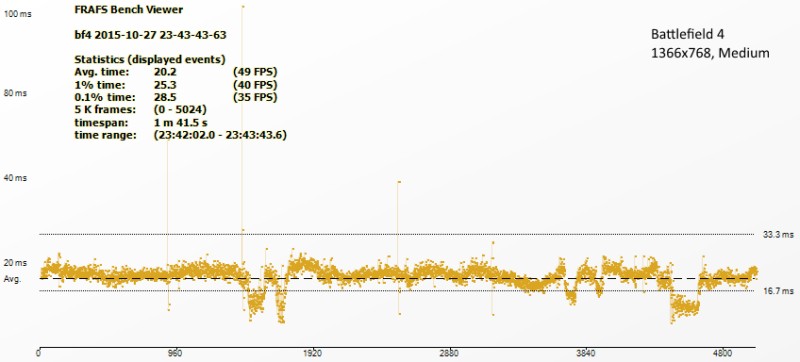 Battlefield 4 also ran very well at medium settings. Pushing the graphics settings higher caused some stutter during heavy fire fights but overall, this is pretty decent performance for a lower mid-range card. Games such as FIFA 16 will easily run a lot better with everything maxed out. The GeForce 930M also supports Nvidia's Optimus, you can choose which applications use it and which don't, thereby saving a bit of battery life.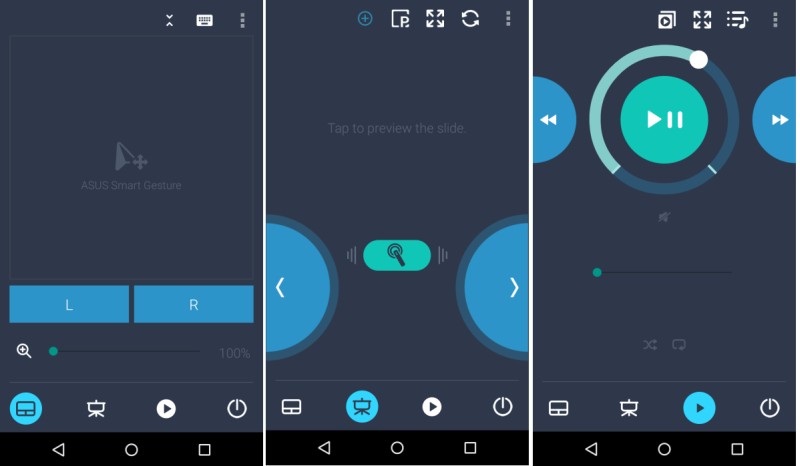 The mobile app 'Remote Link' for remotely controlling the laptop

The keyboard is comfortable to use for long typing sessions and the keys seem relatively durable. They do have a slightly spongy feel, which some might not like, but they are quiet and make very little noise even with vigorous typing. The laptop features Asus's IceCool technology for keeping the palm rest cool, which seems to do its job well. We did notice the area under our right palm got a bit warm during gaming. The trackpad supports additional gestures for Windows 10, so for example a three-finger tap brings up Cortana.

There's also a 'Mobile Control' feature which lets you use remotely control the laptop from your phone using Bluetooth or Wi-Fi. This initially refused to work for us but after updating the software and making several attempts, we managed to get it to work.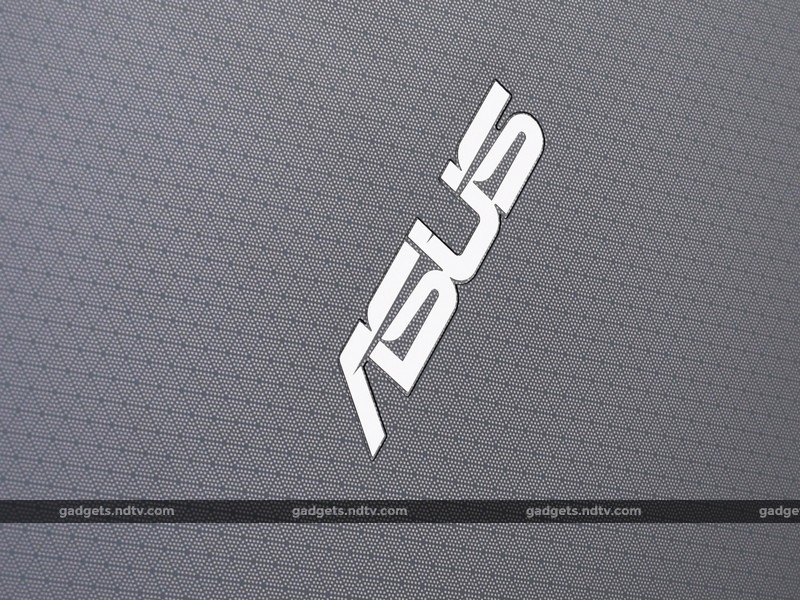 Audio quality is one of the strong points of the Asus A555LF. The SonicMaster speakers feature electronic wizardry from ICEpower, which is owned by Bang & Olufsen. The bundled 'AudioWizard' application lets you switch between various audio modes depending on the application you're running. The sound from the downward firing speakers is surprisingly loud and crisp which makes it very good for music, movies and even gaming. Bass response is a bit mild as expected, but the overall aural experience is not shrill or tinny.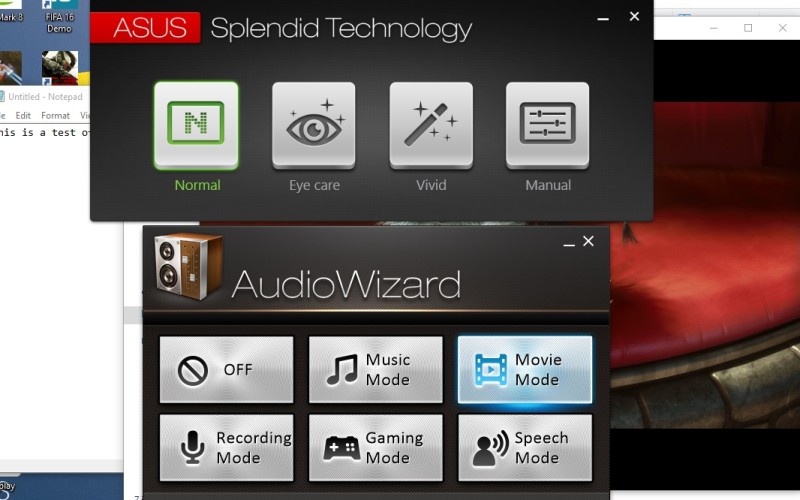 The laptop easily handles 4K videos thanks to hardware decoding on the onboard GPU, but the screen resolution isn't enough to really enjoy them. The 2-cell Lithium Polymer battery put on a good show as we got 2 hours and 7 minutes in the Battery Eater Pro benchmark. In regular use with Wi-Fi enabled, we managed to get close to 4 hours before needing to reach for the charger.
Verdict
You can find the Asus A555LF at a street price of Rs 48,999, which is not bad considering its performance. You can find similar options from other manufacturers around this price too but what sets Asus apart is the 2-year global warranty, when most others provide 1-year.
The A555LF has a few shortcomings such as the low-resolution screen and the plastic build, which is a little flimsy in some areas. We also wished Asus had used a slightly bigger battery and thrown in an HD webcam. On the plus side, the laptop has good aesthetics, a comfortable keyboard, decent casual gaming performance, and a very good set of speakers. This makes it a good mainstream option for those unwilling to breach the Rs 50,000 price barrier.
Price (MRP): Rs. 49,490
Pros
Two USB 3.0 ports
Good set of speakers
Pleasing aesthetics
2 year global warranty
Cons
Low resolution display
Battery life could be better
Non-HD webcam
Ratings (Out of 5)
Design: 3.5
Display: 3
Performance: 3.5
Software: 3.5
Value for Money: 4
Overall: 3.5