Scientific innovations sometimes seem like they need a technological game-changer, though more often than not, all it takes is an incremental improvement over the previous generation, and the willingness to solve large scale social problems. According to the International Diabetes Federation, there were 66.8 million cases of diabetes in India in 2014, by 2035 this will rise to 123 million. Diabetic retinopathy is one of the most preventable causes of blindness, and it is a significant problem in India that's only getting worse. India is considered the diabetes and hypertension capital of the world, says Harsha Angeri, Head - Strategy, M&A and New Businesses at Robert Bosch India.
"One in three blind people in the world is an Indian. Out of three visually impaired people - not blind but they have high refractive errors - one will be Indian," he says.
Early diagnosis can save a lot of people from needlessly losing sight, but there's a tremendous shortfall in the number of ophthalmologists in India.
"Germany has a population of 82 million and they have 7,000 ophthalmologists," says Angeri. "We have 14,000 ophthalmologists but a population of about 1.2 billion." To make things worse, a lot of people with diabetic retinopathy do not know they have diabetes. "Their eye is affected and it has been there for years and maybe even a decade but they have no clue that they have diabetes," he added.
The Bosch Fundus camera was launched over a year ago in the ophthalmology space, combining hardware, software and automation algorithms, to improve detection of this problem. Priced at Rs. 2.44 lakhs, it can be placed in any hospital, vision centre, or camp. Equipped with a 5-megapixel CMOS sensor, the unit is modular and portable, and works on a rechargeable battery, enabling screening in remote and rural areas. "Given the portability of this device, it can be easily carried to health camps and therefore reach out to a larger number of people," says Angeri.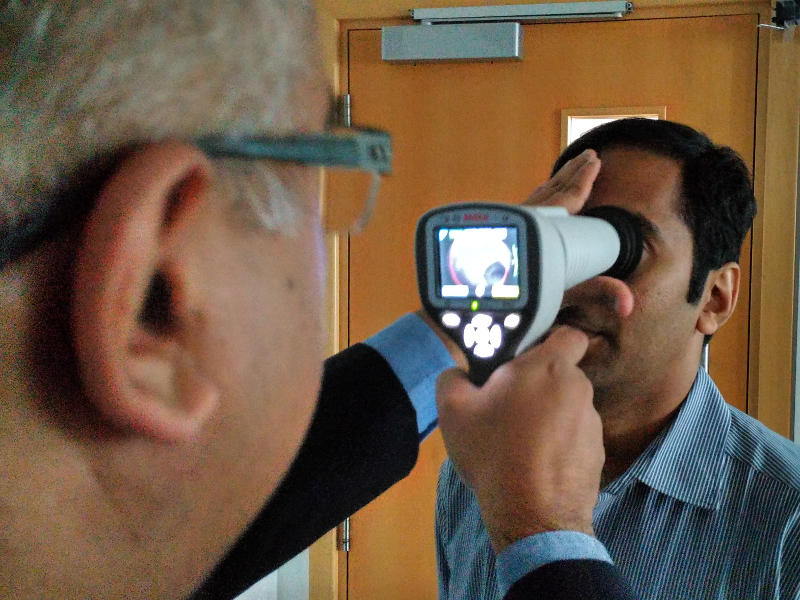 Bosch partnered with hospital chain Aravind Eye Care, which trained women technicians to take the images of peoples' eyes as they walk in, in remote areas - this means that you don't need to send out doctors just to perform the preliminary checks anymore. The detection of retinal conditions went up 40 percent, and Bosch has imaged about 10,000 people. Typically, 45 percent of patients need dilation for the retinopathy test; the Bosch Fundus camera has reduced it to 5 percent. In about five minutes, the patient can walk in and walk out after having tested their eyes.
Bosch is now looking at addressing similar needs in markets such as Africa, SAARC, Middle-East, Brazil and beyond, citing the need for such an innovation in a country like Kenya, which has 105 ophthalmologists in a country of 45 million. The company plans to add more hardware modules and software algorithms to detect other retinal and corneal defects which can be detected.
From an advocacy standpoint, Angeri says that India needs to promote comprehensive eye examinations, the way it is practiced in western countries, compared to ordinary eye tests.
"This fits into optical chain stores in terms of providing the comprehensive eye examination and today there is a tool that exists that can do it for any walk in patient and get it done in five minutes," he said. Instead of just checking your glasses power, a device like this could make it possible for a battery of eye tests to be carried out easily and quickly at shops, letting you know if you need to visit a doctor - or at least, that's the company's vision.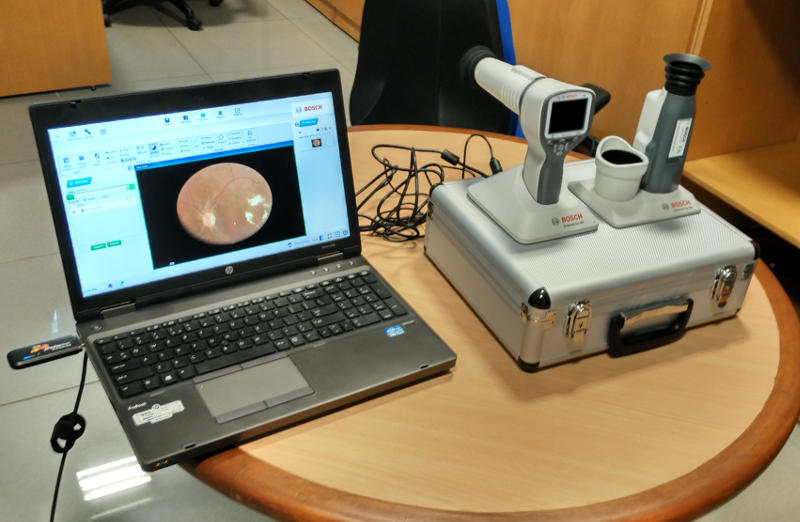 An ophthalmologist who didn't want to be named in our feature told us that the Bosch Fundus camera is a good screening device that could be useful for opticians and camps. Its biggest advantage is its portability, however, nurses can be trained to use a basic fundoscope that costs around Rs. 15,000.
"It only gives you 30-40 percent of an idea about the health of the retina. The higher end machines (which cost around Rs. 10-20 lakhs) give more accurate information to both doctors and patients of what's happening inside the retina, and help us in both diagnosis and treatment modalities," the ophthalmologist says.
Smartphone-enabled screening
Researchers at the Stanford University School of Medicine have developed two inexpensive adapters that enable a smartphone to capture high-quality images of the front and back of the eye in 2014. With today's smartphones rivaling the Fundus camera on megapixel count, a solution that leverages the omnipresent devices stands to gain immensely - and that's precisely what Remidio's smartphone-based PAN Eye Imaging device does.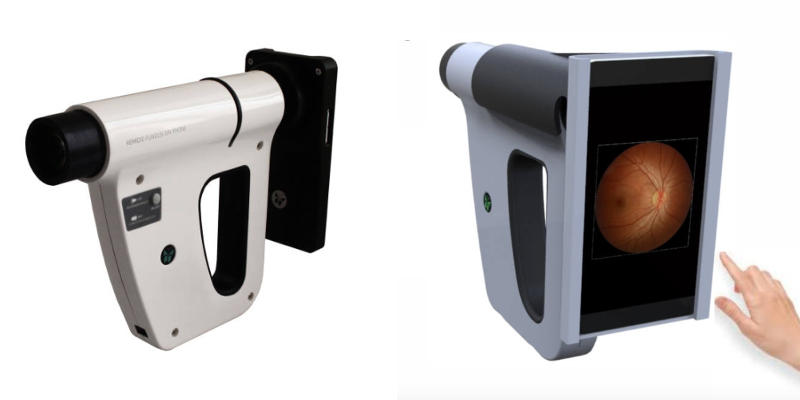 Priced at Rs. 1.8 lakhs, the device can be used to screen for corneal and retinal pathologies related to diabetic retinopathy, cataracts, and glaucoma. An Android app tracks patient history, stores images, enables annotations and and generates reports.
"We've been able to take a smartphone to take a high quality image of the retina, bringing the simplicity of a smartphone with the sophistication of optics that can visualise the same kind of images as a high-end system," says Anand Sivaraman, CEO and Co-Founder, Remidio, speaking to NDTV Gadgets. The firm has placed around 150 units of the device in the marketplace, clients include Mohan Diabetic Centre and Aravind Eyecare, who have taken it as a part of their screening model.
Angeri, unsurprisingly, believes that Bosch's equipment is better than smartphone-based solutions. He says the camera in Fundus uses a sophisticated lens arrangement to do retinal imaging, and incorporates technologies like infra-red light for focusing, and is standards compliant - FDA approved levels of illumination while imaging, with data security and application support as per DICOM standards. Nevertheless, as testing with experts like Aravind Eyecare proceeds, the smartphone-based solution could also prove to be very important.
Preventing blindness in babies
According to a WHO report, ROP (Retinopathy of Prematurity) is one of the most common causes of vision impairment and blindness.
Unlike diabetic retinopathy, the disease comes in at about a month and a half of a baby being born, and if it's not detected on time, in about three months, the child goes blind, says Dr. Anand Vinekar, a retinal surgeon who has worked as Program Director in a tele-ophthalmology program for screening premature infants in rural areas as part of KIDROP (Karnataka Internet Assisted Diagnosis of Retinopathy of Prematurity). KIDROP claims to be the world's largest tele-medicine network to tackle infant blindness from ROP.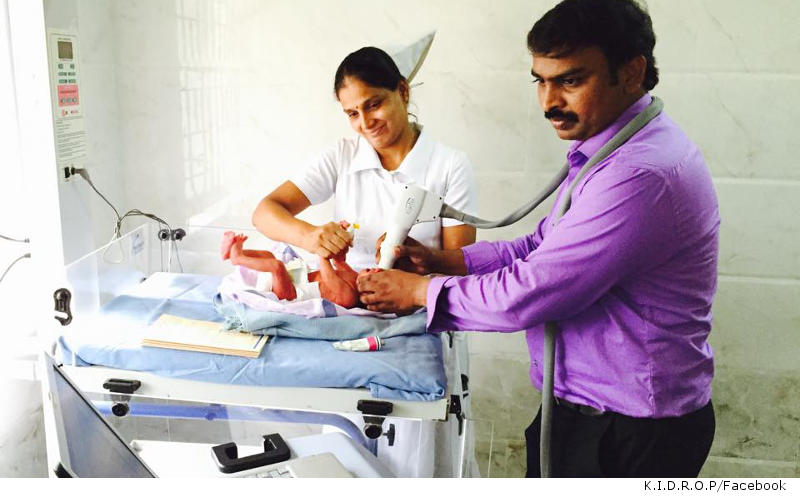 The time window for treating ROP is just is six to eight weeks, Vinekar said. Nearly 30 percent of premature births who are born with a body weight of less than 2 kgs will have vision impairment. Out of a hundred prematurely born babies, 8-10 percent will have the condition, Vinekar said. "If treated correctly, the success rate is upwards of 95 percent." he added. Right now, a device called the Retscan (priced at around $100,000 or approximately Rs. 66 lakh) is used for paediatric scanning, to detect ROP.
"There are very few ROP specialists in the country. The stopgap measure [to fix this problem] is to involve technology in screening and imaging, and let non-physicians use the camera remotely, and provide reports to physicians," Vinekar says. "By the time this condition is visible externally, the child is completely blind. Screening for this condition it is not very affordable, and making it accessible to the bottom of the economic pyramid is hard."
Paediatric imaging and adult imaging are completely different things - the optics, imaging and deployment are different, Vinekar says. If you make a screening error on a child, the damage done is much higher than a patient with diabetic retinopathy. "Right now, in the KIDROP program, we have one camera covering six districts. If a camera were available at a tenth the cost, I would deploy one per district." says Vinekar.
Two Indian firms, Forus and Remidio are taking on the Retscan with their own paediatric screening solutions. The Forus screening device, called Neo, is at a prototype level and is being tested with KIDROP. The Forus solution is aiming for a price of one-sixth the cost of the Retscan.
"Their aim and passion is not to make money, but to be true providers of a technology that can prevent blindness in our country," Vinekar adds optimistically.