The food-tech industry is an increasingly complex space, as a number of new entrants seem to pop up every month - and for restaurants, it's important to stay up to date with ties to aggregators, logistics companies, online wallets, and all the rest because customers have come to expect this.
As a restaurant, keeping track of all of this means keeping an eye on multiple apps and dashboards, with some of these services also having their own dedicated hardware - for example, Zomato Order deployed iPads with restaurant partners to ensure orders are placed and processed in a timely manner. Which means that restaurant staff are not just learning to use multiple software interfaces, but also managing multiple devices on a typical workday.
Delhi-based startup LimeTray wants to solve this problem by providing a single dashboard that collects all the different information that a restaurant needs, which the various services that are involved in the ordering process can plug into. Dubbed Restaurant OS, the goal of LimeTray's new offering is to provide a single window where a restaurant can track all incoming orders, deliveries, and payments, says founder Akhilesh Bali.
(Also see: Why Restaurants Are Looking to Sidestep Aggregators Like Foodpanda and Zomato Order)
Bali was one of the co-founders at FoodPanda India, and his LimeTray co-founder Piyush Jain also worked there as Head, Online Marketing. The two left to launch LimeTray, a company that specialises in helping restaurants build their online presence, with solutions for ordering, logistics, and billing. "We've worked with over 1,500 restaurants now, and the feedback we got from them was that this was badly needed," Bali tells Gadgets 360. "They are already working with all these different services, and they asked for a way to manage them all smoothly."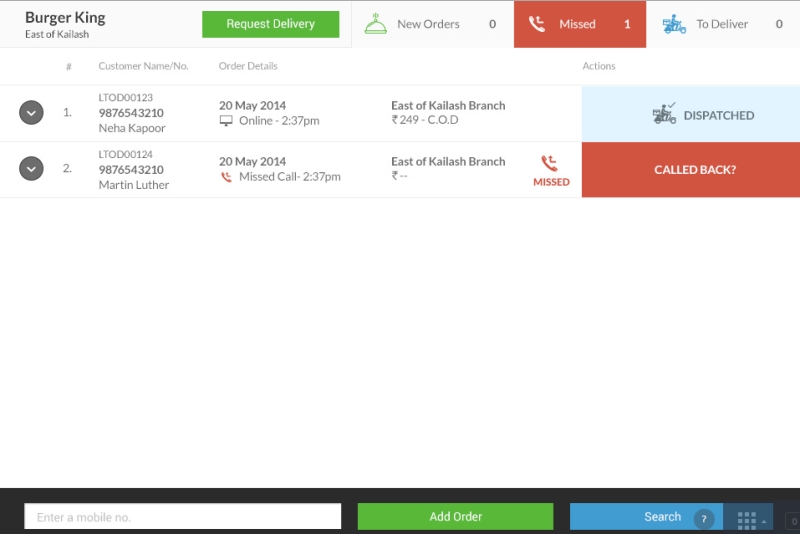 That's where the idea for Restaurant OS was born - an app-based implementation where a single dashboard was all that the restaurant would need to look at. "The idea is that the restaurant shouldn't spend all his time on Google Play getting the apps installed," says Bali. "Instead, we wanted to pull back a step, and create like an OS, where all the apps could plug in to. The restaurants don't have to find all the different services, and Restaurant OS will also help them to integrate services they aren't already using. We initially designed it to manage phone and Web orders, but there was constant feedback from the merchants, who told us that they wanted more partners on board."
"For a restaurant, it's a no-brainer. You get orders from different places that you have to track, and then you send them for delivery using Roadrunnr and Pickingo and Grab, and at the end of the month, they all present you with invoices, and it's a pretty confusing picture," he adds. "The advantage here will be that you don't need to check three different sets of bills and then consolidate them against your invoices. It's all consolidated from the word go so you have a clear picture of your business."
Another advantage that Bali posits is that using Restaurant OS will reduce the amount of time spent training staff. "Right now, you're training your staff to use 40 different systems," he says, only slightly facetiously. "So you'll spend a lot of time training your staff, because if they don't understand every system properly, an order will get messed up and you could lose a customer. But then when the staffer gets another job and moves on, you've got to teach someone new the same 40 systems all over again."
Getting everyone on board is another issue - but Bali believes that LimeTray can accomplish this because it is "neutral" and doesn't favour any one provider over the other. And it has already gotten a strong list of names on board for its Restaurant OS.
LimeTray already has a strong relationship with many restaurants, and claims that over 1,500 restaurants have started using its new system. This includes some big names - LimeTray tied up with Burger King earlier to build its online presence, and the international chain is now going to be using Restaurant OS.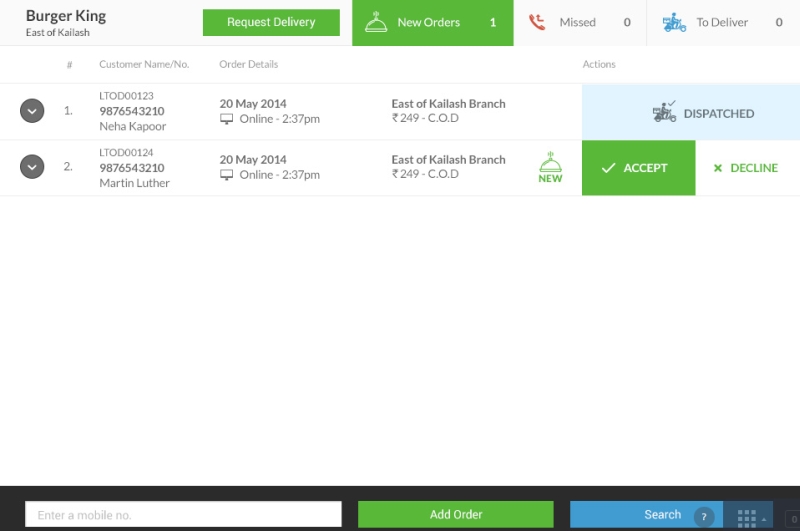 "At Burger King our aim is to constantly innovate and enhance our customers' experience," says Raj Varman, Burger King India CEO. "We understand the importance of having a sound backend support system [and] our association with LimeTray is a step in that direction. From the call center to the team managing online orders to mapping our delivery partners, this association enables us to manage everything from a single window."
At launch, Restaurant OS supports integrations with Roadrunnr, Pickingo, Grab, MobiKwik, and Paytm. This way, if a restaurant is using a combination of logistics services and its own delivery men (for whom it needs to process payments) then the management doesn't need to go to the dashboard of each individual service. According to LimeTray, restaurant aggregators Swiggy and Foodtree will be available on Restaurant OS soon. "We are keen to make it easier for the merchants to manage their orders and payments by working closely with LimeTray on this integrated one-platform approach," says Swiggy co-founder Sriharsha Majety.
But there are two notable names absent from the list right now - Foodpanda and Zomato Order.
Before Zomato Order finally launched in India, Foodpanda had cleared the board of most of the competitors, acquiring rivals like Just Eat India, and Tasty Khana. Both these companies have a huge presence in India, and without them, the dream of "one app to rule them all" will remain just a dream.
According to Bali however, neither firm showed much interest when LimeTray reached out to them about Restaurant OS. "They want to go it alone, and they feel that with their large market presence, restaurants will make the time to learn to use their systems," he says. "Whether that is the right approach, only time will tell."