Looking back at 2015, a large number of healthcare related startups came to our notice throughout the year. There is data to back this up as well - in 2015, digital health startups attracted $5.8 billion (roughly Rs. 39241 crores) in funding worldwide and there has been a good amount of funding activity in India as well. With only one doctor for 1,700 people in India, according to World Bank's 2012 data, it's clear that there is a lot of room for this space to grow, and in India, one of the most recognisable names in the field today is Practo.
Founded in 2008, nearly a decade later, Practo Search lets patients to browse through doctor profiles online and book appointments, while Practo Ray serves as a practice management solution for healthcare providers to manage patient data and digital healthcare records. Today, it's going global and adding new features such as medicine deliveries, but newer companies are carving out their own unique niches in this space as well.
If Practo's focus so far has been on becoming a single point resource for everything you need to know about doctors along with its back-office services (kind of like Zomato), then others in the space are now focusing on the rest of the healthcare experience. The first, and most obvious facet of this, is medicine delivery, another established space at this point, with many companies like NetMeds and 1mg in this space. The companies partner with local chemists so they can deliver prescription medication as well as OTC products.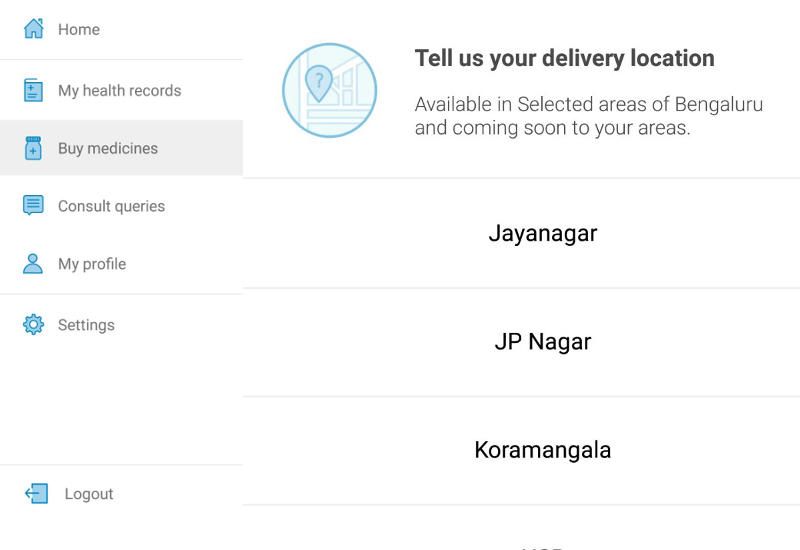 (Also see: Order Prescription Medicines Online in India With These Apps)
Getting an online consultation is still a less crowded space. Lybrate is one of the best known in this space, with some 90,000 doctors whom you can consult online. Lybrate works as a chat-based platform so it's asynchronous - you write down your details and the doctors will get back to you. Lybrate's CEO Saurabh Arora says that this is by design, so that doctors can respond whenever they have time, instead of having to set aside time for online consults. Because it's asynchronous, the doctor can answer questions when their own clinic is not busy. With around 90,000 doctors on its rolls, the platform knows it can offer something
SeeDoc, which started in November 2015, is trying to bring some of these threads together, with a video-consultation model that includes billing and payments, serves as the back-end for doctors, and also handles medicine deliveries. With only roughly 25 doctors, the company claims it's already carried out 30,000 virtual consultations - roughly 5,000 per month.
"Most of the people in the field are aggregators, they have a high number of doctors on their platform, and very low utilisation of their time," says SeeDoc founder Vivek Bansal. "With us, it's the opposite, we have nearly 100 percent utilisation of the doctor's time, and they do 8-10 minute video consults, so for each doctor it's possible to do between 60 to 80 consultations in a single day."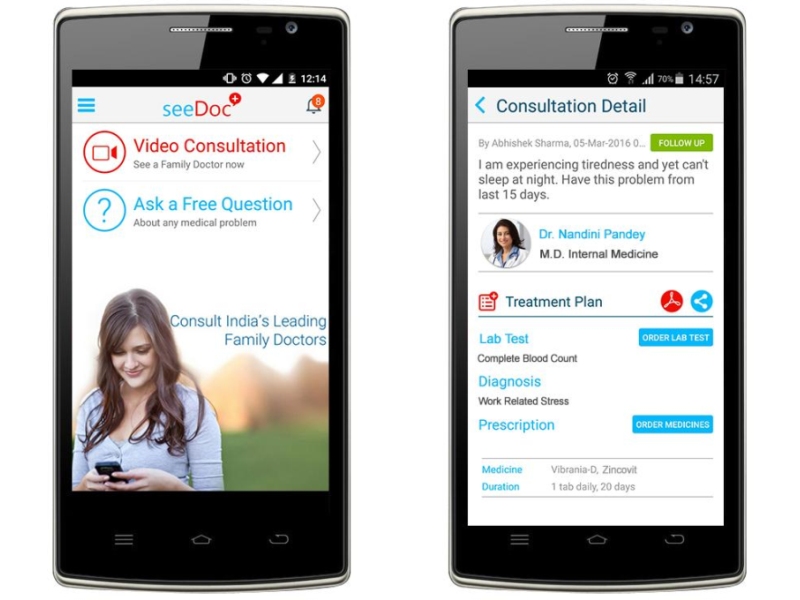 The company aims to have 150 doctors by the end of 2016, and Bansal sees it as a virtual hospital of sorts - "the doctors who work for SeeDoc are promised a monthly payment as long as they meet a certain number of hours each day, so it's a full time thing for the doctors, they're not charging the patient for a consultation," he says. "We are the brand, the patient pays us, and we take care of everything, from connecting you to a doctor to the payments you have to make, and we're working with different providers to deliver the medicines to you as well."
It's an ambitious plan, and there are plenty of potential pitfalls that stand in the way for SeeDoc. Getting more doctors on board is critical to growing in scale, and it's going to be challenging as not all doctors will be comfortable with the idea of a virtual practice. Bansal however believes that there is a huge white space in the health sector, and believes that the opportunity is going to be borne out.
Varun Dubey, AVP Marketing, Practo also told Gadgets 360 that he believes the opportunity in healthcare is only growing, and added that as long as the value proposition of technology can be made clear, people - both patients and doctors, will adopt it. He gives the example of the company's new Twitter integration @askpracto. "We have a lot of users, and Twitter has a lot of users, and what we wanted to do was make it easy for Twitter users to get their health related questions answered easily," says Dubey. "We created this handle, and all people can now send their queries to it - from there, we take the questions to our system and get an answer, which we then send back on Twitter."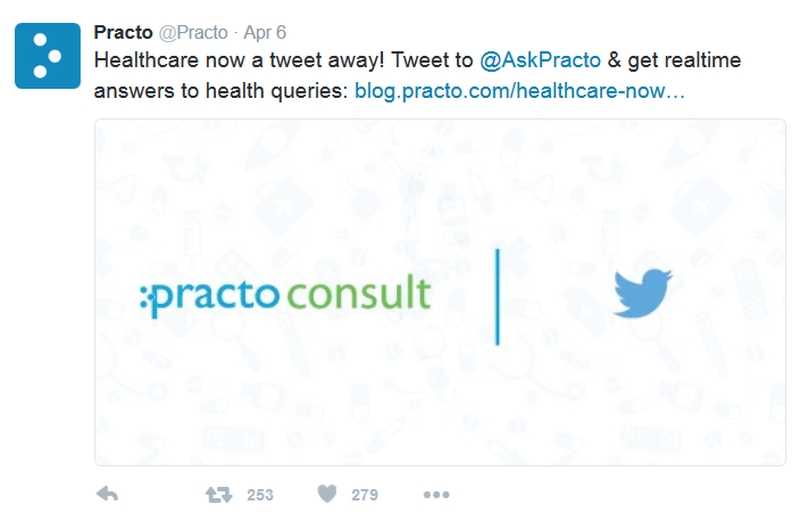 The handle has sent out over 4,000 responses at the time of writing - it answers with links to Practo's website and while there are some concerns about asking people to share medical questions on a public platform, the users seem to be comfortable with it.
But that's not the only kind of medical startups that are gaining ground as well. For example, Curofy, a started that launched in February 2015, wants to be a social network for doctors. The company believes that there isn't enough reason for doctors to adopt existing solutions, and instead is focusing on helping doctors to share information about cases and consult freely amongst others in their field. Mudit Vijayvergiya, one of the three founders of the company, tells Gadgets 360 that his parents are also doctors, and he wanted to focus on creating something they would find useful.
"The idea was to create a community of doctors, to talk, discuss, and share their learnings, and they can also use the platform to apply for jobs [a feature that Curofy is still building] and all the members are verified manually," says Vijayvergiya. "There are doctors all over India, but most of the ones in smaller towns do not have access to the same opportunities for continued learning, so what we're hoping to do with Curofy is to give them the opportunity to increase their knowledge base. And at the same time, they can collaborate with doctors anywhere in India."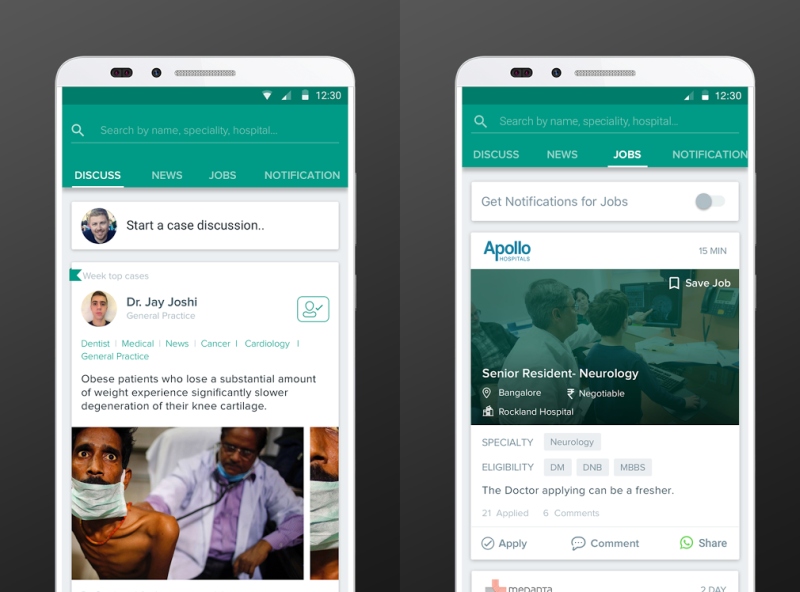 "So for example, if you're a doctor who sees symptoms and you're not sure what the issue is," he adds, "you can look up the symptoms on Curofy, and see case files that other doctors have." The idea, according to him, is to have a trustable database of medical information, like a StackOverflow for doctors, unlike the general Web which is filled with a lot of information of dubious authenticity.
If the idea of a social network for doctors sounds a little far-fetched, the numbers that Curofy is claiming are pretty impressive. Vijayvergiya says there are around six lakh practicing doctors in India, and he claims 70,000 have already registered on Curofy.
It's clear that there is a growing interest in technology solutions for medicine, but why are there so many new companies in the field? According to an industry source who spoke to Gadgets 360 on the condition of anonymity, it's not a question of more money coming in from investors, but rather, a growing validation of the existing models. "It's not like there's more money, people were earlier investing in different spaces, and now those same people are investing in health as well," he says. "The difference is that now, both in India and globally, there are some clear examples of what works, what sort of model can be a success, and the investors can be more confident about investing in the sector now."