We've seen the specifications and features war bring down prices of smartphones that pack in everything you can imagine at an affordable price. Today, You can get a modern smartphone, complete with some very decent hardware at less than Rs. 20,000.
However, there's one area which has always been a little neglected in the race for multi-core processors and full-HD displays, and it is one of the major pain points encountered by most smartphone users. No prizes for guessing, we're talking about the battery back-up offered by smartphones.
There have been some niche offerings by relatively small players, like Salora, that have tried to address this problem, but they've not been able to offer an attractive proposition in terms of features and quality of hardware. Lenovo promises to change this with its P780 Android smartphone that's equipped with a giant 4,000 mAh battery. The dual-SIM Android smartphone also sports decent hardware specifications and is easy on the eyes.
Is the
Lenovo P780
the first smartphone that can last for days and not hours and yet deliver a modern smartphone experience? We find out in our review.
Build/ Design
The Lenovo P780 is definitely not a looker, but considering that it packs in a giant battery, it's not too bulky and cumbersome to carry around. The plain-looking device comes in Black colour and looks like any rectangular slab with rounded edges.
The front of the Lenovo P780 is dominated by its 5-inch IPS display, with the three capacitive touch keys for navigation placed just below it, and the earpiece grille, which also houses a notification LED, located above it, along with the front-facing camera, sensor array and Lenovo branding.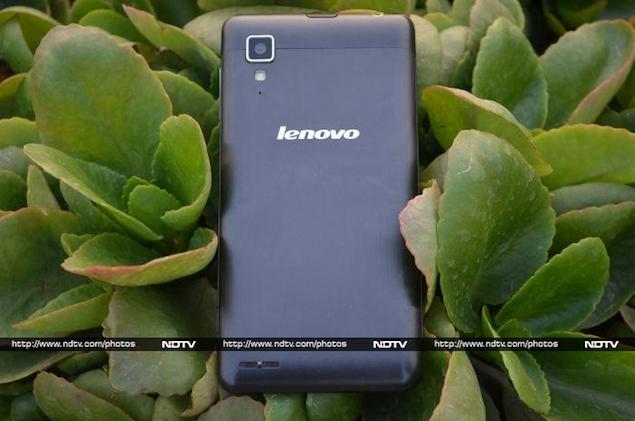 A thin chrome frame runs around the Lenovo P780's edges, making space for the volume rocker key at the right edge, and the power/screen-lock key, the Micro-USB port (protected by a flap) and a 3.5-mm headset jack, at the top edge. We'd have preferred the power key to be placed on the right edge instead of the top, as the current placement makes it a little cumbersome to use.
The back of the Lenovo P780 is partially made of plastic with matte finish and sports a removable metal cover that has a brushed aluminium finish in dark grey colour.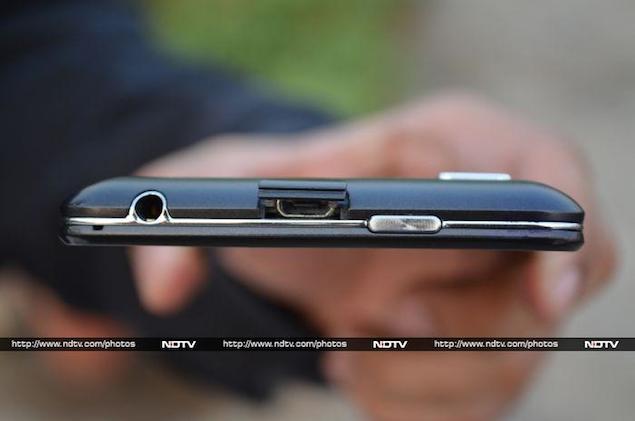 The back of the Lenovo P780 features the 8-megapixel camera lens and an LED flash, located a bit towards the left. There's some Lenovo branding on the metal cover. The speaker grill is located towards the bottom.
Removing the metal cover reveals the two SIM card slots, a microSD card slot, a Reset button and the Lenovo P780's non-removable 4,000 mAh battery.
Display
The Lenovo P780 sports a 5-inch IPS display with a resolution of 720x1280 pixels (294ppi) and 16 million colour gamut.
Text and images on the Lenovo P780's display looked crisp and sharp. The display's colour reproduction was also accurate.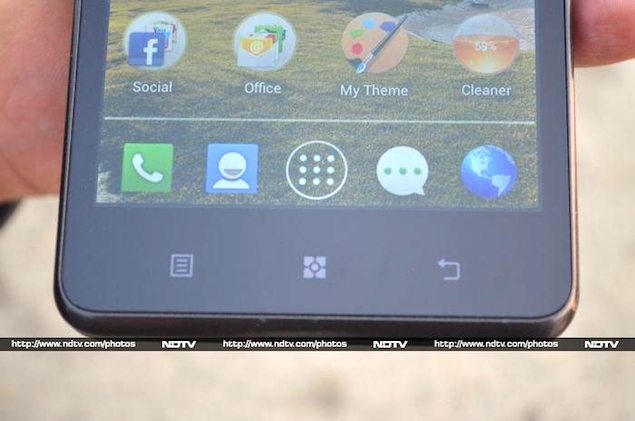 Viewing angles were above average, however, the Lenovo P780's display was very reflective, leading to poor sunlight legibility. We also found that the backlight levels were low, resulting in less than optimum screen brightness, even at full brightness levels in the phone's settings.
Software/ User Interface
The Lenovo P780 runs Android 4.2.1 with a heavily skinned user interface. While the phone retains the same navigation structure of home screens (complete with widgets and app shortcuts), an app launcher and a notifications tray (with toggles for settings), all the UI elements have been tinkered with to make the interface look different from other Android phones.
The UI layer on the P780 goes beyond just app icons and menus, extending even to native apps like the Calculator, Clock, Camera and the phone's image gallery (which for some reason is called SuperGallery).
The Lenovo P780's software also includes support for themes and offers six preloaded themes that bring changes to the phone's colour scheme, background wallpaper and app icons.
There are up to nine customisable home screens on the Lenovo P780's UI which can be filled with app shortcuts and widgets. Long pressing on any of the Home screens brings up a menu that lets you add app shortcuts, folders, and widgets; tinker with transition effects that are seen while navigating across home screens, and change the UI theme and wallpaper. Pinching in on the home screen brings up a preview of all the home screens, allowing you to add or remove them.
The Lenovo P780 offers a lot of customisation options, and you can even change the granular UI elements like icon text size, icon size, icon text style, and decoration. People who like to play around with the UI of their phones will appreciate this, though people who just like the stock Android experience will not feel at home. Custom launchers can be used if you don't like the default Lenovo Launcher.
The three capacitive buttons on the Lenovo P780 - Home, Menu and Back - help in navigating through the phone, with the Menu button also doubling up as an app switcher on long press. The Home button launches Google Now on long press.
The notification tray on the Lenovo P780 features a settings shortcut and a clear-all notifications button, along with expandable notifications (expanded with the two-finger pull gesture). It features setting toggles for quick access to Energy Smart (power saving mode), Brightness, Screen backlight timeout, Auto rotation, Airplane Mode, Battery status, Wi-Fi, Bluetooth, GPS, Mobile data connection and User (audio) Profiles.
You also get lock-screen widgets on the Lenovo P780 - an Android 4.2 feature. You can choose from the Calendar, Camera, Gmail, Google Now and Google+ widgets in addition to widgets offered by third-party apps installed on your phone. These widgets offer 'glance-able' information from the apps and allow users to perform certain app actions even when the phone is locked.
The Lenovo P780 also offers another Android 4.2 feature, Daydream, which displays photo albums or the clock while the phone's charging. 'Wireless mirroring', introduced with Android 4.2, is not supported by the P780.
The phone also offers FM radio and FM radio recording. The Lenovo P780 also offers some gesture controls, like the ability to answer the phone by bringing it near to the ear; slide the edge of the screen to change the layoutl decrease the ringtone volume when the phone is picked up, and increase the volume when it's put inside the pocket.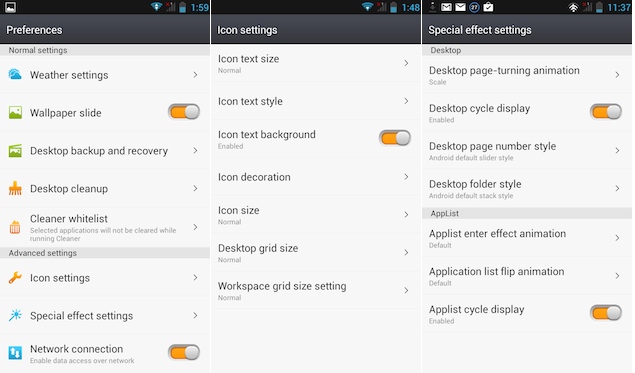 Lenovo offers a number of pre-installed apps on the P780, including a File Browser, Voice Recorder, a Backup & Restore utility, CamCard and CamScanner, Flashlight, Kingsoft Office, Route 66 Maps and Navigation, Norton Mobile security software, and the UC Browser. It also comes with games like Asphalt 7, Block Breaker, and Little Big City.
Camera
The Lenovo P780 comes with an 8-megapixel rear camera and a VGA front facing one.
Lenovo also ships the P780 with its own camera app that it calls SuperCamera, which is not much different from the stock Android 4.2 counterpart.
The Lenovo P780's SuperCamera app allows you to shoot photos in Auto, Burst, Panorama, Night portrait, HDR, Low light, Macro, Smile Detection and Timer modes. You can also tinker with basic settings, like changing the resolution; adjusting the exposure, brightness, contrast, saturation, sharpness, and image quality; as well as advanced settings like ISO, white balance, and Stroboscopic, among others.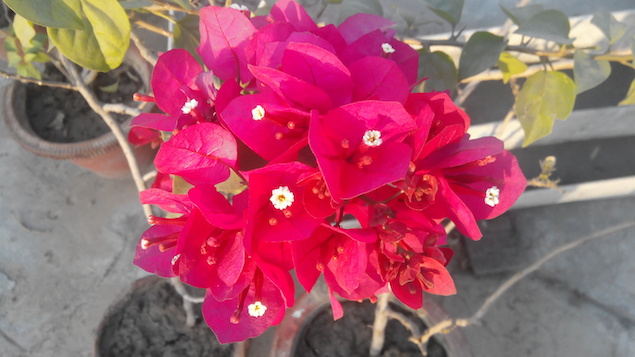 The Lenovo P780's SuperCamera app also offers about 24 Lens, Magic and Colour effects, which are essentially filters to play and experiment with images.
The rear camera on the Lenovo P780 takes good quality pictures in daylight with accurate colour reproduction, though we felt that the images did miss out on detail while trying to eliminate noise.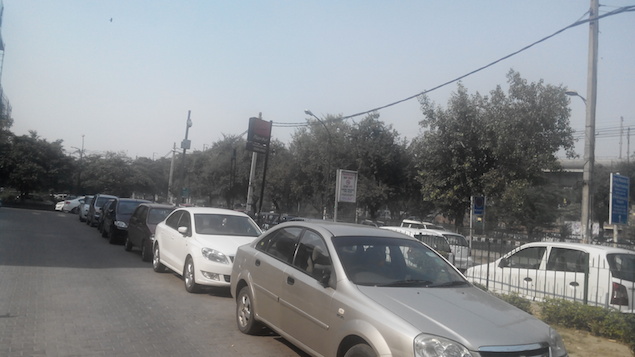 Pictures shot indoors in sufficient light also looked good, however, the Lenovo P780's camera struggled to take low-light shots. Low-light shots featured a high amount of noise and lacked clarity.
The Lenovo P780's rear camera supports 1080p video recording and we were able to shoot decent quality videos with it.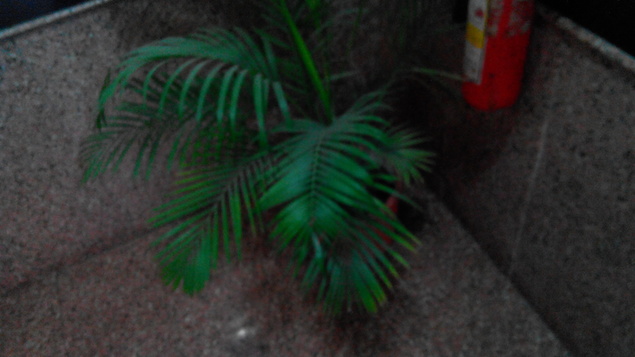 The front-facing camera on the Lenovo P780 is strictly functional, and can be used for casual video chats.
Performance
The Lenovo P780 is powered by the quad-core 1.2GHz MediaTek MT6589 processor with 1GB of RAM, and the PowerVR SGX544MP GPU. There is 4GB of built-in storage, 2.1GB of which is available to the user.
With Android 4.2 Jelly Bean, the overall experience of navigation through the interface was pleasant, thanks to the phone's quad-core processor. We did not experience any lag while launching apps, playing games, scrolling web pages or switching between apps. It is safe to say that performance wise, the Lenovo P780 performs adequately. We were able to play games like Jetpack Joyride, Subway Surfers, without encountering any lag. However, we did notice some frame drops in graphics intensive games like Asphalt 7.
We were also able to play full-HD clips on the Lenovo P780, with the phone supporting formats like .AVI natively, though we experienced some issues with audio while playing an MKV format video. This was easily fixed by downloading a third-party video player.
The speaker on the Lenovo P780 delivers average quality sound at high volume levels, but there's some minor muffle when the phone lies on its back, as the speaker grille is located on that side. The headphones that come with the phone offer average quality sound output. Call quality was good, during our testing process. The dual-SIM phone supports one 3G connection and one 2G line.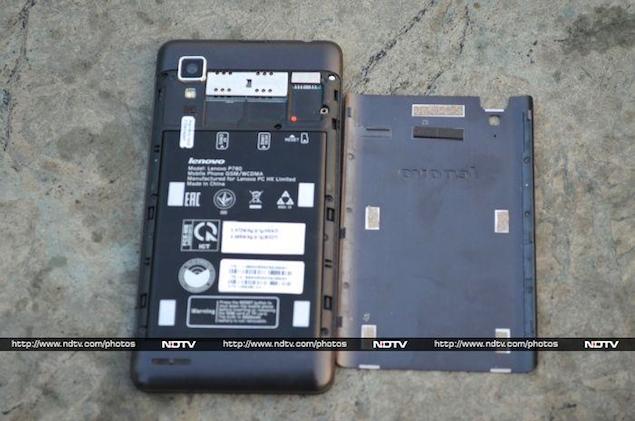 The real strength of the phone, however, is its 4,000 mAh battery, which lasts nearly two full days, based on our experience.
With medium to heavy usage, including 1-1.5 hours of phone calls, two e-mail accounts with push notifications, screen at maximum brightness, playing some music and video clips (about an hour), casual web browsing, Twitter notifications and WhatsApp chats, the phone lasted 16-17 hours. We had put the phone on Wi-Fi for about a few hours while the rest of the duration it was connected to data via 3G. We had turned off auto-brightness, and the phone was on the highest level of brightness. Altering these settings might help in running the phone for a longer duration, depending on your usage pattern.
Lenovo also offers a LenovoPower utility app that allows you to select among three preset power modes, in addition to a custom one. The app also offers toggles for Wi-Fi, data, screen brightness and timeout, sync, GPS, Bluetooth, and Airplane modes. You can also select other power-saving options, including one that intelligently controls the CPU frequency to optimise power consumption, or clear up background processes. It also lets you track software and hardware power consumption.
Verdict
The Lenovo P780 is a step in the right direction. While the major focus of smartphone makers' innovation has been on improving the hardware specifications, and stuffing in features, power optimisation and conveniently-long battery backup have been largely neglected.
The P780 frees you from the shackles of lugging around a portable charger, and offers decent performance, at the same time. The phone launched at a price point of Rs. 22,529 but is available for roughly Rs.19,000.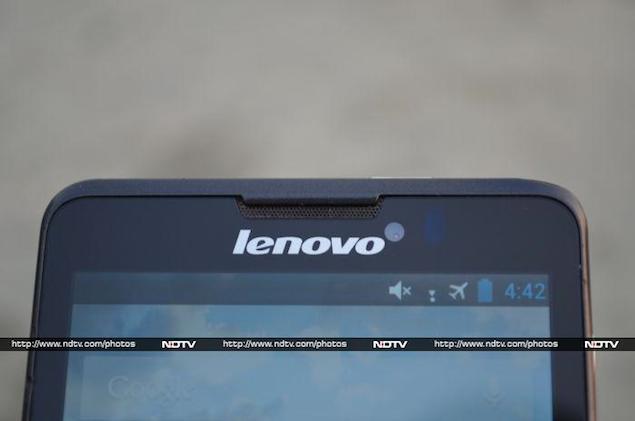 It may not offer a full-HD screen, and lacks a gigabyte of RAM, however, we'd still recommend the Lenovo P780 over phones like the
Micromax Canvas Turbo
.
We just wish Lenovo included more internal storage, a better front camera and a brighter screen. Other than these niggles, it's one of the only phones that offers great battery backup and includes a large number of features, in this price segment.
Price:
Rs. 22,529


Lenovo P780 in pictures