LG's smartphone arm is having a tough year so far, as its G6 (Review) flagship smartphone has't been a runaway success. Despite it being a very good smartphone, the company has failed to translate that into good sales. In addition to the premium tier, LG hasn't had any breakout hits with its budget or mainstream offerings either. Now, with its new Q series, LG is hoping to attack the mainstream market with features trickled down from the G6. The big highlight of its first offering is the taller FullVision display.
LG launched three variants of the Q6 with different amounts of RAM in early July, and India has received the Q6 with 3GB of RAM. The smartphone is priced very attractively under Rs. 15,000, which LG hopes will attract value-conscious buyers who want to stand out. However, can the display alone be enough to make the Q6 a hit? Let's find out.
LG Q6 design and build quality
The LG Q6 is definitely one of the most comfortable 5.5-inch smartphones we've used recently, thanks to its extremely slim screen borders. The display has rounded corners just like the G6, but the Gorilla Glass lacks a 2.5D curve and sits flat. Its resolution is 2160x1080 thanks to the taller aspect ratio. Unfortunately, there's no notification LED or always-on display feature to show you missed notifications, so you'll have to turn the display on constantly just to check. There's just enough space above the screen for a front camera and sensors, while below it, there's only an LG logo.
The phone uses a 7000-series aluminium frame, which is impressive considering we've usually seen this grade of metal reserved for more expensive phones. The corners are rounded too, matching the shape of the display. The back is plastic and attracts smudges very easily, which makes the phone look a little unattractive during everyday use. It also easily picks up scratches easily, so that's something to keep in mind.
The power and volume buttons feel good, and on the left, there are slots for two Nano-SIM cards and a microSD card. The first slot accommodates a Nano-SIM and a microSD card while the second one is for a second SIM. There's a headphone socket and a Micro-USB port on the bottom, and a mono speaker at the back. It's a bit disappointing to not have a USB Type-C port here, even if it only works at USB 2.0 speed. Thankfully, the camera module sits flush with the back and we didn't see any chipping or scuffing during our review period.
If you haven't noticed it yet, the Q6 has one glaring omission and that's a fingerprint sensor. For some reason, LG has ditched this security feature. There's face recognition instead, which works well but there are some glaring flaws which you need to be aware of. By default, face recognition works very fast - all you need to do is lift the phone to your face and it will automatically unlock itself. However, it can easily be fooled by holding a simple photo of the user in front of the camera. Secondly, even though you are allowed to register just one face, you can technically add someone else's face by using the 'Improve face recognition' option which has no problem adding someone else's facial structure to your own. However, to gain access to this feature, you will need a pattern or a pin, so there's some level of security put in place.
There is a way make recognition more secure, called 'Advanced face recognition'. With this enabled, a 2D picture doesn't pass off for your face, but it also takes a lot longer to unlock the phone. Also, the whole process doesn't work well in low light.
Overall, the Q6 is a good-looking device, mostly thanks to its display. It's built well, feels sturdy, and has an ergonomic design. We're not happy with omissions like the fingerprint sensor, USB Type-C port and notification light on the phone.
LG Q6 specifications and feature
The Q6 isn't a particularly powerful smartphone, rocking the modest Snapdragon 435 platform from Qualcomm that also powers the sub-Rs. 10,000 Xiaomi Redmi 4 (Review). This is a 64-bit octa-core SoC with eight ARM Cortex-A53 cores reaching a maximum clock speed of 1.4GHz. It's still based on the old 28nm fabrication process. In terms of graphics, we have an integrated Adreno 505 GPU. Benchmark numbers are pretty average, with scores like 42,392 points in AnTuTu and just 12fps in GFXbench.
Other specifications include 3GB of RAM, 32GB of storage, Bluetooth 4.2, Wi-Fi b/g/n, USB-OTG, FM radio, and 4G VoLTE. The Q6 doesn't have a direct video call option in the dialler app, which is commonly seen on Samsung phones. We're glad that LG has used a recent version of Android, which is 7.1.1 Nougat. Even the security patch status is fairly recent (July 1 at the time of this review).
LG's default theme isn't the slickest but you can dial down these customisations and bring the look closer to stock through the Settings app. The on-screen buttons on the navigation strip at the bottom of the screen can be customised and re-ordered, and you can add a fourth button for switching between SIMs or pulling down the notification shade so you don't have to stretch. The default single-layered look can be swapped for the traditional app drawer layout, and Google Assistant is present too.
Stock apps includes LG Mobile Switch to help you migrate your data from an old device to the Q6; RemoteCall Service which lets an LG customer care agent control your phone remotely to fix probelms; a portal for themes and general news about LG products called LG Smart World; and Smart Doctor which lets you check your battery, storage and RAM usage. The notification shade also has a toggle called Capture+, which lets you draw and add text to screenshots.
The Settings app is split into tabs which makes it easy to find what you're looking for. You can change the way downloaded apps scale to the 18:9 screen - some can fill the entire screen while others are better off at their standard size with letterboxing. This works well with games, and you can switch between aspect ratios although this will restart the app. Other settings let you change the font, text size and thickness, and settings for the blue light filter.
LG Q6 performance, cameras and battery life
Despite its lacklustre benchmark scores, the Q6 handles basic tasks very well. We found the interface to be smooth without any stuttering in animations. Multitasking is handled surprisingly well and apps load fairly quickly. The phone doesn't heat up with regular use of common apps but the metal frame does get warm when gaming. The Q6 also does a decent job of rendering most 3D games with playable framerates. Games like Xenowerk run fine but heavier ones like Asphalt 8 aren't very smooth.
LG offers a feature called 'Game battery saver' which when enabled, is supposed to reduce the resolution of games to save power, but can have the effect of improving framerates. There are three options: Extended, Maximum and Custom. The latter lets you drop the resolution to all the way to 'low', which causes noticeable pixellation in games. We noticed a slight improvement in framerates in Asphalt 8 but the game still didn't run as smoothly as it should. There's also a feature called 'Break time', which pauses games and reduces the screen brightness and SoC performance to save battery power when you leave the phone idle.
The display on the Q6 is good for media playback, although it can't handle 4K video files. The screen is a bit reflective but brightness is good and colours are nicely saturated. The speaker gets fairly loud in games and media, but since it's placed at the back, it doesn't offer the best experience.
The 13-megapixel rear camera captures decent levels of detail in landscapes and macros. Colours are well represented and focusing is fairly quick. The Q6 camera viewfinder has DSLR-style green squares to represent autofocus points, but this doesn't always mean that your subject is in focus. It's best to tap the desired area on the viewfinder to ensure proper focus. Edges around objects in close-ups and in landscapes have some compression artefacting but this is only visible if you do a 100 percent crop. The Q6 does a decently good job in low light too, with very little noise and details like text in the backgrounds of images being legible.
Tap to see full-sized LG Q6 camera samples
The quality of recorded video is good but the resolution is limited to 1080p. A 'Steady recording' toggle in the settings helps stabilise footage fairly well. The front 5-megapixel camera produces strictly average selfies but you do get a wide-angle mode which lets you cram more people into a frame.
The camera app is simple and easy to navigate. All the buttons and toggles are where you'd expect them to be. There's a Square Camera mode, similar to what we saw on the G6, which lets you use half of the screen as a viewfinder and the other half as a reference to frame your shots. LG has also included a hidden carousel for quick sharing to social media.
We found that the 3000mAh battery lasted us through nearly an entire day of regular usage, but continuous video playback makes a bigger dent. In our HD video loop test, we managed just 9 hours and 32 minutes, which isn't great. There's no fast charging, which is disappointing.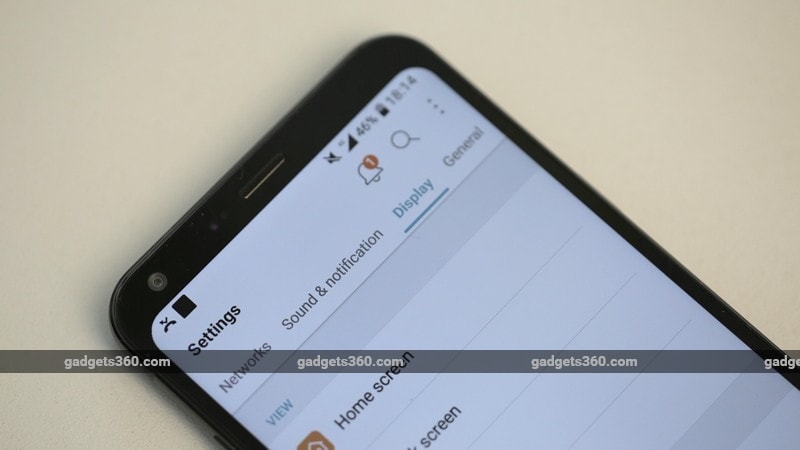 LG Q6 in pictures
Verdict
The 18:9 screen aspect ratio is sure to become popular in the smartphone world, and the LG Q6 looks futuristic despite its value pricing, which could be a major selling point. Even a few of years down the line, the Q6 should still look modern. It isn't the most powerful smartphone in its class so if brute force is what you're looking for, then you'd be better served by the likes of the Xiaomi Redmi Note 4 (Review), Honor 6X (Review) or even the Samsung Galaxy J7 Prime (Review).
The Q6 stands out because of its design and display, and we also like the level of customisation offered by its custom Android UI. Apart from these things, there's little else to get excited about. Its budget-level processor limits performance in demanding games and apps. The rear camera is decent but the front camera could have been better. Battery life isn't too impressive either. Finally, the missing fingerprint sensor is sure to be an inconvenience.
We would say that the LG Q6 is a good buy if you prioritise looks above all else and like having something to show off.